---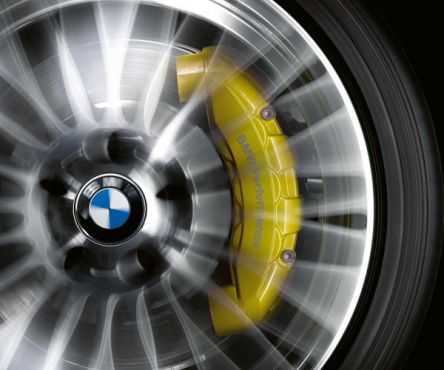 BMW Performance
Big Brake Upgrades
www.bmw.ca/performance
The BMW Performance braking system is designed to facilitate a sporty driving style. The six-piston aluminum fixed calipers and grooved, cross-drilled discs give drivers an incredible amount of control, even in the wet, while their low weight reduces the unsprung mass of the car. Calipers painted in BMW Performance Yellow are a striking visual feature. For more visit your local BMW retailer.
---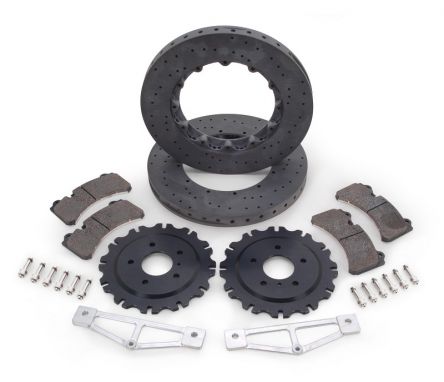 AP Racing
Carbon Ceramic Matrix
www.apracing.com

Once found only on the world's most exotic supercars, such as the Koenigsegg CCX, Arash AF-10, McLaren MP4-12C and more, AP Racing Carbon-Ceramic Matrix (CCM) brakes have now been developed for select specifically-tuned aftermarket applications. Often larger than standard OE iron discs, CCM rotors cut weight nearly in half. And this is rotating and unsprung weight, leading to improvements in all performance categories -- acceleration, handling and braking. STILLEN and AP Racing have jointly engineered and optimized a specific set for the Nissan R35 GT-R with more applications to follow.


---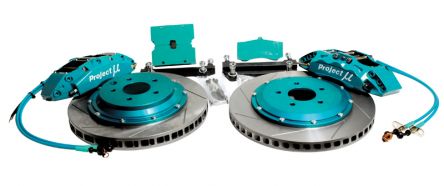 Project Mu
Brake Caliper System
www.project-mu.com
Project Mu caliper kits are the pinnacle of braking performance. The form of the Project Mu caliper represents its beauty. The function signifies its strength. With the ongoing evolution of braking systems, Project Mu leads the forefront by offering vehicle specific components to improve brake balance and significantly improve a vehicle's stopping power. Project Mu Racing caliper kits are meticulously machined from billet aluminum or forged using a mold press. These are the same kits used on many of Japan's top tuners, Time Attack, D1 Grand Prix and SuperGT cars.
---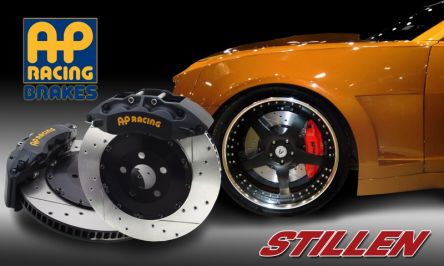 STILLEN AP Racing
Camaro SS Big Brake Kit
www.stillen.com

STILLEN/AP Racing Brakes is proud to introduce its latest big brake kit upgrade for the 2010 Chevy Camaro. This carefully matched front and rear system include Racing 6 piston front calipers with oversized 16-inch 2-piece floating vented rotors and 4 piston rear calipers with 15-inch 2-piece vented rotors. Rotors are available in a cross-drilled and slotted pattern for an aggressive pad bite and better face cooling. With slotted only available for serious track duty. Loaded with high performance Ferodo pads and Goodridge stainless steel brake lines, your 2010 Camaro will stop with maximum confidence every time.
---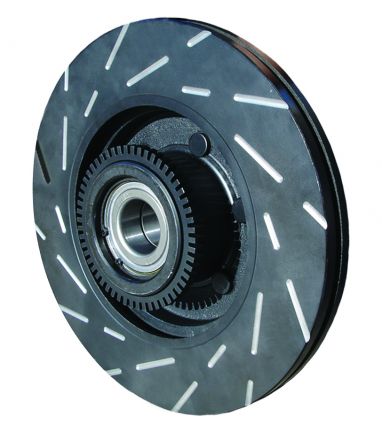 EBC Brakes
USR Rotors
www.ebcbrakes.com
www.jrponline.com

EBC Brakes announces a new and extended range of its popular USR series slotted sport rotors. Featuring the new Premium G 3000 cast iron alloy rotor blanks precision machined and 100% run out inspected. The narrower slot pattern on the USR series also reduces wind noise common with sport rotors and resists the cracking common with cross drilled designs. The new EBC rotors also have a full overlap slot pattern that sweeps the entire surface and extends to the outer diameter of the rotor brake surface allowing gas dirt dust and debris to exit the braking area. The slots also help maintain a flat smooth surface on the pad and rotor improving pad contact and brake efficiency. Rotors are black zinc corrosion protected and carry a 10,000 miles 12 month warranty.

Read on for More Products.
---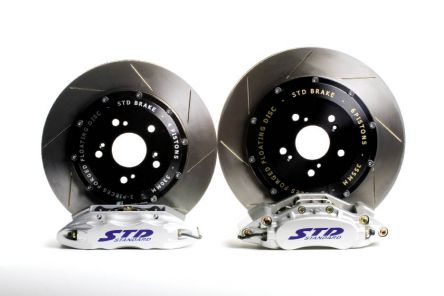 STD STANDARD BIG BRAKE SYSTEM
www.stdstandard.com
The STD big brake system increases the performance and the safety of your car. This system enables superior brake modulation and ensures equal distribution of weight transfer. The calipers are manufactured in forged 6061 T6 aluminum alloy. Larger calipers with larger additional pistons increase the clamp load and the stopping force while keeping the OEM master cylinder. The rotors are two piece floating discs design which improve the airflow and the cooling of the discs. In this two piece design, the aluminum hat also improves the cooling of the disc and reduces the unsprung mass. The ceramic brake pads provide a higher rate of friction to ensure stronger braking even under extreme driving conditions. The 7075 T6 aluminum mounting bracket is strengthened while at the same time reducing the overall weight.
---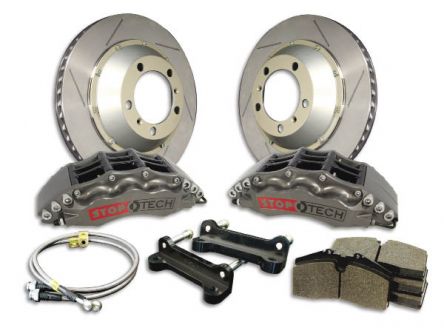 StopTech
Trophy Big Brake Kit
www.stoptech.com
www.jrponline.com
The Trophy Big Brake Kit from StopTech is the first braking system from the company designed exclusively for the track. Trophy BBKs feature ultra-lightweight racing calipers in four- or six-piston configurations providing a 20-percent weight reduction without sacrificing stiffness or performance. Full floating versions of StopTech's patented AeroRotor/AeroHat two-piece rotors eliminate pad knock-back and increase cooling airflow by 15% for consistent performance and pedal feedback under the unique combination of hard cornering and braking found on the track. These BBKs sport a "natural" finish for an attractive in-wheel presentation and also include billet aluminum mounting brackets with stainless steel caliper studs and DOT-compliant stainless steel braided brake lines. Trophy BBKs make no compromises found on hybrid street/ track systems.
---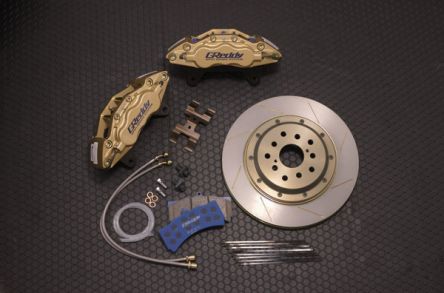 GReddy
Brake Systems
www.greddy.com


Backed by extensive research and development, GReddy Brake Systems are designed as full competition-spec. brake kits suitable for street use. Each application-specific GReddy Brake System kit will work with a wide variety of wheels. Lightweight 4 and 6 piston aluminum calipers are designed to be as compact as possible and are stylishly protected by our classic GREX gold hard anodized finish. Large lightweight, motorsport style, two-piece rotors use an anodized, duralumin bell housing to prevent rusting and scratching. The finest quality Earls Teflon lined stainless steel braided brake hoses are also included for maximum performance and reliability.
---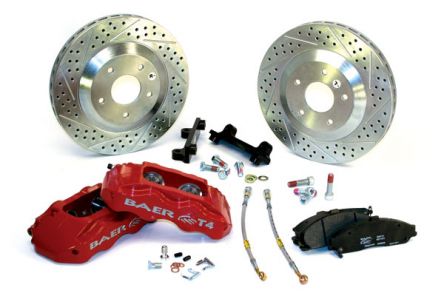 Baer Brakes
Baer Track4 Brake System
www.baer.com
The Baer Brakes Track4 System features their newest T4, 4 piston calipers mated to 13-inch diameter rotors; it promises to offer performance well beyond that of any other brake system in its price range. And with additional features such as standard powder coated caliper finishes in Red, Black or Silver and brilliant, slotted, drilled and zinc plated finished rotors, the new Baer Track-4 brake system is sure to look as good as it performs. This product is available for most domestics, muscle cars and late model imports applications, with more to follow.
---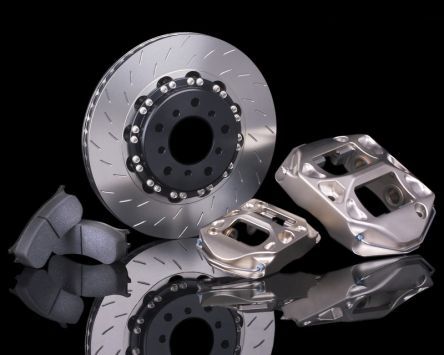 Performance Friction Brake
Z-Rated Brake Upgrade Kit

www.performancefriction.com
It's quieter, stops quicker and lasts longer. Performance Friction doesn't copy OE, they make it better. Whether you're driving a sports car, sedan, or truck, Performance Friction makes application specific Z-Rated Big Brake Kits, Carbon Metallic brake pads and OE direct replacement Direct Drive discs. Their range of two-piece discs last longer and reduce vibration caused by thermal distortion and warping.
---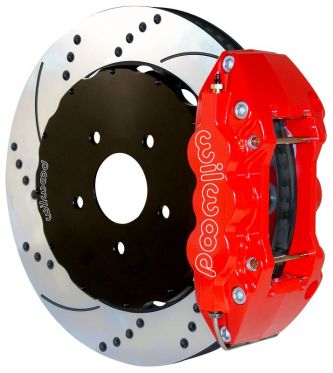 Wilwood Engineering
W6AR Big Brake Kits
www.wilwood.com
www.jrponline.com
The versatile Wilwood W6AR forged billet radial mount calipers are unmatched in its class for superior stopping power and rugged durability. Used in conjunction with the forged billet W4AR rear calipers you can have the ultimate brake system that also provides an appearance enhancement for your high performance vehicle. These new bolt-on Wilwood big brake kits for are configured for high-performance street and show, or professional level track competition for use in conjunction with wheel, tire, and suspension upgrades.
---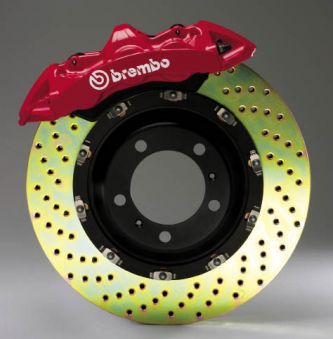 Brembo
GT Big Brake Upgrade Kit
www.brembo.com/us
www.jrponline.com
Brembo Gran Turismo Kits include your choice of Brembo 4, 6, or 8 piston calipers with sequentially sized pistons; includes color choices of red, black or silver calipers (Yellow on selected applications). Each kit features Brembo drilled or slotted two piece rotors up to 16 inches (405mm) or one piece rotors up to 14 inches (355mm) with DOT and TUV certified Goodridge stainless steel braided brake lines, Brembo high performance brake pads, Brembo floating anti-rattle rotor hardware and Brembo billet aluminum or steel brackets.
---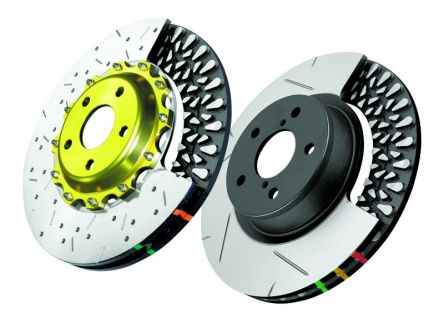 Disc Brakes Australia
4000 & 5000 Series Performance Rotors
www.dbausa.com
Disc Brakes Australia (DBA) offers their 1-piece 4000 Series and 2-piece 5000 Series brake rotors for most popular vehicles. All DBA 4000 and 5000 Series rotors feature their proprietary Kangaroo Paw ventilation design. With 30 years of experience, one of the industry's most modern factories and millions of cars around the world fitted with its rotors, you can be assured that DBA has the expertise and facilities to deliver the look, feel, quality and performance to improve any street automotive braking system. All DBA rotors are a bolt-on replacement with no modifications to the vehicle required.
---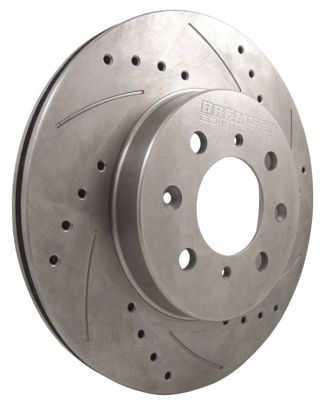 Direct Auto Import
Bremsen Brakes
www.directautoimport.com
The well-known German brake company Bremsen is now distributed in America, as Direct Auto Import (DAI) officially carries their high performance Bremsen ceramic pads and cross drilled rotors. These brake upgrades are avalable for a number of popular applications.
---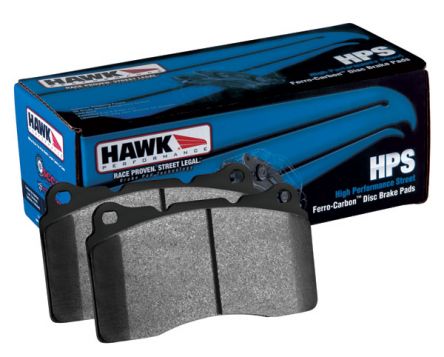 Hawk Performance
HPS Pads
www.hawkperformance.com
Hawk High Performance Street (HPS) disc brake pads are world renowned for increasing stopping power on your street legal vehicle. Increasing the performance of your vehicles braking system is easy when you choose Hawk Performance's HPS braking compound. This unique Ferro-Carbon formula was developed for street performance using the safety and quality of aerospace and Motorsports severe-duty friction technology. The High Performance Street compound offers a higher coefficient of friction over stock brake pads and can provide you 20-40% more stopping power and higher resistance to brake fade than most standard replacement pads. Less fade means you'll have a highly durable brake pad with less brake dust.
---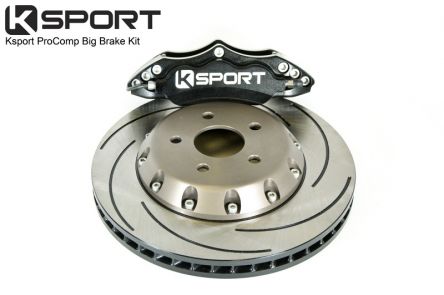 Ksport
Big Brake Kit
www.ksportusa.com
Ksport Procomp Big Brake Kits provide the ultimate in stopping power for your vehicle. Integrating new brake technology into the design of the kits allows for a kit that highly reduces brake fade and continually cools and refreshes the brake pads surface under braking. These brake systems are designed for easy installation with minimal tools required.
---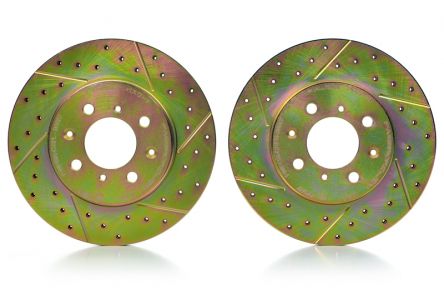 Password:JDM
Performance Brake Rotors
Brakes are the one area of performance modifications that are often misunderstood. Some think the OEM is fine, some think big brake kits are a must, and then there are probably a dozen or so opinions for cross-drilled or slotted rotors. Start with what you have, and if that currently works for you, keep it. When its time for you to upgrade the performance of your car and step up your driving style, then maybe its time to upgrade your brakes as well. This is where PasswordJDM steps in!
---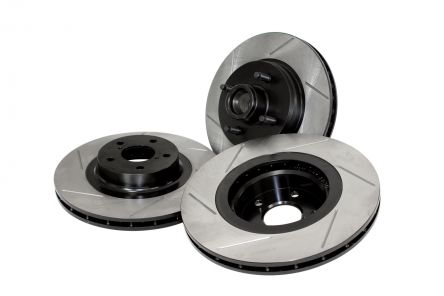 Power Slot
Power Allow Enhanced Brake Rotors
www.powerslot.com
The ultimate single-piece performance rotor. The award-winning Power Alloy enhanced brake rotors from Power Slot features a special formula of increased molybdenum content that delivers improved stopping power and superior resistance to cracking due to thermal stress in performance driving situations. An evenly applied anti-corrosion e-coating over all unswept surfaces creates an eye-catching black finish while reducing unsightly corrosion and providing a pad/rotor interface ready for immediate use without any additional attention needed for pad bedding.  Power Alloy also makes exclusive use of Power Slot's directional cooling vanes on the front rotors for certain popular sports cars and full-size trucks, additionally enhancing brake performance.
---
ROTORA
SUPER CHALLENGE BRAKE SYSTEM
www.rotora.com
The Rotora Super Challenge Brake Systems are designed exclusively for many popular production-based vehicles. Designed in every respect to meet the demands of full-race enthusiasts, the Super Challenge system provides not only all the benefits of a true racetrack-specific brake system, but also the durability and easy maintenance of Rotora's current line of Street Challenge Brake Systems. These competition kits are equipped with Rotora's all-new Super Challenge lightweight forged four and six piston caliper versions.  Constructed of higher strength aerospace aluminum alloy compared to Rotora's current street application calipers, these full-race calipers are engineered to provide a 15% reduction in weight without losing stiffness and performance.