Page 3 of 7

---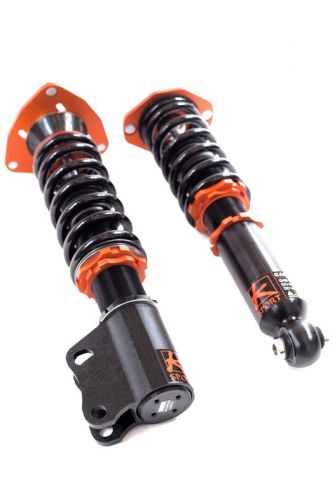 Ksport
Kontrol Pro
www.ksportusa.com
Whether your ride is a daily driver or a race-prepped time attack machine, Ksport has you covered with the Kontrol Pro. The Kontrol Pro damper system has won time attack championships, set lap records and gotten us to and from the office on a daily basis. With 36 Levels of Damping Adjustments, monotube design, available pillow-ball upper mounts and an adjustable lower mount this coilover kit is packed with features for the street or track. The Kontrol Pro features an electroplated shock body and 6061-T6 aluminum components to prevent corrosion while maintaining strength. As with all Ksport coilovers, the Kontrol Pro uses an adjustable lower mount to adjust ride height, rather than adjusting via the spring perches. This allows the car to be raised or lowered without affecting spring rates, or inducing spring bind.
---
SPC Performance
Lexus IS300 Alignment Products
www.specprod.com
SPC Rear Camber Plate is a  bolt and bracket kit provides an additional one degree of positive rear camber change. You will need to elongate the existing camber slot by using 85125 rotary files or equivalent. SPC rear camber plates are ideal for use on lowered vehicles along with our new 67525 adjustable ball joint for front camber change. The SPC Adjustable Ball Joint is designed specifically for the Lexus IS300, this ball joint corrects front camber up to ±1.5°. With an OE quality replacement ball joint, this sliding plate assembly is perfect for vehicles that have been lowered for performance, or retain the factory ride height.
---
Espelir
Active Super Down / GT Springs
www.mackinindustries.com
Espelir offer two distinct lowering springs to meet every enthusiast need. The Active Super Down suspension is the sports spring that makes your car look great with aftermarket wheels, while the ride is kept comfortable. A thorough lowering range from 30mm to 70mm is paired with a spring rate increase of 20% to 30%. To satisfy the performance driver demanding the best performance out of his vehicle Espelir developed the Active GT series. These springs empower a higher spring rate than the Active Super Down and have a 30% higher grade stroke volume.
---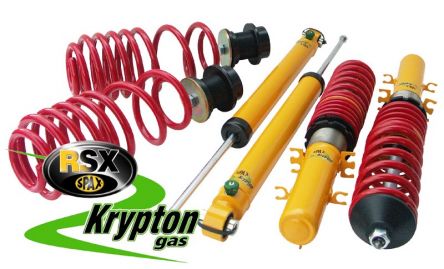 SPAX Suspensions
RSX Coilovers
www.jrponline.com

Leading suspension specialists Spax, now have a height adjustable coilover kit for several new applications. The kit features Krypton Gas filled dampers with stainless steel height adjustment threads and bump and rebound stiffness adjustments. The damper bodies feature an epoxy powder coated finish, and the height adjustment threads are made from stainless steel for long term durability. The package includes cold wound, silicon springs which are stiffer than standard to handle the same vehicle loads within a shorter spring travel and cope with the extreme forces exerted on the car when driven hard.

For More Products Read On