---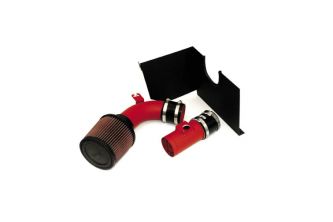 Agency Power Cold Air Intake
This intake kit is sold as a cold air setup. The kit features a CNC aluminum MAF sensor mount on our intake tube with built in fins to keep air flow laminar. The intake kit includes a 5ply AP silicone coupler with clamps for easy install. To keep the cool air separated from the engine heat, Agency Power has developed this heat shield which mounts to factory chassis locations from the front crash beam to the fender. The high flow K&N cone air filter securely clamps in place to the short ram or cold air extension tube. The heat shields are powder coated in a textured black finish and the intake tubes are done in wrinkle red to match the Subaru STi intake manifolds.

www.agency-power.com
---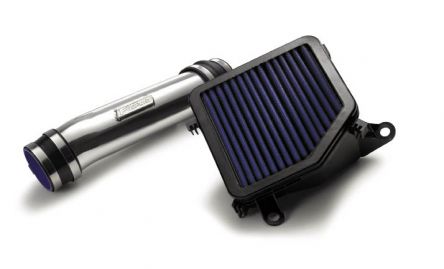 F-Sport Performance Air Intake
Lexus announced availability for its F-Sport Performance Accessories for the IS 250 and IS 350. The F-Sport Performance Accessory line helps to further realize each owner's desire to personalize their car's performance to best match their needs. F-Sport Performance Accessories include a wide cross-section of performance enhancing products engineered by TRD. When installed by an authorized dealer, F-Sport Performance Accessories are covered by the Lexus new car warranty. This low-restriction intake and filter assembly is fully compatible with stock engine controls and is emission legal in all 50 states.
---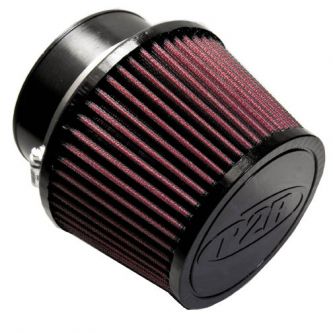 Power Rev Racing High-Flow Air Filter
Every tuner knows the recipe for easy, safe, and affordable power gains: Intake, Headers and Exhaust. Getting air in and out of the motor as quickly as possible is the key to more power. Start your quest for more power with a P2R High-Flow Air Filter. Made with the same high-quality materials you get from those pricier brands.

www.powerrevracing.com
---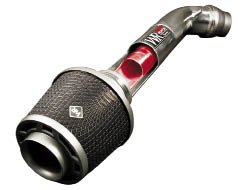 Weapon R Secret Weapon Intake
The Secret Weapon Intake was designed, to increase air intake volume to the engine. The concept is to create two different air velocity profiles, one traveling at higher speeds than the other. This technology increases air volume and speed to the engine, which naturally feeds the engine 3x more air than the conventional air intake system. The intake pipe is bent out of high quality 6061 Aluminum on our Automated CNC mandrel bender. Polished to a high show quality finish. The SW1 Air filter features a tuned velocity stack to increase velocity and decrease turbulence. This intake is only available in polished finish and offers a 1 Million Mile Limited Warranty, open pore high density re-usable foam and over 250 applications.
Read on for More Products
---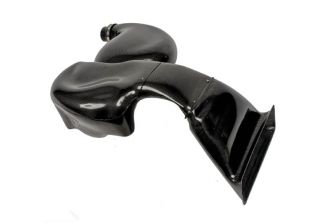 Password:JDM Dry Carbon Fiber Ram Air Induction Kit

The fellas at PasswordJDM rolled up their sleeves and went to work for days and months designing this thing, and now, it's just about perfect. It's everything you want for an intake system and all for under a grand! The entire system only weighs 1.8kgs/3.9lbs(stock air box weighs 4.4kg/9.7lbs) making this the lightest and strongest carbon fiber intake system on the market. Made entirely of Dry Carbon, the PWJDM intake system is a combination of individual components designed to work flawlessly together. Designed to ram/force feed colder atmospheric air into your engine at all speeds, the PWJDM Intake system has it all when it comes to what enthusiasts want from an intake system.
www.PasswordJDM.com or call (888) PWJDM 01
---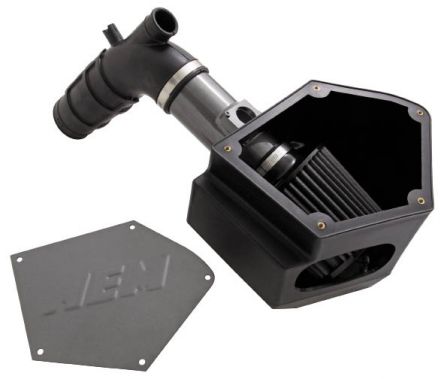 AEM  Mitsubishi EVO X Intake
AEM is proud to introduce its new Cold Air Induction System for the 2008 Mitsubishi Lancer Evolution X 2.0L MIVEC. The largest power gain is 16.67 horsepower at 6,300 RPM and 17 lbs/ft of torque at 4,100 RPM as measured on the company's All-Wheel-Drive Mustang Dynamometer. This precision tuned induction system includes AEM's revolutionary DRYFLOW synthetic performance air filter and a lifetime warranty.

www.aemintakes.com or call (800) 992-3000
---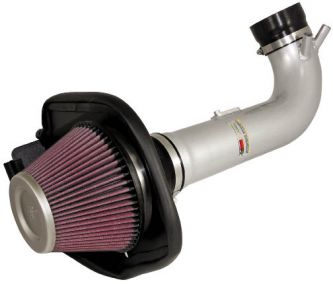 K&N High-Flow Intake System
The K&N High-Flow Intake System for the 2008 Subaru WRX 2.5L increases horsepower by 14.28 hp at 5,228 rpm over the stock intake configuration. To achieve such a performance increase, K&N replaces the original intake assembly; including the air box, air filter and intake tube with an all-new intake design. The new system draws air through a K&N High-Flow Air Filter that increases airflow and never needs to be replaced. Protecting the cone-shaped air filter, and isolating it from engine heat, is a powder coated heat shield that replaces the stock air box. As it passes the filter, air travels through a K&N mandrel bent aluminum tube that is formed and shaped, in the design phase, to drive a more laminar flow of air to the car's engine.
---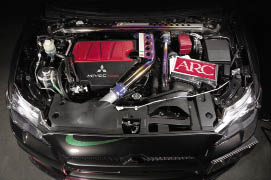 ARC Super Induction Box
The ARC Super Induction Box focuses on low, mid, and high engine response. When stepping on the gas, in between the cleaner and the intake manifold is unused air. ARC invented this Induction box to utilize the unused air and give it better airflow and better response. This unit is also a direct bolt on. The replacement filters and most popular Japanese vehicle applications are now available.
Read on for More Products
---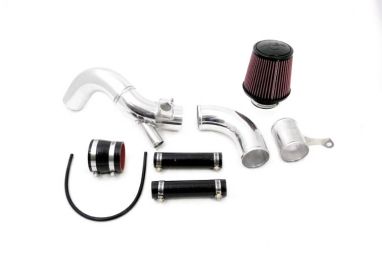 AMS EVO X Performance Cold Air Intake
The AMS EVO X Performance Cold Air Intake offers the best performance gains available. By relocating the air filter to behind the driver side front bumper, cool air from outside the engine compartment is drawn into the turbo. The exclusive design improves air flow, increasing horsepower and performance. AMS installed this EVO X Performance Intake with an AMS Manual Boost Controller set at the factory 21 psi on their shop car and produced a tremendous 50whp over stock!
---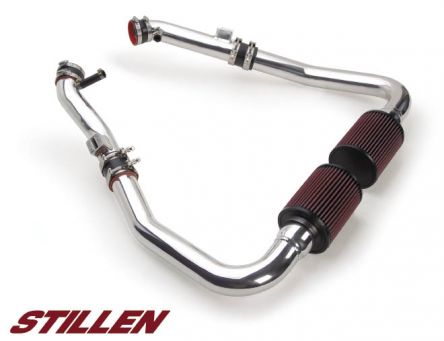 Stillen Ultra Long Tube Intake
The highly anticipated development of the STILLEN Ultra Long Tube Intake for the 2009 370Z is now a reality. Z owners can now benefit from the extensive R&D done with the 3.7L motor by the experts at Stillen, and see the performance benefits proven for the G37/G35 community. Over 50 variations of this intake were used in the development on the 3.7L motor to get the largest gains possible. Gains on the 370Z are 17.5 hp at the wheels! The Ultra Long Tube Intake System has a mild sound when cruising around, and an aggressive, undeniably powerful note when put under throttle.

www.stillen.com or call (866) 886-9784
---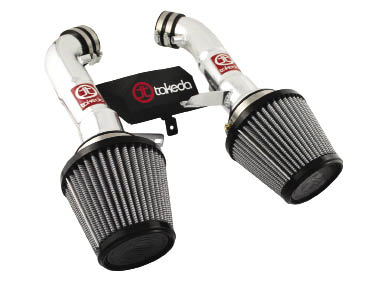 Takeda Retain Intake - 370Z V6-3.7L (Dual Intake)
Takeda's Retain intakes create simple, bolt-on horsepower that requires simple, quick installation and no bumper removal. Some of the short ram intakes include a wrinkle black heat shield or heat deflector when filter isolation is necessary. Retain intakes are available in a polished finish with maintenance free clear coat and provide complete bolt-on horsepower for the new Nissan 370Z V6-3.7L.