---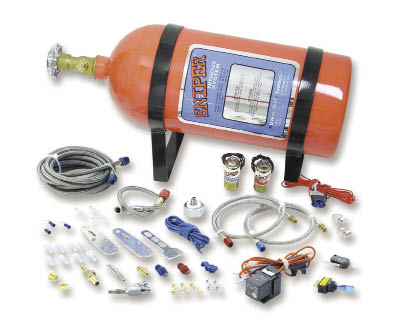 NOS

Universal 4 or 6 Cylinder Sniper EFI Wet Kit
Nitrous Oxide systems new universal 4 or 6 cylinder Sniper EFI wet kit is the most cost effective way to add instant horsepower to a late model vehicle where a NOS application-specific kit is not available. This "wet" system provides 35 to 75 adjustable horsepower utilizing the NOS "Soft-Plume" fogger nozzle for superior nitrous and fuel distribution. The nozzle plumbs directly into your air intake and comes with a micro-switch that reads wide open throttle so you are guaranteed safe and reliable performance the first time…everytime.
---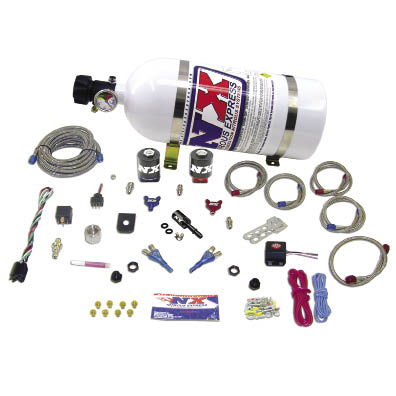 Nitrous Express

Nissan / Infiniti Dual Nozzle (35-150HP) W/ 10LB Bottle
Nitrous Express has combined performance, quality and easy installation in this new nitrous system engineered specifically for Nissans and Infiniti. This system includes an Autolearn TPS switch which allows the nitrous to activate only at wide open throttle. A direct-plug-in Fuel Line Adapter is provided to simplify installation (no need to cut your factory fuel lines). The system also includes Lightning series fuel and nitrous solenoids, two Shark nozzles, two nozzle adapters, a 10lb nitrous bottle with the new lightning 45 bottle valve, extra long stainless braided N2O line, stainless bottle brackets, master arming switch, relay, relay harness and all necessary hardware to complete the installation. Includes jetting for 35, 70, 100 and 150HP. With additional jets, this system can produce up to 300 wheel horsepower! Fits late model Nissans and Infiniti including 350Z, 370Z, G35 and G37s.
---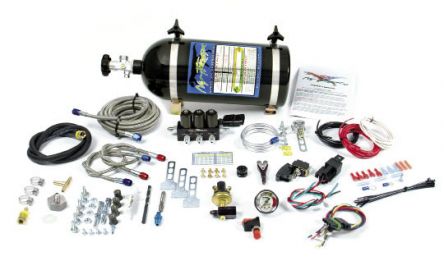 Ny-Trex Triple-Threat EFI Wet Nitrous System
Ny-Trex Triple-Threat systems deliver the power and ease of use expected from a well thought-out technically advanced nitrous system with features that insure dependable results. V8 systems include jetting to produce 50 to 150 horsepower while 4 & 6 cylinder systems provide 35 to 100 HP jetting. Ny-Trex Triple-Threat systems have been thoroughly dyno-tested to deliver optimum power and ensure the safest and most reliable operation of any system available today. Each kit is complete including tuning jets as well as a complete purge system with V-spray, liquid filled bottle gauge, T-Rex injector nozzles, powder-coated 10lb bottle with chrome Hi-Flo 660 bottle valve with integrated gauge port.
---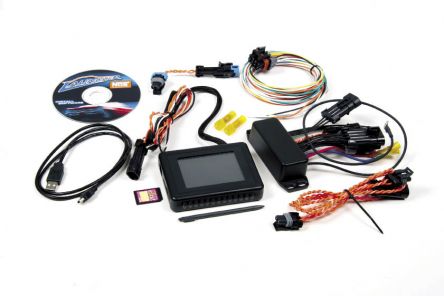 NOS Launcher Nitrous Controller
The Launcher is the most sophisticated nitrous controller of its kind eliminating the need for dials, switches, relays, and chips while combining all the function a nitrous racer could every want into a single easy to use controller. Out of the box the Launcher can be programmed to independently control 2 stages of nitrous, but with the addition of two more stage slaves a racer can have 4 stages of nitrous. Each stage can be programmed as a linear curve or non-linear by individually adjusting 20 separate points in any delivery method.

Read on for More Products
---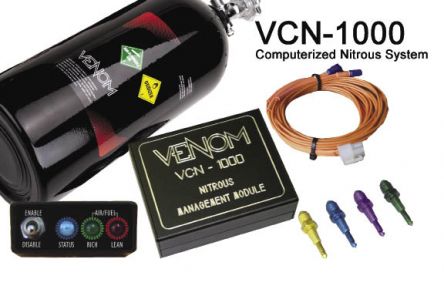 Venom VCN-1000 Computerized Nitrous
This kit is built using the same proprietary, closed loop computer controlled fuel enrichment system. The VCN-1000's powerful microprocessor ensures the proper air fuel ratio under all operating conditions, and automatically terminates the flow of nitrous if the air fuel mixture becomes too lean. Nitrous flow levels to the engine are controlled using the various sized nozzles (each contains 4 nozzles). The module automatically enriches the fuel flow to your engine using your existing fuel injectors and monitors the fuel mixture by monitoring the oxygen sensor. No modifications to fuel pressure or the fuel system plumbing is required.
---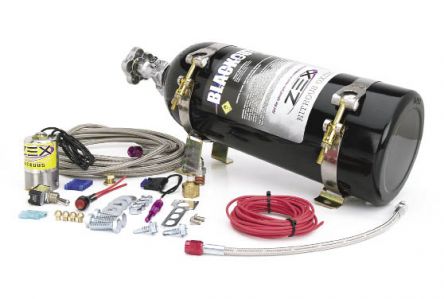 ZEX Safe Shot Nitrous System
The Safe Shot Nitrous System from ZEX offers an affordable option to gaining 15 to 35 instant horsepower, and it installs in less than an hour. In addition to low cost and ease of installation, the Safe Shot includes the quality components that ZEX is known for such as stainless steel hoses, high-flow bottle valves and premium quality, USA-made solenoids. The centerpiece of this kit is the 5 lb. black powder-coated bottle which is perfect for discreet mounting locations - making this the ultimate "cheater" nitrous system. A completely self contained kit, the only additional part needed is a common hand-held programmer used to increase fuel enrichment for safely operating at the upper limits of the horsepower range.