---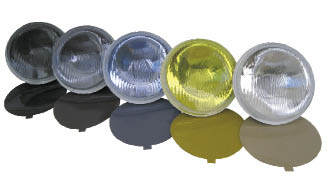 Lamin-x Light Protection Kits
Lamin-x Light Protection Kits are designed to protect your vehicles front lighting from road debris abuse. They apply directly onto the lens and act like a thick, strong layer of skin. These transparent, adhesive-backed films are available in Clears, Yellow, Optic Blue, and Gunsmoke. The protection kits are available in either uncut bulk or precut for most popular makes and models. The adhesive is strong, yet forgiving enough for a perfect install. All kits include complete installation instructions and an application tool.
---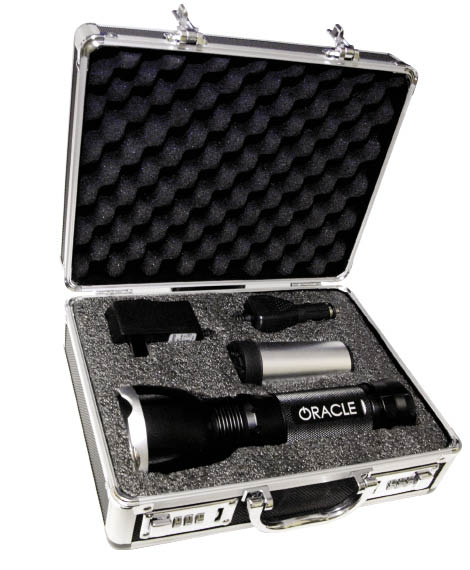 Oracle 24X-9 Xenon High Intensity Discharge (HID) Flashlight
The ORACLE 24X-9 cutting edge design incorporates all the necessary components of the High Intensity Discharge system such as the Xenon Bulb, Digital AC Ballast, Lithium Power Pack, and HID Igniter into a 9 inch long, 1 lb all aluminum body. This rugged flashlight carries an IPX3 Waterproof Rating and an Unconditional 1 Year Warranty. The light output of the 24X-9 is simply not attainable for a normal halogen flashlight of the same size. The 4300K 24 watt Xenon Bulb puts out 2200 Lumens of light power for over a 1 KM range. Even with this amazing power, the 24X-9 is extremely efficient. The Lithium-Ion battery can be used for over 1 hour constant without needing to be charged. This battery is rated at 500+ duty cycles and even has a built in 3X LED flashlight. The ORACLE 24X-9 comes in its own hard case and includes a variety of accessories: Lithium-Ion Battery, Battery Cover, DC power Car Charger, AC power Home Charger, Phosphorescent Glowing Halo Ring, LED Battery Flashlight, and User Manual
---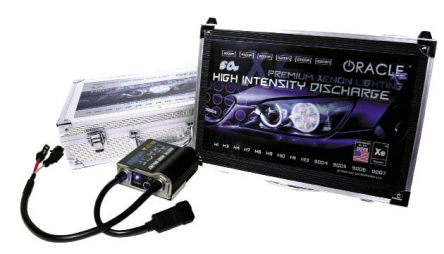 Oracle Xenon Conversion Kits
Oracle high intensity discharge lighting kits are the highest quality true xenon conversions available. Oracle ballasts are advanced 32V digital AC current models that are Can-Bus compatible. These lights work where other kits just flicker and fail. The new Oracle HID kits are so rugged the ballasts, bulbs and wiring can be completely submerged underwater, frozen in a block of ice and subjected to over 400 degrees of heat and continue to operate! Additional features include a "switchblade" bracket, new heat sinks, a blue LED power indicator, and an anodized black finish. The new technology is so effective that Oracle stands by a lifetime warranty on this product. Xenon Conversion kits from Oracle are now available in both 35W and 50W power options. Color temperature options are from 3000K-30,000K and every color in between. Oracle offers all popular bulb sizes and even the hard to find fog light bulbs for various vehicle applications.
---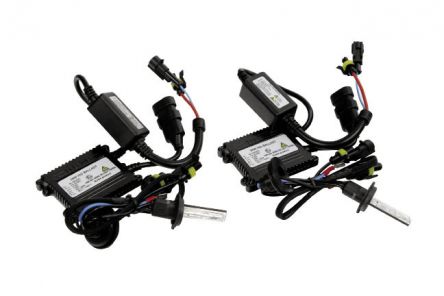 DDM Tuning Micro HID Kits
You can't buy a system with a smaller ballast. Fully digital, draws less than 6 amps at start up and 3.4 amps at normal operating temperature. This system provides 3200-3400 Lumens at 35 watts and an amazing 5000 Lumens at 55 watts per bulb. In comparison, a typical halogen bulb produces 900-1200 lumens.
Read on for More Products
---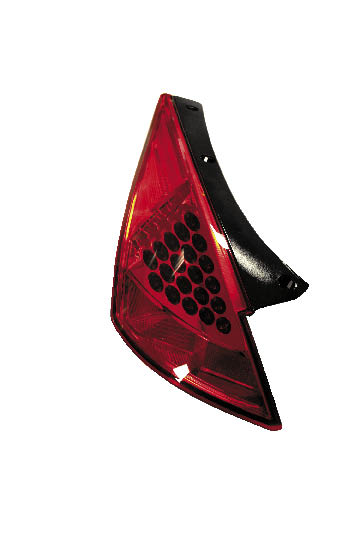 Anzo USA Nissan 350Z LED Taillights
Anzo USA is the answer for all of your performance lighting needs. With over 29 years of manufacturing experience, they surpass the competition in quality, innovative styling and product offerings. Anzo USA offers the best quality performance lighting products at a low cost. All ANZO USA products are S.A.E. and D.O.T. compliant and manufactured in a state-of-the-art ISO 9002 and QS 9000 quality certified factory. In order to ensure perfection, they rigorously test every ANZO USA lighting product in a Thermo-Hygrometer (temperature and humidity chamber) and Rain-Resistant Tester. All of ANZO's lighting products are designed using CAD/CAM computerized equipment and these modern designs are then tested using a 3-dimensional testing machine to insure precision and accuracy in the research, development and design of our molds.
---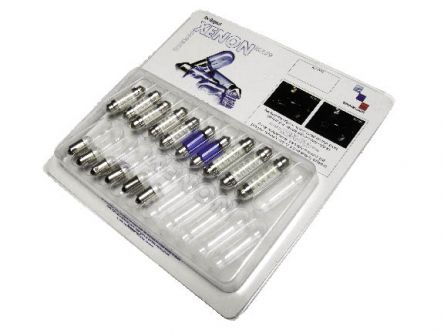 Bimmian.com Interior Xenon Lighting Kit
Ever wanted to upgrade the look of the many interior lights inside your ride? Well, finding all of the part numbers and ording separately is a thing of the past with the complete Bimmian Xenon Interior Lighting Kit. While ordering separate bulbs, they either don't fit, are too dim or too yellow in color to give you the true cool Xenon white sensation you demand for your car or truck. Including every single bulb inside the cabin and trunk, the Bimmian kit offers a truly painless way to update your car up to today's standards. Best of all, they carry a lifetime warranty making them the last bulbs you will ever have to buy.
---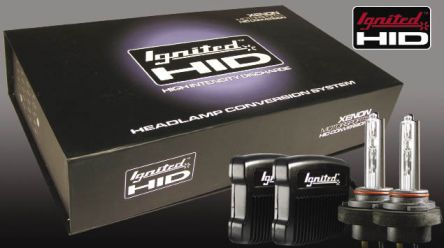 Ignited Super Slim HID Conversion System
Ignited Performance Products is proud to introduce the latest Super Slim Ignited HID Conversion System. The Xenon Kits generate up to three times more light and lasts up to five times as long when compared to conventional halogen technology. The plug n play design allows easy installation meaning you will not have to cut or splice wires to enjoy the benefits of High Intenstity Discharge Technology. Ignited kits are the most recognized HID brand name in North Amercian Motorsports. Kits begin at $179.99 and come equipped with a full year manufacture warranty.
---
StreetGlow Multicolor LED Interior Kit
Inspired by the StreetGlow multicolor LED undercar kit, StreetGlow combines the best features of the multicolor LED undercar kit and creates an interior kit of 7 selectable colors and 9 selectable pattern modes. Each kit includes: (4) 12-inch tubes per port, interconnect up to 16 x 12-inch tubes, 2 button switch panel, and 4-port controller.  Additional strips can also be inter-connected together for larger vehicles.
---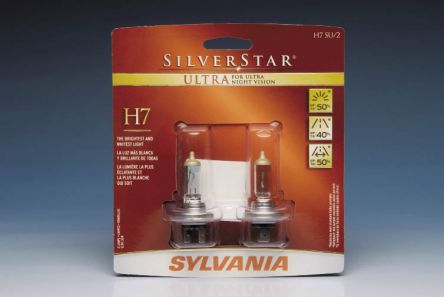 Sylvania SilverStar Ultra
Sylvania SilverStar Ultra high performance halogen headlights enhance driver safety, especially at night, when the need for reliable, high quality lighting is most crucial. They produce a brighter, whiter light and studies have shown that whiter lighting can improve your reaction time, increase your nighttime visibility and give you better roadside viewing. Compared to current standard halogen headlights, SilverStar Ultra headlights offer the whitest and brightest light available – up to 50% brighter, up to 40% increased down road visibility and up to 50% increased side road visibility. Brighter light is as easy as upgrading to SilverStar Ultra bulbs - the brightest, whitest, 100% legal halogen headlights.
www.sylvania.com