Page 2 of 2
---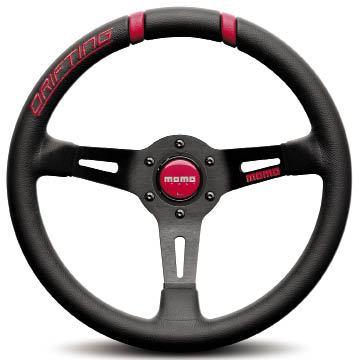 MOMO Drifting 33 Wheel
Celebrating Momo Drifting's success, the Drifting 33 has arrived. The new model, joining the best selling Drifting 350mm, has a reduced 330mm diameter for a more precise steering response and better feel. Drifting 33 is covered in genuine leather and includes red or blue leather inserts at the top of the rim in order to aid the driver's steering control during spirited use. Its design is completed by an embroidered Drifting logo on the rim and a glossy, color-coordinated central button.  MOMO Drifting 33 steering wheels are available in either red or blue.
---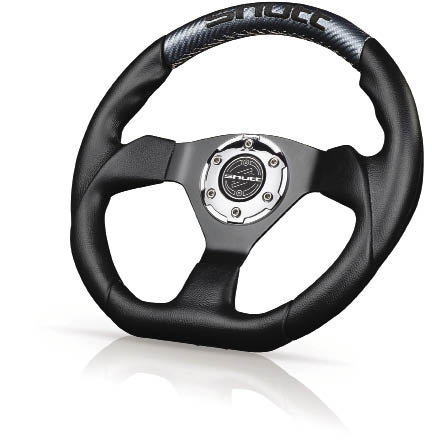 SHUTT SR Steering Wheel
SHUTT SR steering wheels are designed and manufactured using the highest quality materials. Installing a Shutt steering wheel is relatively easy and will require a car specific adapter hub, now easily offered by Shutt USA. Aftermarket steering wheels can change the feel of the whole car and bring a beautiful finishing touch to the interior. A quick release can also be used to extend the wheel towards the driver (required in some cases) and when you remove your steering wheel can add another level of security to your vehicle.
---
---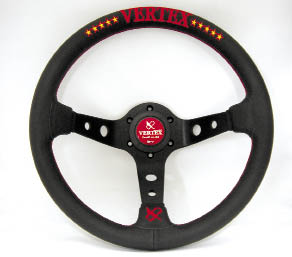 Vertex 10 Star Steering Wheel

The steering wheel comes in the popular 330mm size with a 90mm deep dish for better control during spirited driving. The Italian Leather with Vertex embroidery accents the steering wheel with horn button included. The steering wheel is available in red or blue.