---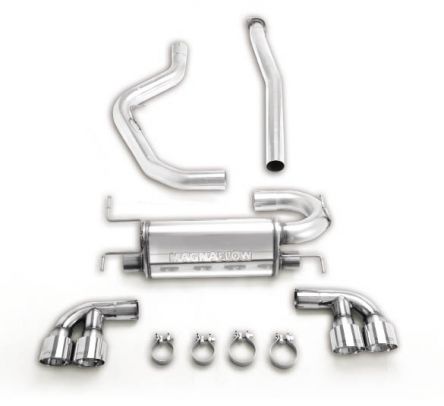 MagnaFlow High-Performance Exhaust
MagnaFlow engineers have designed a complete stainless steel cat-back exhaust system for the 2008-2009 2.5L Subaru Impreza WRX STi. This system comes with dual rear exit,
a fully polished muffler and quad 4-inch tips. The mandrel-bent tubing and straight-through design release backpressure, allowing the Subaru's turbocharged engine to breathe better while providing a substantial increase in horsepower and torque. You'll notice performance gains while maintaining a smooth, deep tone that compliments your STi.
---
---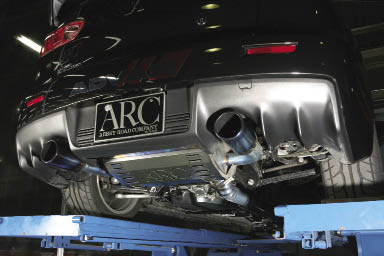 ARC Titanium Muffler / Downpipe
ARC titanium exhaust systems are ultra lightweight and manufactured from 100% titanium. ARC's artistic manipulation of titanium, which ARC is extremely proud of and known for, developed from years of experience and involvement in all of Japan's top racing circuits. The use of titanium in Motorsports offers certain characteristics that steel cannot match such as excellent corrosion resistance and ultra lightweight properties. ARC's developments of the titanium exhaust systems are up to 75% lighter when compared to OEM systems. Since weight is a detrimental factor to performance, the use of lighter materials such as titanium allows vehicles to accelerate faster, turn-in better, improves gas mileage, and puts less stress on the suspension and chassis
---
---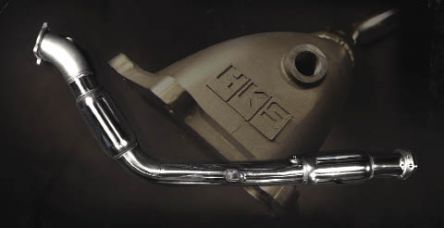 HKS Downpipe
HKS USA, the premier manufacturer and supplier of premium automotive performance systems, introduces its newly designed Bellmouth downpipe for the 2008 Subaru WRX and WRX STI 5 door. Constructed of a cast-iron bellmouth mated to 75mm SUS304 stainless steel piping, the HKS downpipe is a direct bolt-on replacement to the restrictive factory downpipe. A newly designed exhaust flange adapter allows the downpipe to bolt up to the factory center-pipe, HKS center pipe, or the forthcoming full 75mm HKS cat-back exhaust system (April 09 release date) eliminating all restrictions.
www.hksusa.com or www.motovicity.com
---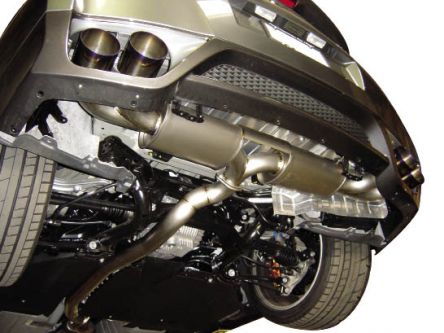 GReddy Full Titanium Exhaust - GT-R (R35)
Top-of-the-line super cars, like the GTR, need top-of-the-line performance products. A full Titanium GReddy exhaust provides this and much more. In addition to the gains in power from the larger 80mm piping, over the 70mm and 60mm factory piping, the Titanium construction provide a weight savings of over 45% (19.5lb 80mm cat-back). But this is not it, the twin Titanium mufflers and quad Titanium tips reduce sound over the stock exhaust with a purer straight through exhaust note.
Read on for More Products
---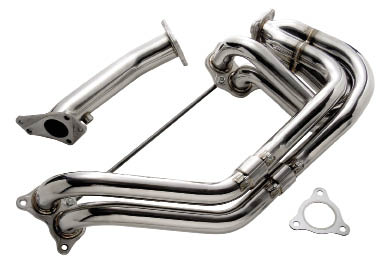 Prosport headers
Prosport headers are a work of art, you might even be tempted to just hang them on the wall and stare at them all day long! They are fully constructed out of T304 stainless steel, including the flanges and the up-pipe uses Prosport's exclusive 3-bolt flange design between the manifold and up-pipe providing a stable connection without air leaks. With a jaw dropping 45mm inner pipe diameter you can be sure your spent exhaust will exit in a hurry with gains around 11HP and 13ft/lbs just bolted on, with no low end torque lost.
---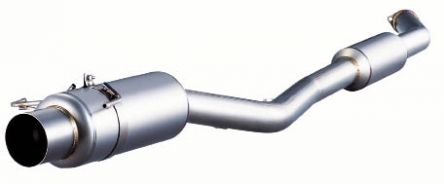 Fujitsubo Super Ti
Super Ti is Fujitsubo's premier exhaust system. It features full titanium construction, large diameter mandrel piping, and high flow muffler. Each Super Ti kit is designed and developed for optimum horsepower and torque while reducing weight. The goal in development is to increase power throughout the RPM range with an emphasis on high RPM power. All components are made of titanium from tip, muffler, resonators, piping, brackets, and hangers. Muffler tip diameter ranges from 100mm to 122mm, and an inner silencer is available separately. TEIN USA is distributing Fujitsubo Exhaust Systems in North America which have been individually checked by Fujitsubo engineers to ensure proper fitment, as well as HP and decibel readings. Available for many performance model vehicles including NSX, EVO VIII, IX, WRX/ STi, Supra, and coming soon for EVO X, new STi, R35 GT-R, and S2000.
---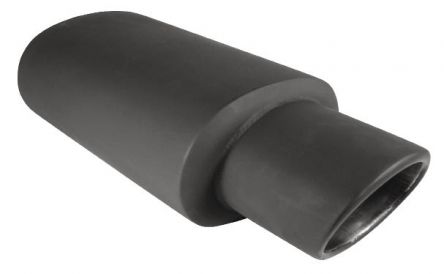 DAI Techracing Mini Muffler
Techracing now offers a small dimension performance exhaust capable of fitting in small spaces. The muffler is built as a straight-thru design to allow maximum power and a throaty exhaust note. The muffler is finished in a flat black paint to reduce visibility and remain stealth. For great sound, performance gains and a unique look that won't attract unwanted attention, the Techracing Mini Muffler is a solid option for your next project.
---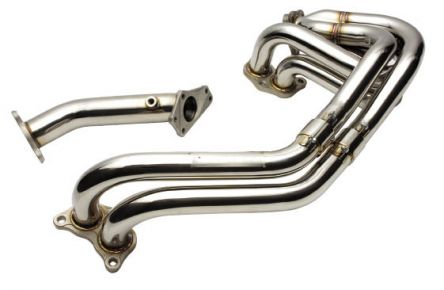 GT Spec

Gen II Manifold
GT Spec is proud to introduce the new GEN II exhaust manifold for the Subaru WRX/STI. crafted from 14-gauge SUS-304 Stainless Steel. GT Spec headers are tig-welded inside and out to ensure a perfect flow and perfect fit. Compared to the factory exhaust manifold, GT Spec manifolds extract the most power from your EJ20/EJ25 by incorporating a long-tube design that provides improved heat dissipation and noticeable horsepower gains. Manufactured using an industry leading mandrel-bent 45mm stainless steel piping, .5-inch thick CNC machined SUS304 wax-cut flanges and SUS304 02 bungs, not only aids in longevity but allows for the proper flow required for high horsepower vehicles.
Read on for More Products
---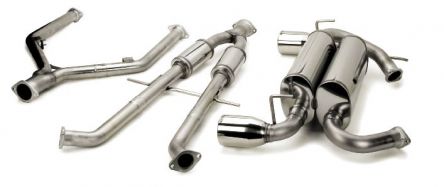 Stillen

370Z Exhaust System
Stillen offers a complete, true dual, stainless steel exhaust system for the Nissan 370Z. Constructed out of polished stainless steel and finished with 4.5-inch polished 304 stainless tips and polished mufflers, this exhaust nets a gain of 18 WHP! With years of experience on the VQ35 engines, Stillen was able to utilize that knowledge with the larger 3.7 liter and find hidden power in the factory exhaust system
---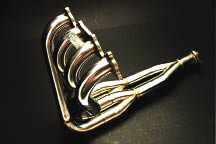 Weapon R Headers
Weapon R 4-2-1 race header long tube design maximum high RPM exhaust flow stepped tubing design for higher torque gains ideal for all forms of competition racing best for vehicles with high lift cams and high RPM rev band 2.5-inch collector for high exhaust flow eliminates catalytic converter (not 50 state legal) designed with extensive research and development on Weapon R's dynapack dyno.
---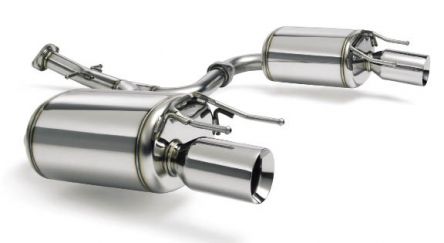 F-Sport Performance Exhaust System
This system features all stainless-steel construction with fully polished mufflers and double-wall exhaust tips. In addition to an outstanding appearance, it delivers a powerful, sport-tuned exhaust sound and does not affect emissions compliance and complies with established sound-level standards. F-Sport Performance Accessories include a wide cross-section of performance enhancing products engineered by TRD. When installed by an authorized dealer, F-Sport Performance Accessories are covered by the Lexus new car warranty.
---
---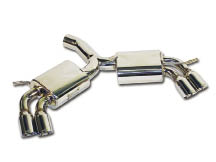 APR GTI (MkV) 3-inch Exhaust System
The APR Quad Tipped exhaust for the MkV GTI is a unique system originally developed for the SEMA GTI project. Due to the overwhelming demand for it, APR has put this system into full production. This special exhaust is designed to work with an Oettinger rear bumper for the MkV GTI. APR's MkV GTI Exhaust is a stainless steel, 3-inch mandrel bent, turbo-back exhaust. Unlike most other aftermarket exhausts, the APR exhaust is a full exhaust from the turbocharger back. All APR exhausts come with a full lifetime warranty, and all are fully polished with the APR logo acid etched on each tip. Each system has an elegant badge identifying the system and the manufacture date.
---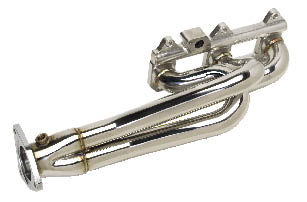 Racing Beat

RX-8 Header
The Racing Beat Header utilizes 1.75-inch OD, 14 gauge, mandrel-bent, 304 stainless steel primary tubing and features an exclusive cast stainless steel Racing Beat engine-to-header flange. Inside the collector, exhaust gases are routed over a unique transition flow cone, allowing exhaust gases to exit the header through a 3-inch OD flange. All required mounting hardware, an outlet gasket, and instructions are included.
---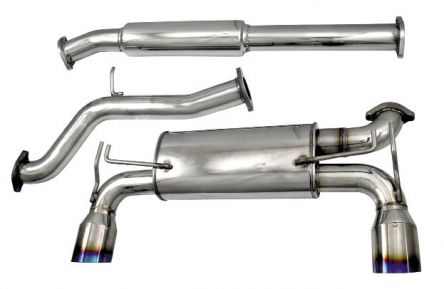 Injen

SES1899TT
At the heals of it's release, it would seem the next incarnation of the Lancer Evolution will have plenty of goodies to play with. One of witch comes directly from Injen Technology, a main stay in the Evo world. This 76mm cat-back for the Evo X features full TIG welded stainless steel construction topping off with two 4.5-inch titanium tips.
---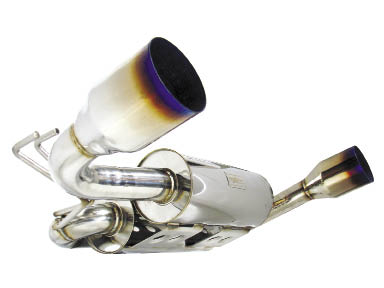 Mackin MXP Exhaust
The Mackin MXP product line features mandrel bent piping and 100% Stainless steel SUS304 (piping, flanges, hangers), with a full 3-year warranty. Bolt-on exhaust systems are now available for Mitsubishi Evo X, Hyundai Genesis Coupe (2.0T), Subaru STi, E46 BMW M3, and G37 coupe.
Read on for More Products
---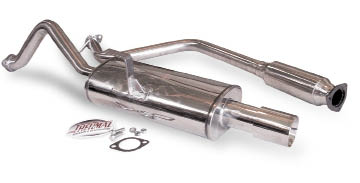 Thermal Exhaust Systems
Thermal Research & Development works closely with import racing professionals to configure optimum exhaust products for both the street and the race track. Thermal Research & Development handcrafts exhaust systems with maximum horsepower as their top priority. Thermal exhaust systems are made of stainless steel and are mandrel bent for high flow through bend areas.
---

Turbo XS Turboback Exhaust
TurboXS releases a 2008 WRX Hatch Turboback Exhaust. This is a complete exhaust solution from the turbo all the way until the muffler tip. The down pipe is a 4-inch bell mouth design which tapers smoothly down to 3-inches at the bottom to connect to their race pipe or cat pipe solution. The melodic boxer engine tone plays through a 3-inch cat-back with a straight through muffler and a 4-inch slashed cut tip. Horsepower gains of the complete system are 29 ft. lbs. and 30 whp gain over a stock.
---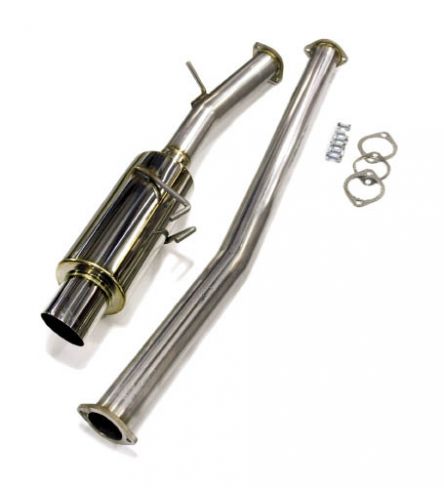 AMS

EVO X Single Tip Catback ExhauST
The AMS EVO X Racing Series Cat-Back Exhaust System is a no-nonsense, all business exhaust system designed to make the most power and shed serious weight off your EVO X. Our exhaust features mandrel bent piping for the best exhaust flow. This system does not have any restrictions like other popular exhaust systems that "neck down" and hurt performance. Like all other AMS exhaust products this Cat-Back is TIG welded with 100% 304 stainless components including the flanges and hangers. The system utilizes factory exhaust hangers and includes a high quality slash cut 4" tip muffler. By simply installing this exhaust system you can expect to see as much as
15+ Wheel Horsepower gains over stock without even re-tuning the ECU!
---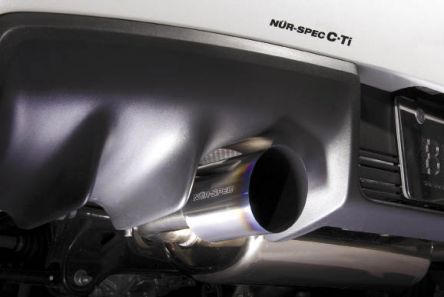 Blitz NUR Spec C-Ti
The Blitz NUR Spec C-Ti exhaust for EVO X is finally here. This full catback exhaust system with 80mm stainless steel piping features a flawless tail tip made of titanium material to look as great as it sounds. The exhaust tone level is 90dB and nets noticeable horsepower, increased performance and more aggressive exhaust note.