Page 3 of 3
---

INOVA Spray Wax
INOVA Spray Wax stands alone as the exclusive aerosol car wax on the market. Breakthrough macroparticle technology delivers an even spray across a greater surface area — guaranteeing your entire paint surface is protected. The ultra long-lasting bond preserves an all-season shine, and keeps your car in mint condition. Experience this innovative, high-performance product, and you'll never go back to your regular wax.
---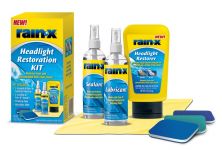 Rain-x Headlight Restoration Kit
Over time, headlight lenses can become oxidized, rendering them hazy and yellow. This causes headlights to shine less brightly. The new Rain-X Headlight Restoration Kit provides a deep clean to yellowy and hazed headlights with the use of a specially designed polish and sealant. Don't replace headlights when you can restore them and improves safety with clearer headlight lenses.
---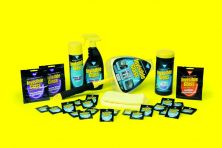 Invisible Glass Ultimate Glass Cleaning Kit
Get superior cleaning power and invisible clarity with the new Invisible Glass Ultimate Glass Cleaning Kit. Invisible Glass' non-abrasive, non-streaking formula contains no soaps, foams, scents, or dyes – eliminating streaky residue often left behind by other glass cleaners. The Ultimate Glass Cleaning Kit includes Invisible Glass aerosol and trigger bottle, Invisible Glass wipes canister, Reach & Clean glass cleaning tool kit, two packets of Invisible Glass with Rain Repellent wipes (two wipes/packet), Invisible Glass Headlight Restoration Kit, 20 individually packaged Invisible Glass Lens Wipes and one microfiber glass cleaning towel.