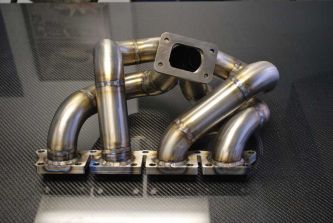 JRP Turbo Headers

JRP is always providing product on the cutting edge of quality. With no exception is their line of turbo manifolds, which are made in house by very experienced welders. These pieces are made to fit many popular engine chassis combinations. All joints are backpurged and double welded for each stainless manifold. There are very rare chances of failure with thick schedule 40 304L SS pipe, holding all the abuse a turbo can build up. All flanges are CNC cut to ensure a precise fit. Exotic thin gauge versions available.
---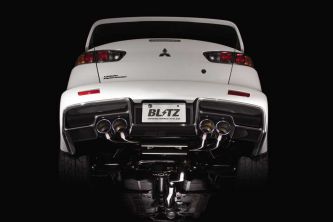 BLITZ
Nur-Spec C-TI Quad Exhaust System for Lancer EVO X
New BLITZ Nur-Spec C-TI quad exhaust system features four 114.3mm diameter tail pipe (two on each side) designed for a more aggressive looking system for the Lancer EVO X. It comes with 80mm piping made of SUS304 stainless steel. The tips are made of Titanium with laser-etched "Nur-Spec" logo. BLITZ has specially designed a new diffuser to accommodate this awesome quad pipe exhaust system. Diffuser is available in FRP (Fiberglass Reinforced Plastic) or Carbon Fiber material. ­ Due to the quad tips, this exhaust will not be compatible with the OEM rear diffuser. BLITZ offers this system with or without diffuser.
---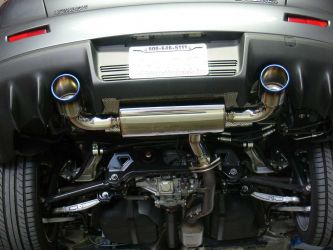 Injen Technology
SES1899TT

Injen Technology reinvents the axle-back system with the all new SES1899TT. Finally, an axle-back system that  delivers the perfect tone at open wide throttle, while generating up to 19 h/p and 16 ft./lbs. of torque.  Made with pride in the US, Injen spared no cost in designing this pre-tuned, track proven axle-back system.   Don't hold back!  Unleash the power within your reach, bolt-on Injen's stainless steel muffler with matching 4.5-inch titanium tips. Low tones never sounded so powerful! 
www.injen.com
---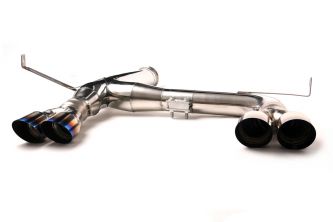 HorsepowerFreaks
E46 M3 Titanium Exhaust
Want the highest flowing and lightest exhaust for your turbo'd or supercharged E46 M3? This is it! There is no muffler or resonator on this exhaust, just straight through "titanium" piping so it flows very efficiently with virtually no backpressure, (but it will also bolt right up to any factory E46 M3 midpipe). This entire exhaust is pure titanium right down to the bolts, clamps and brackets, weighing just 6.3 lbs. compared to the factory exhaust's 52.3 lbs.
www.horsepowerfreaks.com
---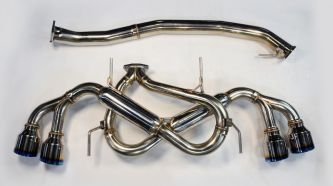 HKS
Superior Spec R Titanium Exhaust

HKS' flagship exhaust system, the Superior Spec R is now available for the Nissan GT-R offering the ultimate in performance, sound quality and appearance. The durable full titanium exhaust system is lightweight and weighs 10kg (22 lbs.) lighter than the stock exhaust system. The large radius piping layout optimizes exhaust gas pressure and temperature allowing peak performance and an aggressive exhaust tone. Dual layer titanium tips reduce heat while the functional slits inside the tips assist in noise reduction. 
www.hksusa.com
Read on for More Products
---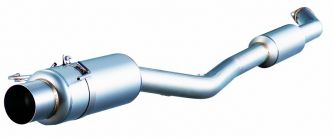 Fujitsubo
Super Ti

Super Ti is Fujitsubo's premier exhaust system. It features full titanium construction, large diameter mandrel piping, and high flow muffler. Each Super Ti kit is designed and developed for optimum horsepower and torque while reducing weight. The goal in development is to increase power throughout the RPM range with an emphasis on high RPM power. All components are made of titanium from tip, muffler, resonators, piping, brackets, and hangers. Most applications have a decibel output of 93-94dB, and an inner silencer is available separately. Available for many performance model Japanese Import vehicles.
---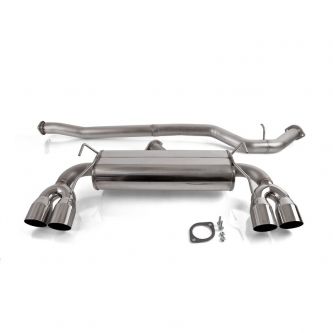 COBB Tuning
Cat-back Exhaust Systems

No performance vehicle is complete without a quality, purposeful-sounding exhaust system. With these basic requirements in mind, we have created the industry standard for quality exhaust systems. COBB Tuning Stainless Steel exhaust systems feature 3-inch T-304 TIG-welded construction for optimal performance, fitment and quality.  COBB Tuning exhaust systems feature straight-through mufflers for optimal exhaust-flow characteristics while offering a deep and street-friendly exhaust note. COBB Tuning stainless exhaust systems are perfect for the enthusiast looking for the ultimate in quality, fitment and exhaust tone. All exhaust systems feature OEM fitment and are the perfect companion to our high-flow downpipes. Available for: Subaru WRX/ STI; Mitsubishi EVO X; Mazdaspeed 3; Nissan GT-R.
---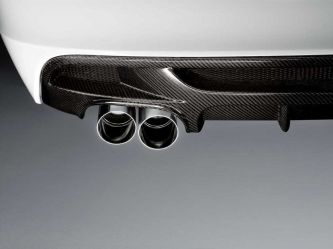 BMW Performance
1-series & 3-series Exhaust Systems

The BMW Performance exhaust system doesn't just give your BMW an unmistakable sound, it also improves airflow through the exhaust system, thereby improving engine performance. The outward sign of these hidden benefits is the minimalist twin tail in chrome-plated stainless steel. Available for BMW 128i, 135i, 325i, 330i and 335i.
www.bmw.ca/performance
---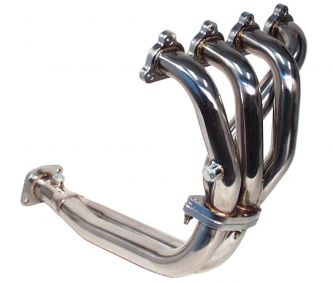 Ractive
Stainless Steel Exhaust Headers
The famous Ractive H101SS header is designed to fit all Honda Civics from '88-00 with 1.5L and 1.6L SOHC V-TEC and Non-V-TEC engines. The header also fits both OBD1 and OBD2 systems. Its construction is 100% stainless steel (hence the SS designation) including its flanges. All of the ports are machine polished for improved flow and added power.
www.toucanindustries.com
---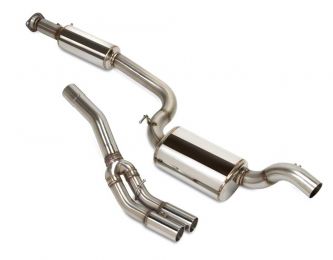 Racing Beat
MazdaSpeed3 Exhaust

Racing Beat offers this complete 304-stainless steel cat-back system for the 2007-2009 MazdaSpeed 3. As a direct replacement for the factory system, the Racing Beat 3-inch OD turbo exhaust utilizes the stock mounting hangers and brackets for a simple and secure fitment. Manufactured by Racing Beat using stainless steel components to ensure excellent durability, this performance exhaust system is ideal for street or race use and features either twin or single outlet tip configuration.
www.racingbeat.com

Read on for More Products
---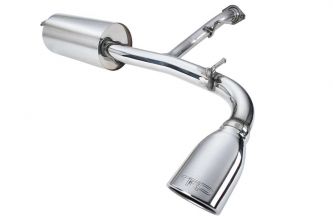 TRD
Sport Muffler
Beyond boosting horsepower the TRD sport muffler delivers a deeper and more resonant engine sound that enhances your vehicle's presence and appearance, while providing a measurable increase in horsepower. It's constructed entirely of 304 stainless steel, features a polished double-walled muffler body, rolled edge and TRD logo etched on both sides of the high-polished, slant-cut exhaust tip.
www.trdusa.com
---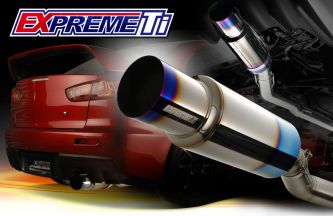 Tomei
Competition Titanium Exhaust System


The new Tomei Powered product concept is to "Achieve performance gains with a lasting impression". The main priorities were for overall engine performance gains as opposed to just maximum peak power. The tubes size and length was carefully selected to suit each engine characteristics and to suit the cars chassis as well for maximum torque, response, and exhaust flow efficiency through the layout. It is difficult to increase the power on the EVO X with the muffler alone but this design has optimized in all areas. The use of Titanium material with the single piping layout also helped reduced the overall weight of 15.65kg! This amazing weight reduction helps with the cars performance and handling whilst maintaining strength that Titanium can deliver.
www.tomeiusa.com
---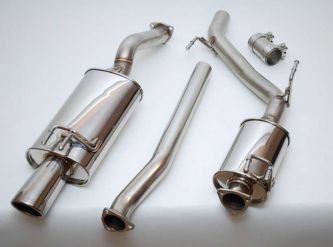 Vibrant
StreetPower Gen-2 Cat-Back Exhaust

This Vibrant Performance StreetPower Cat-Back Exhaust System is designed for all 2006-2009+ Honda Civic Si Coupes and Sedans. Manufactured entirely from T304 Stainless Steel, this exhaust system features complete 2.5-inch CNC mandrel bent exhaust tubing for optimum exhaust flow. Independent dyno testing has shown gains of 10HP and 8ft/lbs at VTEC and gains of over 20HP with the use of Vibrant 4-2-1 Stainless Steel headers. All Vibrant Performance exhaust systems are designed to use factory mounting points and include a hardware kit for quick and easy installation.
This e-mail address is being protected from spambots. You need JavaScript enabled to view it .
---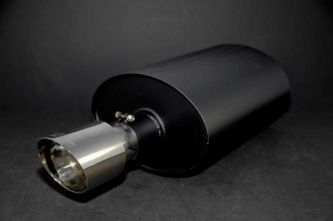 Weapon-R
Inter-Lock Street Series

Weapon-R Inter-Lock Street Series Mufflers are constructed from stainless steel and coated with a black satin finish to achieve a stealth street look. Every muffler produces a unique exhaust note achieved by highly dense fiberglass / woven stainless packing material. The Inter-Lock system makes it quick and easy to change the muffler tip to achieve different looks from the several styles available. These mufflers are Universal fit for most popular cars and trucks.
www.weapon-r.com