Written by Dave Pankew | 21 May 2010
Page 5 of 7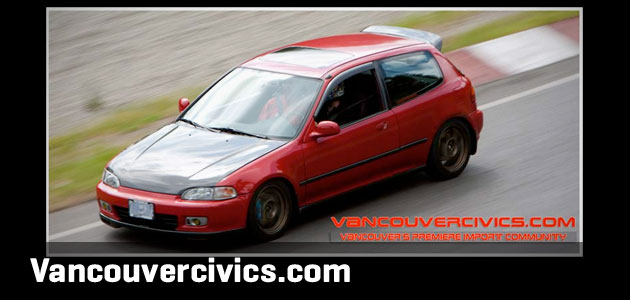 Established: 2002
Members: 18,790
Member Profile: Much like their Toronto counterparts, these guys are not casual about their Hondas. They are serious and they are H-badge for life proving it on the track
Quick Facts: The bubble back lives in numbers here and this is a gathering of the hardest core Civic owners on the west coast.
The Goods: VancouverCivics.com has grown into a sizable community with a busy forum boast almost 20,000 members. AT the size of a small city, you will find all kinds of interesting personalities here. Whether it is the: jaded OG guy, the piss and vinegar noob or the knowledgeable and easy to deal with vendor, they are all here. Although many Civics may have some mild mods out there, make no mistake; there are some serious cars on here. From full drag setup turbo Civics to outrageously styled JDM creations, the owners showcase a car every month in a great feature car layout. With loads of knowledge and a great classified section, if you own a Honda or Acura from the Vancouver coast all the way to the interior, this is a great community to side with.
---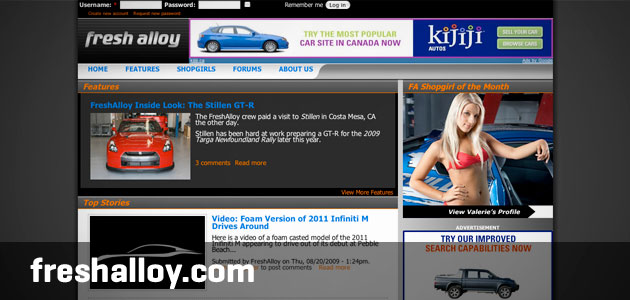 Established: 1999
Members: 38,628
Member Profile: Mostly mature owners with Nissans and Inifnitis that are interested in other makes and models as well.
Quick Facts: Once renowned as the largest Nissan and Infiniti resource, Fresh Alloy has really opened up to other automakers and added loads of news and video.
The Goods: Back in the early 2000's Fresh Alloy was the place to be for Nissan and Infiniti tuning and news. The operation was structured like a company with a Business Manager, Salesmen and an Editor In-Chief. It appeared as if they would be the standard for Nissan news considering their close ties with the company. Well, over the years a lot of competition has arrived with the popularity of the 240 and the Z but they have still held their ground as a major player.  They have expanded their scope to included more videos and even have some skin in there with the 'Shop Girl of the Month' feature. We have to hand it to them for sticking around and staying current for 11 years.
---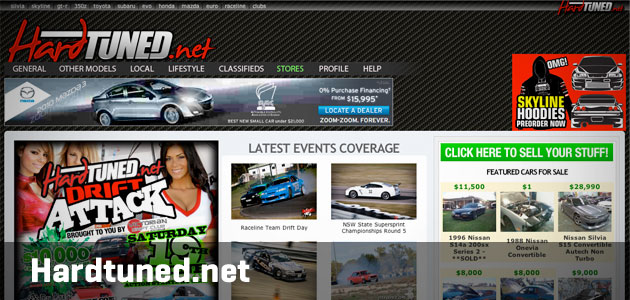 Established: 2000
Members: 55,809
Member Profile: Serious Japanese car gearheads in a hub of tuning madness, Australia
Quick Facts: If you want to go fast on the track or down the strip, this is definitely the place to learn from the pros.
The Goods: Let's face it, the Sport Compact craze is pretty new here. Sure people were tinkering with Import cars in the 1980s and 1990s but it didn't start blowing up until hits like Gran Turismo for Playstation and Fast'n'Furious made it huge. However, in Australia, they had been tweaking cars like the Skyline, WRX and Evo before we ever saw them here. So sites like hardtuned.net has been a valuable resource for many enthusiasts in North America when these cars finally arrived. In Canada, the ties with Australia are even closer sine it is an English speaking country that have been tuning many of the cars that are flooding the Canadian scene under the 15 year import rule. There is a lot to learn here at this site but remember to check your ego at the door, these are seasoned tuners who know their stuff and will not tolerate trolling.
---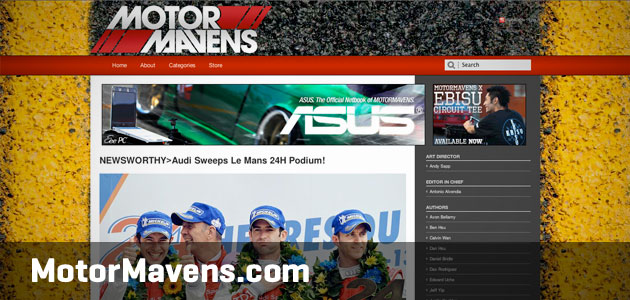 www.MotorMavens.com
Established: 2008
Quick Facts: Some of the best free content you can find from all over the globe. Hip and current approach.
The Goods: With some of the best photographers from around the world, theses guys have worked for all of the major media outlets and are now doing it for themselves. There are a number of OGs that helped create the scene we all enjoy contributing to this site from all over the world. They have shooters in North America, Europe, Scandinavia and all over Asia and cover all kinds of popular Motorsports, shows and meets for our generation. With stunning photography and accurate event coverage, the Motor Mavens guys do the blog-style news deliver better than anyone else. Having all of this cutting-edge content for free on the web is incredible and they maintain delivering their product for free.
---
www.s2ki.com
Established: 2000
Members: 91,461
Member Profile: Dedicated to the H-badge but a decidedly different crowd than Civic, Integra or Accord fans. A more mature and often educated crowd, many of who are very tech savvy .
Quick Facts: If you own an S2K, this is the place to be, huge membership, huge classifieds and it's not owned by one of the big corporations, yet.
The Goods: With the S2000 dipping below a $10,000 retail value, this has become the new Miata. The only difference is, the Honda S2000 needs nothing to tear up a road course and hang with the big dogs. With 240hp on tap, lightweight parts and an advanced suspension with external reservoirs the car is great out of the box but the users over at S2Ki have done some outrageous modifications to their AP1s and AP2s. There are users here with superchargers, turbos, carbon widebodies, hardtop and full out race and time attack builds. Sure there are some casual areas but there is also serious technical discussions and debates ongoing inside these forums. If you own one of these cars, all the info you ever needed is at your fingertips and for picking up parts and accessories, it beats any other S2K site.