Written by Dave Pankew | 21 May 2010
Page 6 of 7
2FAST2PHOTOGRAPH
www.maxbimmer.com
Established: 2001
Members: 17,561
Member Profile: BMW fans to the core with knowledge of all BMW platforms with a heavy emphasis E30, E36 and E46
Quick Facts: A well travelled forums with BMW nuts galore. A sight that respects other platforms and will give credit where credit is due to other makes and models
The Goods: What started as a small group of BMW enthusiast has grown into a substantial community of all kinds of personalities. The regular meets and cruises are well attended and speaking from first-hand experience a lot of fun. Some groups of members are pretty hardcore pulling random stunts like driving 18 hours to the Tail of the Dragon in North Carolina, tearing it up for a day and then driving home. The main page features all BMW-centric news happening around the world and the latest releases and spy shots on upcoming models. The classifieds are fast paced and some great car deals pop up there on rare and tastefully modded models. If you can't find it there, then the vendors have new and used parts galore.
---
2FAST2PHOTOGRAPH

Son240SX.org
Established: 2002
Members: 13,502
Member Profile: Younger crowd with mostly inexpensive rides and a handful of mods that think the 240SX is the best platform to start with.
Quick Facts: SON has undergone some recent changes over the past few years, more recently merging with other forums to bring the Nissan community together.
The Goods: The fate of the 240SX is alive and well in Southern Ontario. Cars that are literally on their last legs after years of winter driving have been brought back to life and given an upgraded status. There are many entry level guys here doing it on a budget but there are also season veterans doing it right, with all genuine parts. When a track day pops up many of these warrior S-chassis car come out in numbers. The inexpensive chassis and widely-available SR20 motors mean that these are cheap cars to drift and race. The experience here is more geared to the younger crowd spouting internet vernacular, face palms a loads of net acronyms. When it comes to event organization, classifieds and technical know-how there are some great resources here.
---
www.dsmtuners.com
Established: 2001
Members: 116,275
Member Profile: An aging crowd who quite often have a DSM versus the world mentality, especially Honda.
Quick Facts: A meeting of the minds to keep these aging sport compacts on the road buyt any means necessary.
The Goods: Once renowned as a very dangerous street cars, the DSM (Mitsubishi Eclipse and Eagle Talon) were fast right out of the box. With around 200hp and All Wheel Drive, these low-slung coupes ruled the streets for many years needing only handful of upgrades to launch them several car lengths pas cars with double the horsepower. Affordable and easy to work on, if you were into Sport Compacts in the 1990's you feared these cars and if you didn't you probably owned one. Since the car ceased production in 1998, the years have seen the numbers of these cars dwindle as they succumb to rust, accidents and catastrophic failures. But at DSMTuners.com the legends live on because of the passion they share and the ability to help each other out with problems and tuning to keep these cars on the road.
---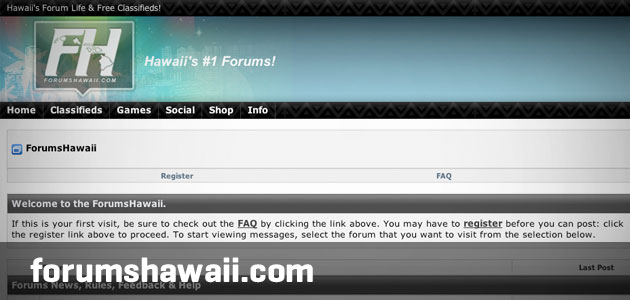 www.forumshawaii.com
Established: 2002
Members: 33,715
Member Profile: A hardcore group of Hawaii islanders who, when they aren't surfing are car crazy.
Quick Facts: A tight knit community in a small group of islands crazy about cars, events and socializing
The Goods: Tuning in Hawaii is interesting due to its geography. Its halfway between California and the Japan and as such has many car enthusiasts either visiting or residing there. The interesting influence has spilled over to create a huge car scene. Since, it is on an island, HawaiiForums has kind of captured the whole of the island scene there without outside influence. But make no mistake, there are some serious cars here that make power and others wither super rare JDM parts on them. The classified section is a solid place to pick up the deals and the socializing area is well travelled for everything from relat5ionship advice to hard-core clubbing.
---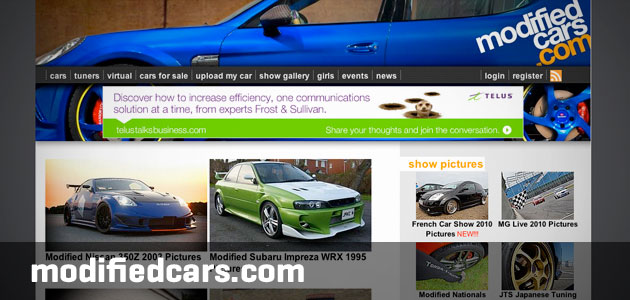 Established: 1999
Members: 33,715
Member Profile: A hardcore group of Hawaii islanders who, when they aren't surfing are car crazy.
Quick Facts: A Euro-centric look at some of our favourite cars both overseas and in North America
The Goods: Designed around the popular blog-style, modifiedcars.com has all the latest news from the tuning world and a great link between enthusiasts. With press releases of the latest creations from the world's tuning shops all the way to enthusiasts rides, this is the place. Modifiedcars.com also has a serious classified section with show cars available for sale. If you are interested in the latest world tuning news from Konigsegg to Kia, this is the place.