Written by Mike Bonanni | 03 November 2013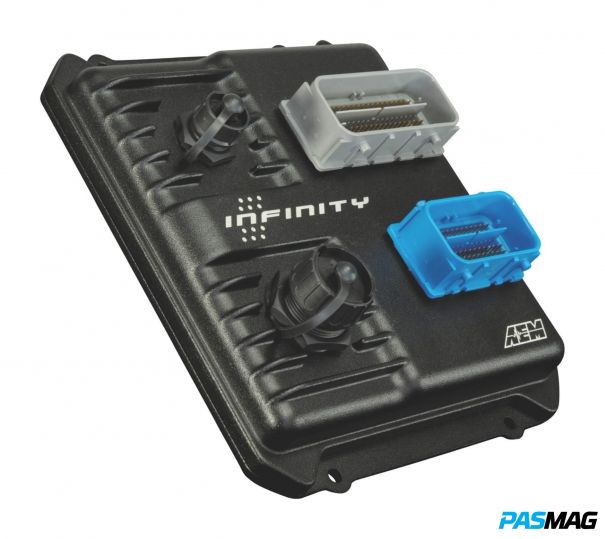 Today's modern automobiles are technological marvels, especially when it comes to engine management and tuning. Long gone are the days where all you needed was a flathead screwdriver and a toolbox full of different sized jets for your carbureted engine. Although today's engine tuning and management is much more complicated, AEM Electronics has been hard at work designing a user-friendly, stand-alone ECU that can compete with the best of the best. The result is the new AEM Infinity ECU, a full stand-alone engine control unit with more features than there are beards at a drift event – which is a staggering amount. Speaking of drifting, it was on Fredric Aasbo's 700 horsepower Papadakis Racing Scion tC Formula Drift car where the AEM Infinity ECU saw some early development and testing. Today, the finished product completely controls the Scion tC drift rocket power plant and allows the ultimate quick and painless control over crucial elements that make sure the car is running at peak performance at all times. Going in depth on the list of features the Infinity ECU has would take up this entire magazine, so let's highlight a few of the major ones that Stephan Papadakis uses on Fredric Aasbo's Hankook Tire/Scion Racing tC.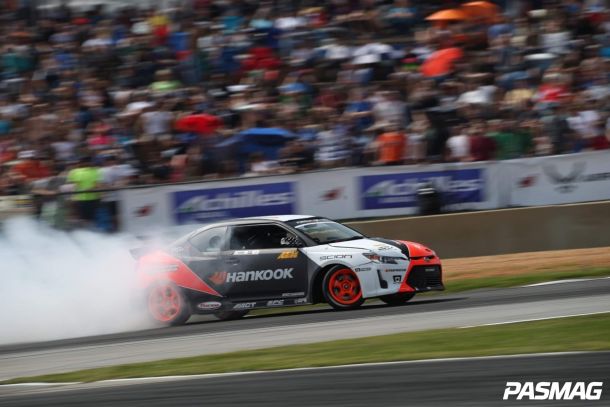 One of the main features of any stand-alone ECU on a turbocharged car is boost control. While this is common on many systems, the number of ways to control boost via the Infinity ECU is what sets it apart. On Aasbo's drift car they control boost via RPM to achieve a specific power curve that better matches Fredric's driving style. For drag racing applications you can even control boost by time and gear, making it easier to manage traction in high horsepower applications.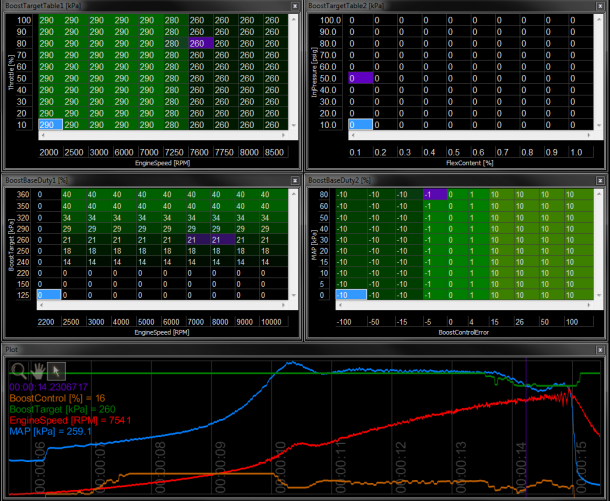 Another major feature that keeps your engine safe is the knock sensing feature. Cylinder detonation is an engine killer so you want to be sure to detect it as early as possible and remedy the situation immediately. The Infinity ECU has a sophisticated knock sensing feature that can be used for single knock sensors, or dual for even more sensitivity. The ECU can even discern which cylinders are experiencing the dreaded knocking and retard timing to those cylinders, maintaining as much performance as possible while adequately protecting your engine.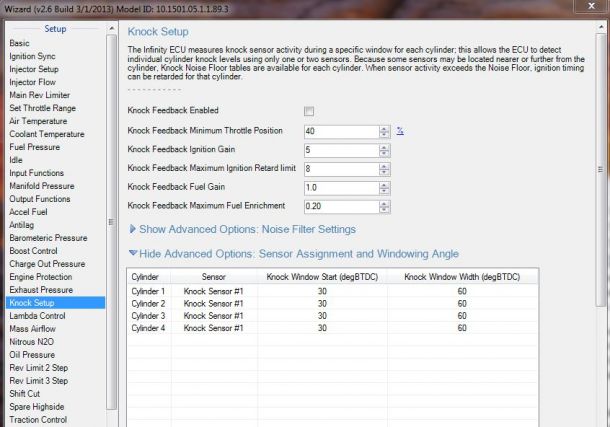 Papadakis is also a huge fan of the drive-by-wire capabilities of the Infinity ECU, specifically when it comes to the drift car. Use of this feature allows you to program your own throttle curve to dial in response time and much more to dramatically improve drivability. This feature is also a huge benefit when running completely custom engine setups…
"We run a Camry throttle pedal and WRX throttle body, and we only need to wire in between them to get them to work using the Infinity." – Stephan Papadakis
When drifting, drivers tend to spend a lot of time at full throttle bouncing off the rev limiter. This of course is not the most ideal thing to do when it comes to maintaining the reliability of your engine. Bouncing off the rev limiter can put a lot of excess wear on engine parts and the backfires experienced from the ignition cuts put a lot of unwanted stress on your valve train. No need to worry, the Infinity ECU has you covered with its rev limiter and fuel cut tuneability. The Infinity ECU chooses the RPM level for the rev limiter to kick in while also softening the fuel cut, thus reducing the amount of backfire and excess wear and tear normally experienced while riding the rev limiter as much as drifters do.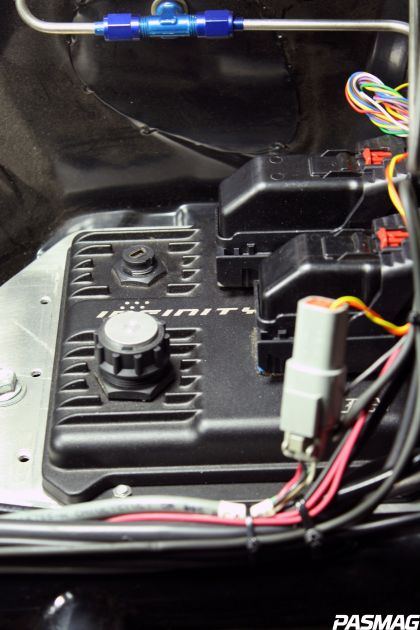 Of course, aside from reliability and drivability advantages, the Infinity ECU also helps tune for power and torque. Aside from the normal timing and fuel tuning, the Infinity ECU also allows you to control variable valve timing for variable cam setups. Papadakis uses this on Aasbo's drift car to add a considerable amount of torque below 5,000 rpm by controlling and tuning the variable intake cam.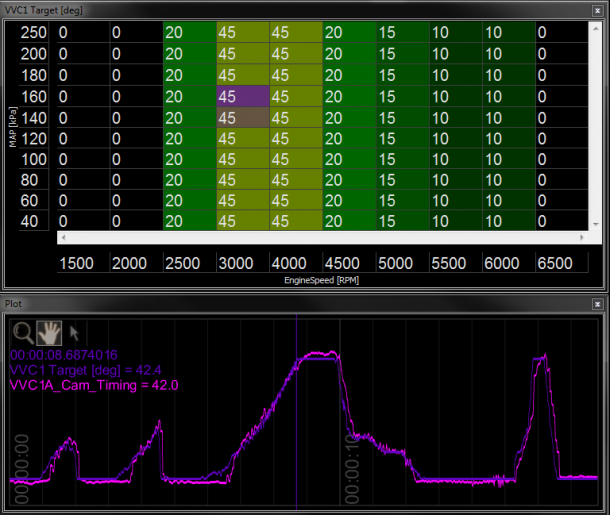 Nitrous control is another unique feature that Papadakis uses the Infinity ECU for. These days, nitrous is making a huge presence in top-level drift cars, and Aasbo's Hankook Tire/Scion Racing tC is no different. They don't necessarily use nitrous for peak horsepower though, they use it to make a more consistent power band on big turbo cars. To do this, full customizability of your nitrous setup is a must. The AEM Infinity ECU on Aasbo's drift car monitors boost, rpm, and throttle position to determine when to spray the nitrous and when to cut it off. It also simultaneously adjusts the amount of fuel needed when the nitrous is on. This feature gives Aasbo a much wider power band when drifting.
Perhaps the best feature of the Infinity ECU is its ability to integrate and work with many different vehicle systems. For instance, the Infinity ECU on Aasbo's drift car is integrated with a number of AEM gauges, AEM's Engine Position Module Puck, and even the AiM digital dash. It can simultaneously log all of the data from these inputs as well as the data monitored by the Infinity ECU itself – and for anyone who has ever raced, you know how important data logging is to troubleshoot and prevent problems. AEM even provides free data analysis software to help make sense of what your car is doing.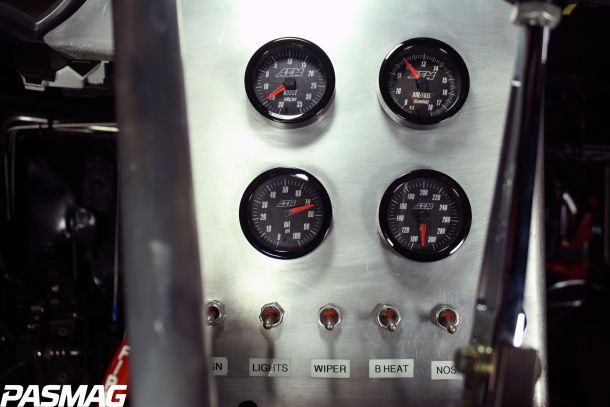 With a list of features twice as long as the ones we touched on, the possibilities with the AEM Infinity ECU are nearly endless. AEM really has thought of everything with this ECU. Several years of intense development at the highest levels of Formula Drift and other forms of motor sport show in the ways Papadakis has cleverly been able to put the Infinity ECU features to use.
To learn more about the Infinity ECU and how you can use it to completely customize your setup, head to www.AEMElectronics.com.