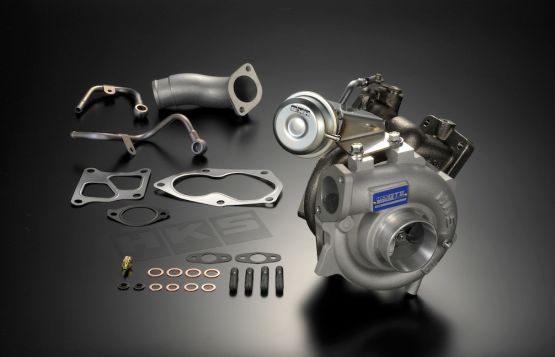 As the first of the new HKS turbocharger line, the GTII 7460R incorporates a reverse rotation turbine design that provides the benefit of a bolt-on application, stock replacement upgrade turbocharger for the Mitsubishi Evolution IV-IX.

The special cast turbine and compressor housings of the HKS GTII 7460R allows it to be a true bolt-on upgrade for the Mitsubishi Evolution IV-IX by utilizing the OEM exhaust manifold. The HKS GTII 7460R is also a twin scroll, reverse rotation turbocharger. This design allows for a shorter and straighter exhaust path to the turbine wheel, delivering the benefits of less restriction and increased boost response while allowing full spool and stable boost pressure throughout the RPM range.

Intake and exhaust port designs optimize the flow area to allow an increase in air-flow capacity while the ball bearing center housing rotating assembly (CHRA) improves low-speed response and quicker boost pressure ramp up times. Use of premium materials include inconel® for the turbine wheel because of inconel's resistance to oxidation and its ability to maintain its structural integrity in high temperature atmospheres. Special heat resistant cast material increases the reliability and durability of the turbine housing.

"With the proprietary design of HKS turbochargers, we are able to offer both conventional and reverse rotation ball-bearing turbochargers, said Rick Lafferty, president, HKS USA, Inc. "The benefits to Mitsubishi Evo owners seeking performance upgrade are significant including simple layout, improved response, weight savings for maximum driving performance."

About HKS GTII Turbochargers

Utilizing its more than 37 Years of experience in turbocharger development and vehicle application, HKS is launching its proprietary design line of turbochargers. The HKS line of turbochargers is being designed and developed entirely by HKS. Each turbocharger, HKS designs and engineers all component parts including the ball bearing center housing rotating assembly (CHRA) and compressor and turbine housings which are cast at HKS facilities. With complete control of manufacturing, HKS is able to utilizing the best processes and materials to deliver a premium ballbearing turbocharger at an exceptional value.

In addition, by developing its own turbochargers, HKS is able to provide the perfect turbocharger for each engine application, without any compromises. This no compromise goal is substantiated with the GTII 7460R,

The HKS GT II 7460R Turbo upgrade is now available through authorized HKS dealers and is intended for Off Road Use Only. For more information, visit www.hksusa.com

About HKS USA, Inc.

HKS USA, Inc. is a leading manufacturer and supplier of premium automotive aftermarket performance systems, parts and accessories. Delivering its products to both the import and domestic car markets, HKS has been recognized for its engineering and performance excellence in the automotive industry since 1973. Established in 1982, HKS USA, Inc. is a wholly-owned subsidiary of HKS Company, Ltd. Japan and distributes its products through its worldwide dealer network. For more information about HKS USA., visit www.hksusa.com