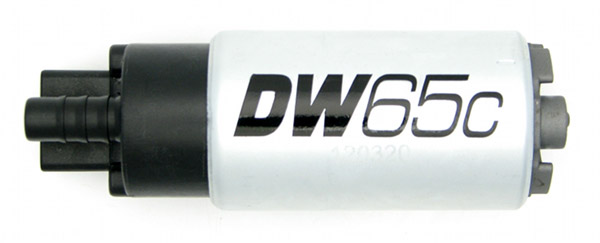 DeatschWerks has added fuel system products for the 2012-13 9th Generation Honda Civic to its arsenal. Available Now - an upgraded DeatschWerks 265 LPH fuel pump with fitment kit and five sizes of injectors, ranging from 420cc to 1300cc.
The 265 LPH DW65c is a high-quality compact fuel pump that DeatschWerks has made available for several applications over the past two years, so it is time tested and rock solid. This 65mm compact fuel pump is the only aftermarket pump available for the new Civic, and DeatschWerks provides it with a fitment kit at no extra cost. The kit allows the pump to drop right into the Civic cage – no modifications necessary.
DW's new Civic injectors also fit the 2009+ Acura TSX and 2012+ Acura ILX, and they come in 420cc, 550cc, 750cc, 1000cc and 1300cc sizes to fit all needs. As with all DeatschWerks injectors, the new Civic injector sets are flow balanced and matched, and they come with full tuning data and a custom flow report. This data allows for an easier tuning process, resulting in better idle, drivability and power.
All DeatschWerks products are E85 compatible... and now they come with our above-mentioned, industry-leading 3-year warranty!
Learn more about our Civic Injectors