Page 1 of 5
---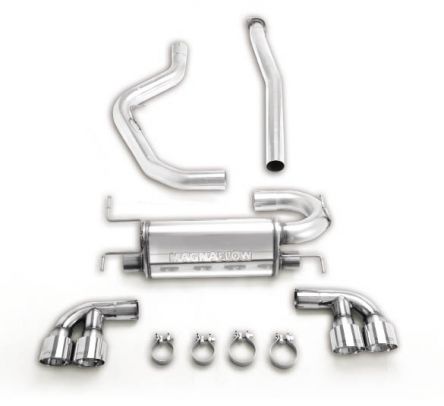 MagnaFlow High-Performance Exhaust
MagnaFlow engineers have designed a complete stainless steel cat-back exhaust system for the 2008-2009 2.5L Subaru Impreza WRX STi. This system comes with dual rear exit,
a fully polished muffler and quad 4-inch tips. The mandrel-bent tubing and straight-through design release backpressure, allowing the Subaru's turbocharged engine to breathe better while providing a substantial increase in horsepower and torque. You'll notice performance gains while maintaining a smooth, deep tone that compliments your STi.
---
---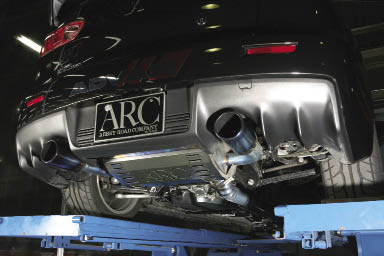 ARC Titanium Muffler / Downpipe
ARC titanium exhaust systems are ultra lightweight and manufactured from 100% titanium. ARC's artistic manipulation of titanium, which ARC is extremely proud of and known for, developed from years of experience and involvement in all of Japan's top racing circuits. The use of titanium in Motorsports offers certain characteristics that steel cannot match such as excellent corrosion resistance and ultra lightweight properties. ARC's developments of the titanium exhaust systems are up to 75% lighter when compared to OEM systems. Since weight is a detrimental factor to performance, the use of lighter materials such as titanium allows vehicles to accelerate faster, turn-in better, improves gas mileage, and puts less stress on the suspension and chassis
---
---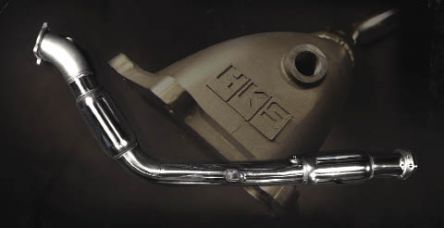 HKS Downpipe
HKS USA, the premier manufacturer and supplier of premium automotive performance systems, introduces its newly designed Bellmouth downpipe for the 2008 Subaru WRX and WRX STI 5 door. Constructed of a cast-iron bellmouth mated to 75mm SUS304 stainless steel piping, the HKS downpipe is a direct bolt-on replacement to the restrictive factory downpipe. A newly designed exhaust flange adapter allows the downpipe to bolt up to the factory center-pipe, HKS center pipe, or the forthcoming full 75mm HKS cat-back exhaust system (April 09 release date) eliminating all restrictions.
www.hksusa.com or www.motovicity.com
---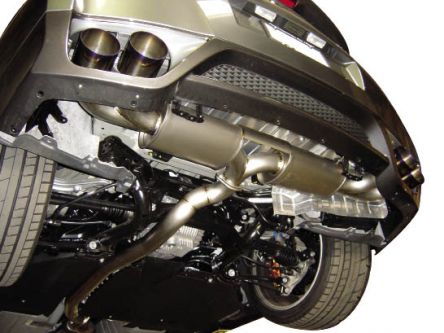 GReddy Full Titanium Exhaust - GT-R (R35)
Top-of-the-line super cars, like the GTR, need top-of-the-line performance products. A full Titanium GReddy exhaust provides this and much more. In addition to the gains in power from the larger 80mm piping, over the 70mm and 60mm factory piping, the Titanium construction provide a weight savings of over 45% (19.5lb 80mm cat-back). But this is not it, the twin Titanium mufflers and quad Titanium tips reduce sound over the stock exhaust with a purer straight through exhaust note.
Read on for More Products