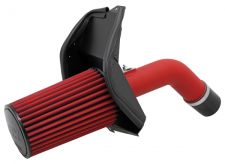 AEM
2013-14 Dodge Dart 1.4L Turbo
$399 | aemintakes.com
This AEM Cold Air Intake relocates the filter behind the bumper for cool fresh air. The aluminum intake tube is available in two finishes and includes a washable/reusable Dryflow AEM air filter. A 2013 Dodge Dart Turbo produced an estimated 6 more horsepower and +9 lb-ft of torque at a very usable 3,000 rpm when dyno tested with the AEM intake.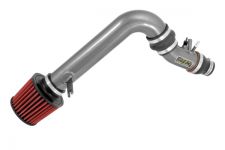 AEM
2013-14 Scion FR-S/Subaru BRZ
$569.45 | aemintakes.com
This AEM electronically-tuned air intake utilizes a rotational-molded air box to insulate the air filter and MAF sensor from heat. Analysis was performed to ensure maximum airflow into the air box and even airflow around the filter. A 2013 FR-S produced an estimated +10 hp and +8.3 lb-ft of torque at 6,500 rpm when dyno tested with the AEM intake.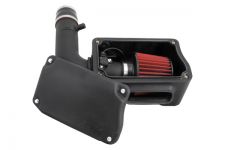 AEM
2008-14 Subaru WRX/ WRX STI
$375.95 | aemintakes.com
This AEM intake is designed to deliver increased performance. It utilizes a black powder-coated heat shield to deflect engine heat. The aluminum intake tube is powder-coated wrinkle red to match the engine. It includes a washable/reusable Dryflow AEM air filter. A 2008 WRX STI produced an estimated +36 more horsepower at 5,300 rpm when dyno tested with the AEM intake.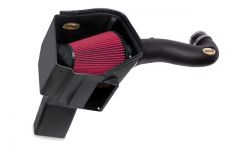 AIRAID
MXP Cold Air Intake for 2015 Cadillac Escalade
$429.99 | airaid.com
The new MXP Cold Air Intake system for the 2015 Escalade provides 18% more airflow to the engine for increased performance with a simple bolt-on installation. This system includes a new airbox and intake tube as well as a massive air filter available in red, blue, or black. Fifty-state legal, made in the USA and backed by an exclusive "no hassle" warranty.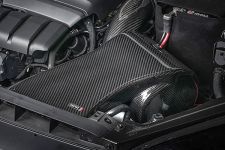 APR
MK7 GTI & A3 1.8T/2.0T Carbon Fiber Intake System
$449 | goapr.com
The APR Carbon Fiber Intake System increases performance by improving mass airflow through the system while still proving adequate filtration. Expect greater horsepower and torque through the power band with a more direct and responsive feel upon pressing the throttle. Sounds from the engine and turbocharger are enhanced, and some drivers may even experience better fuel economy depending on driving style.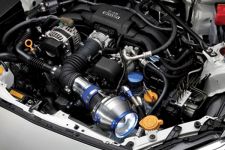 Blitz
Advanced Power Air Intake
$535 | optionsauto.com | blitzpowerusa.com
The Advanced Power Air Intake uses Blitz's unique SUS Power stainless mesh filter element for maximum airflow while producing an aggressive induction sound. A large diameter adjustable cooling shield reflects radiated heat from the engine, while maintaining high airflow efficiency. The blue anodized top ring and locking plates give you the ultimate racing appearance. Available for Scion FR-S, Subaru BRZ, Impreza WRX/STi '08-14, Mazda RX-8, and Mitsubishi Lancer Evolution '08-14.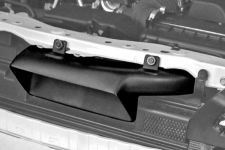 HKS
Air Intake Duct for FR-S / BRZ
$200 | motovicity.com | hksusa.com
To significantly improve airflow to the FR-S/BRZ power starved engine, HKS has developed a durable air intake made of FRP to replace the factory unit. Featuring an opening 10 times larger than the factory unit, the HKS air intake duct maximizes smooth surfaces and open pathways for air to effortlessly flow to the throttle body.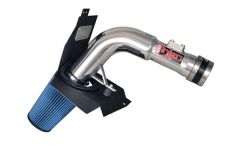 Injen
2015 Subaru WRX STI Intake
$370 | injen.com
This brand new, tuned air intake utilizes Injen's patented MR technology and Air Fusion processes that stabilize air/fuel ratios, as well as short and long term fuel trims. This kit generates an additional 24 hp and 24 lb-ft of torque. Each Injen Technology intake is fitted with Dry SuperNano Web Fiber filters for easy maintenance and superior filtration.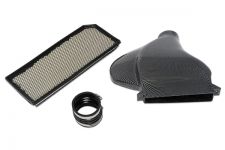 Raceland
Volkswagen MK5 Cold Air Intake
$109 | racelandus.com
The Raceland Volkswagen MK5 intake system offers VW owners the ability to retain the OEM-like fit and finish with a cold air replacement box. The air box is made from injection-molded plastic and offers the advantage of a more open, flowing design over the OEM box. The Volkswagen MK5 intake is available for 2006 to 2009 Golfs and 2005 to 2009 Jettas.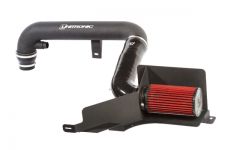 Unitronic
Cold Air Intake for VW 1.8/2.0 TSI Gen3
$399.99 | getunitronic.com
Unitronic's new Cold Air Intake System for the 1.8/2.0 TSI Gen3 engine is engineered to deliver maximum performance through alleviating factory airbox restrictions and optimizing airflow paths. This translates to improved throttle response while also decreasing turbo lag and intake air temperatures. Constructed of lightweight aluminum with a long-lasting wrinkle black powder-coated finish, Unitronic's Cold Air Intake is sure to boost performance.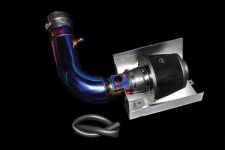 Weapon-R
Neo-Titanium Secret Weapon Intake
$440 | weapon-r.com
Designed to increase air intake volume to the engine, the Secret Weapon intake features a tuned velocity stack which creates two different air velocity profiles; one traveling at higher speeds than the other. This technology increases air volume and speed to the engine, which naturally feeds the engine three times more air than the conventional air intake system.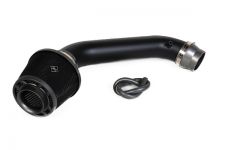 Weapon-R
Stealth Intake System
Contact for pricing | weapon-r.com

The Stealth intake is coated with a unique formulated heat-resistant coating to generate a better thermal barrier effect from heat discharged within the engine compartment. This assures the air has the best atmospheric pressure and temperature to help maximize air density and oxygen levels, while also tweaking the air/fuel mixture for combustion. Available in Dragon and Secret Weapon intake kits.