Written by Garry Springgay | 24 November 2011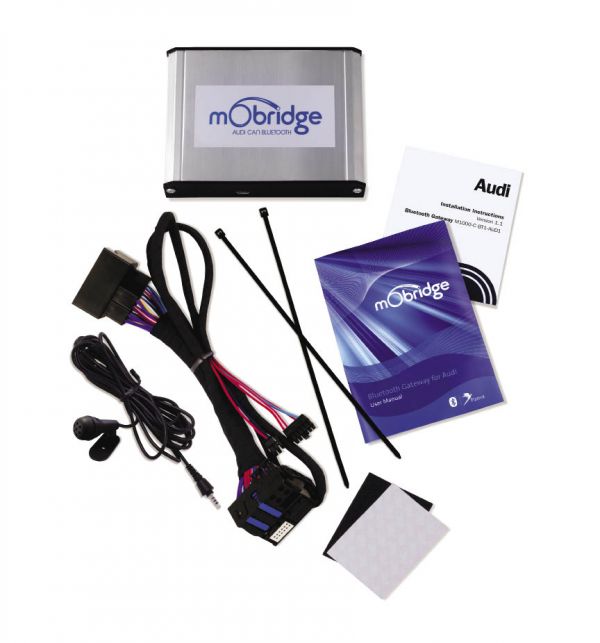 As technology continues to march forward, it has become a fact of life that many modern vehicles use fiber optic digital networks to transmit data and connect various components of the vehicle together, so they can "talk" to each other. As far back as ten years ago, vehicles could recognize components and components could recognize vehicles, based on the digital protocols used to connect them. For example, while the Mitsubishi Eclipse radio is the same unit in the coupe or the convertible, you might not know that simply connecting the radio into the car's digital bus will automatically adjust the equalization and soundstage settings for that specific body type.
While most North American and Japanese vehicles use a digital network known as a CAN bus, most European cars use the different and more interesting MOST bus. The MOST bus was designed to simplify the connection of various peripheral devices, and this capability is now being exploited by a company called mObridge Inc.
The mObridge company offers several different peripheral devices that allow direct plug and play of specific feature additions such as Bluetooth, iPod control, and Auxiliary inputs on many cars using the MOST bus.
The modules integrate into the factory system by emulating a factory installed device, and can be bypassed with the flip of a switch should the vehicle need to go into the dealer for service. Each module is shipped without vehicle specific programming, reducing required dealer inventory, which helps keep the price down. The units are flash programmed by the installing dealer as required for the vehicle for which it is destined. This method not only allows dealers to avoid carrying excessive inventory, but it also ensures that the most up to date firmware is always used. Firmware is critical in products like this, because updates are continually being made to the vehicle's software, so products trying to get by with simple DIP switches either work or they don't.
If they don't, you are stuck.
The mObridge Bluetooth modules use Parrot's Digital Chipset and a Parrot microphone for optimum sound quality. The result is the best sound quality of your Bluetooth connection. Plus, Parrot powered Bluetooth is continually updating applications for new phone support.
The DA2 is an analog/digital preamp interface that connects in place of the factory amplifier and provides either digital or analog outputs for aftermarket audio upgrades. The DA2 allows proper system expansion in vehicles with MOST audio networks, and provides up to eight channels of analog output. Rather than using archaic analog based signal summing devices on speaker outputs, which leads to noise as well as frequency and phase response aberrations, the DA2 provides two stereo front outputs and two stereo rear outputs. The digital interface ensures that the output of the DA2 is a low impedance, low noise, phase-correct output, with correct frequency response. Inside the DA2 is a Burr-Brown 24-bit DAC with 4V of analog output capability. The factory audio controls (bass, treble, balance, fader) continue to operate as they did before, and if you have a factory EQ, that is also retained. Should you want to use an aftermarket digital processor, the DA2 also has a fiber optic Toslink connector to feed external processors. If your car has a MOST bus, this is the correct way to properly add aftermarket amplifiers.
MOST bus architecture is currently used in Volkswagen, Audi, BMW/Mini, Mercedes-Benz, Porsche, Land Rover, Saab, Jaguar and Maybach vehicles. For more information on mObridge products and how to get the maximum performance from your MOST bus vehicle, visit www.mobridge.us. Available in Canada from Clarion Canada Inc. (905) 829-4600.