28 August 2012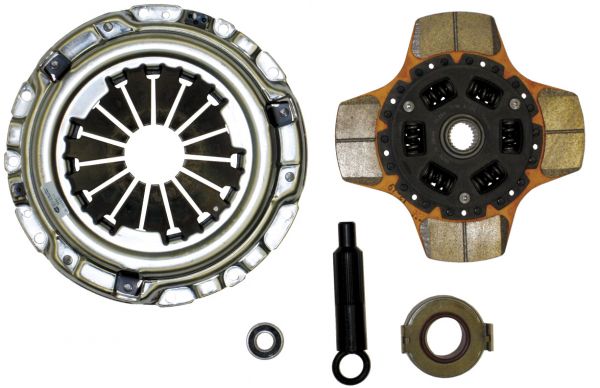 Have you ever stopped to think about what an amazing feat of engineering your car's clutch is? A car's clutch is the link between engine speed and wheel speed. To put it simply, your car's clutch is the most important part of the car when it comes to putting power to the ground. The function of a clutch depends largely on the friction surfaces known as "pucks" or "pads" which are kind of like brake pads. These pads grip the spinning flywheel which is attached to the engine, and through friction and force, match the car's wheel speed to the engine speed making you go. Like any instance where you see high friction, the byproduct is a tremendous amount of heat and we all know that excessive heat is the enemy of a car's vital parts. Coincidentally, the harder you are on your clutch, the more heat will be generated increasing your risk of clutch failure. Adding more horsepower and torque to your car is one way of making the job of the clutch harder and racing is another way. Whether it's launching your car off the line at the drag strip or simply making big power on the dyno, you are going to need a clutch that can handle the abuse.
EXEDY Corporation is a worldwide leader in aftermarket and high performance clutch kits and they have introduced an amazing clutch upgrade for your high performance car that will surely be up for the task. The EXEDY 4-Pad Cerametalic clutch features a brilliantly engineered design that will improve many aspects of your vehicle. This clutch features a 4-pad design which leads to increased heat dissipation and weight reduction over your car's OEM clutch. The pads are made of EXEDY's Ceremetalic compound which features higher heat resistance and more clamping force than your OEM clutch resulting in more power and torque capacity as well as longer clutch life. The lightweight design of the clutch also helps improve shift time by reducing rotating mass and inertia. All the engineering results in a clutch upgrade that will not only handle more torque, but will also improve shifting and is able to handle the abuse of racing. EXEDY clutches are trusted in nearly all forms of motorsports including drifting, rally, drag racing, and road racing - it's no surprise that they know how to make a good product.
EXEDY now offers their 4-Pad Cerametalic clutch kit for many popular tuner platforms like the STI, Civic, Eclipse, and RSX plus many more from Subaru, Honda, Acura, Mitsubishi, Eagle, and Dodge. For a complete list of applications, plus more great products go to www.EXEDYUSA.com.