Written by and Photos by Mark Pereira | 10 December 2009
There are lots of different ways to measure performance. For enthusiasts, ultra high performance tires have to provide the maximum grip and control in the most demanding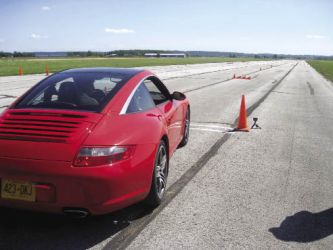 circumstances. Yokohama Tire Canada Inc. recently invited our editorial team to preview and dissect the new ultra high performance ADVAN Neova AD08 during an exclusive product launch event. We had a chance to experience and meet with Yokohama engineers to discuss the technology behind their latest ultra high performance entry.
The early part of the day was devoted to a real-world test drive through the spectacular Niagara wine region in Ontario, Canada, followed by a high performance driving evaluation of the ADVAN Neova AD08. We simply couldn't wait to hit the Niagara Airport tarmac, as our friends at Yokohama transformed the network of runways into an exhilarating test course for us to experience the new ADVAN Neova AD08 at the Niagara Drive Centre. This new ultra high performance tire was outfitted on an arsenal of fun to drive vehicles including an Audi RS4, Mitsubishi EVO X and a Porsche 911 Targa, all of which we promptly put through their paces and the pylons.
ADVANCED DESIGN
The original ADVAN Neova (AD07) established the benchmark for tires that could excel in the dual role of weekend racer and weekday driver. The creators of the new ADVAN Neova AD08 built upon that successful formula and design to improve the new version in almost every way. The original ADVAN Neova was the beneficiary of Yokohama's 25+ years of race and rally tire development combined with sophisticated computer simulations and extensive testing. While many factors contributed to its extraordinary high levels of grip, it was the construction of the ADVAN Neova that was the foundation of its success.
A unique casing shape improved feel and drivability by optimizing the contact patch shape under load. The new Neova AD08 goes a step further with specially placed steel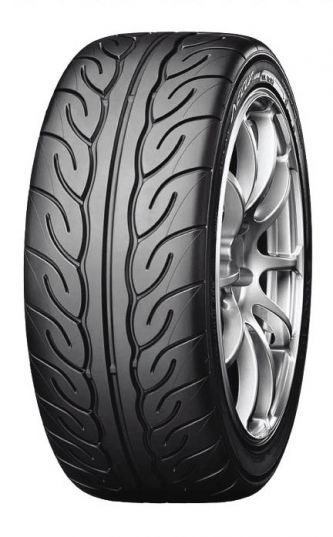 inserts in the sidewall to help resist lateral deflection while providing superior handling control and enhanced cornering. Two wide steel belts reinforced by spirally wound nylon provide strength and help the tire retain its contact patch under load. Yokohama's advanced tread compound delivers unprecedented street-tire grip in wet or dry conditions, while improving treadwear.
As in the original, the compound is the product of the company's leadership in nanotechnology engineering. Nanotechnology refers to components engineered at one nanometer or less, which is one billionth of a meter. This process involves a chemical reaction that combines super fine high grade silica with super fine high grade polymers in a highly controlled manner. This method allows the silica and polymers to bond at a molecular level, and yields a tread compound of extreme flexibility, high grip and great durability. The tight, chemical bonding of the elements results in a dense tread compound that enhances contact area five to 10 per cent without increasing tread size.
In the case of the new Yokohama Neova AD08, the addition of Hyper Density Carbon (HDC) to the mixture further enhances both wet and dry grip while improving treadwear characteristics. The tread design of the new generation Neova is a slight departure from the highly effective original. The design still utilizing the two centre grooves is a key element in both evacuating water in wet conditions and in good on-centre feel and steering response. The wavy centre ribs add stability and lightning-fast steering response during high-speed driving. Tiny slits in the groove walls help effectively distribute stress loads to minimize uneven wear. Outer rib walls are rounded which also reduces uneven treadwear. Extra-wide shoulder blocks provide constant rubber-to-road contact for improved lateral stability during high-speed cornering.
The uniquely shaped HydroARC Channels effectively cut through water to deliver superior grip in wet conditions. A low void to tread ratio keeps more rubber-to-road contact for maximum performance. Back-to-back comparison of the original Neova and the new Neova AD08 illustrated the engineers' success in improving on their original benchmark, with shorter wet and dry braking distances, improved grip in wet conditions, and reduced pattern and road noise.
THE VERDICT
The original Yokohama ADVAN Neova AD07 earned high praise from respected enthusiast magazines (ours included) and scored highly in impartial tests by industry experts who have cited its performance attributes as among the very best available. The new Yokohama ADVAN Neova AD08 seems to be an upgraded replacement and has already garnered similar praise, cited for its impressive steering response, ride quality, noise and tenacious grip in both wet and dry driving.
If you're a driver who demands overall superior high performance balanced for both street and even track use, the ADVAN Neova AD08 should be on the top of your shopping list. Although this tire will likely be premium priced competitively with others in its class, what really sets apart the ADVAN AD08 from the pack is its terrific street performance and blazing track prowess. For those who don't believe a good thing can get any better, this new design and technology truly delivers everything you'd expect from its highly acclaimed AD07 predecessor and more. The new Yokohama ADVAN Neova AD08 is available in 32 popular sizes from 15-inch to 19-inch through Yokohama dealers across the country.
Canada - www.yokohama.ca
USA - www.yokohamatire.com