Written by Dave Pankew // Photos By: www.amsoil.com | 04 February 2010
Ask most people what kind of motor oil is in their car and they will tell you that it is the "slippery" kind. They will likely not be able to tell you what brand of motor oil is in there let alone what weight they use. That trend is changing however, as newer cars have more advanced motors with tighter tolerances that are expensive to replace. Over the last decade, synthetic lubricants have gained popularity as demand has gone up while prices have come down. Those that prefer to drive their car hard bothon and off the track demand the most from their motor oil and are committed to performance and protection no matter what the cost.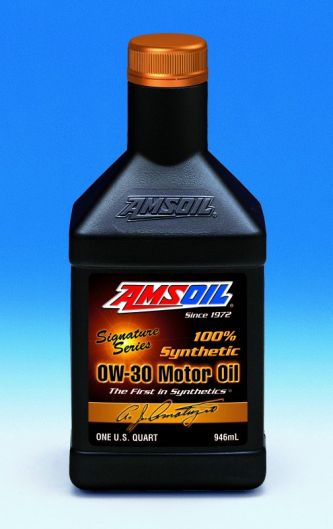 What used to be in limited supply is 0W (zero weight) synthetic oil, which has now become more mainstream. It isn't uncommon to find these super slick products at the national chains making them far more accessible to the general public. AMSOIL isn't new to synthetic lubricants and their commitment to racing weights remains strong. It produced the first API-qualified syntheticmotor oil dating back to 1972, and the variety of weights, additives and numerous quantities (up to 55 gallon drums) it makes is impressive.
The Signature Series is the evolution of all of the research and development that AMSOIL has accumulated. The packaging bears the company founder's signature, A.J. Amatuzio an ex-fighter pilot who brought aerospace grade engineering to everyday cars. The high performance of this blend means that it will outperform when it comes to wear, viscosity, oil life, fuel economy and efficiency.
AMSOIL has integrated their "extended drain" technology into this product meaning that longer intervals are required between changing oil. The special additives resist oxidation and neutralize the acids that shorten the service life of motor oils and the result is reduced maintenance costs. The Signature Series is a replacement for 0W-30, 5W-30 and 10W-30 motor oils and outperforms various competing synthetic motor oils in tests such as the four ball bearing test (ASTM D-4172).
The zero weight oils are designed to perform though. In high performance, high compression engine or those fitted with turbos and superchargers, the Signature Series is ready to unlock some horsepower. The extremely lightweight oil allows for less friction and therefore less drag on the moving parts. Drag robs engines of power but the 0W oils allow for a free-revvingengine experience whether you are at high RPM or need to lubricate a turbo screaming at 120,000 RPM or both.
With all of that technology at work to protect an expensive motor, AMSOIL Signature Series 0W-30 is a solid choice. The Signature Series is durable oil that resists heat, wear and features special additives that prevent sludge as well as harmful byproducts to keep up with demanding driving.
AMSOIL
Signature Series Synthetic Oil
www.AMSOIL.com