Written by Dave Pankew // Photos by: Manufacturer | 04 February 2010
ENEOS ECO-ATF Automatic Transmission Fluid
If you were to poll enthusiasts today, the majority will tell you that manual transmissions are the way to go. They offer the most controlled driving and, depending on the application, are quicker and put more power down than your average slush-box automatic. However, during the past decade a number of advanced transmissions have been brought to market with great success. Some high performance cars, such as the Nissan GT-R don't even offer a manual transmission on the platform. Thenagain, the 20 ms shifts will eclipse the response by even the most seasoned professional.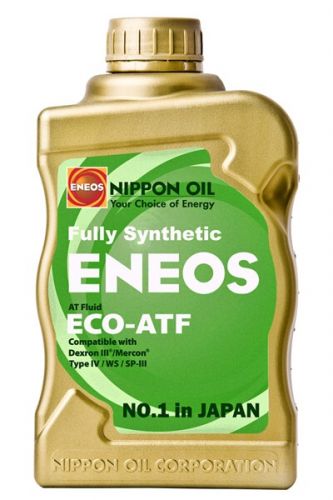 So, with all kinds of new transmission technology available like sequentials, DSGs and the new PDK, the aftermarket has responded with products to upgrade and maintain them. ENEOS, one of the leading Japanese manufacturers of oil and lubricants, makes a line of products that are widely available in the US and Canada. The parent company Nippon Oil has been innovating in the oil and lubricants sector for many years and they have released a new product, which will be welcome news for automatic transmission owners.
ENEOS has released a high performance synthetic automatic transmission fluid that can deal with the wear and tear facing today's transmissions. The ENEOS ECO-ATF meets all Japanese automatic transmission standards including Toyota WS and Nissan Matic S (excluding CVT transmissions). Described as ultra-low viscosity, ECO-ATF boasts a noticeable fuel economy gain. During company testing, it yielded a 2-percent fuel saving with the reduced energy loss.The ECO-ATF prevents oil from churning in the torque converted and offers more drag resistance in shifting without compromising fatigue or antiwearperformance. The other collateral gains are less noise-associated with the operation of automatic transmissions and the blend is not harmful to any of the components inside such as rubber or nylon.
The ENEOS ECO-ATF contains Premium base stocks for a low-molecular weight and this base oil provides improved oxidative and thermal stability. The additive chemistry provides a high resistance to mechanical shear and fatigue over time as well. ENEOS ECO-ATF is also compatible with other automatic transmission fluids Dexron III, Mercon, SP-III, ZF1, Matic J, Matic S, T-IV, WS.
Combined with improved fuel economy, the new ECO-Friendly ENEOS bottles use 30 per cent less plastic compared to the old container. If you have an automatic transmission in a performance car and want improved performance with faster shifts and less drag, ENEOS ECO-ATF is a product you need.
ENEOS
ECO-ATF Fluid
www.nocusa.com