Written by Dave Pankew // Photos by: www.endura-tech.com | 05 July 2010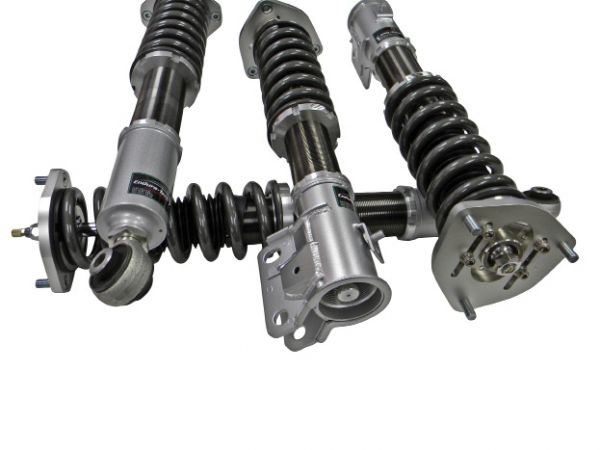 We aren't going to start this article by spewing the accolades of the new Evo X or any of the generations before it. Blessed with unreal handling this 4-door really doesn't leave much to be desired, unless you are a demanding tuner that wants to send exotics home early at the next track event. The Evo X comes with capable suspension and loads of electronics to keep the traction on-point, however, Endura-Tech has stepped forward to identify where they could improve upon already fantastic factory equipment.
Endura-Tech is well known for their exploits on the track with several racecars running their gear in the Redline Time Attack series. Not to be confused with "Brand X" made in some low-budget factory, Endura-Tech is engineered to perform and thoroughly tested in competition. What many tuners do not know is that Endura-Tech is one of the businesses of NHK Intex Corporation, whose ultimate parent company is the World's largest spring manufacturer; NHK Spring Company Limited. They have the technical know-how, the equipment and the engineering capabilities to produce top quality coilovers in their labs. Ask that of the discount brand you were thinking of buying next, do they even have an engineer on staff or are they just re-badging copied scrap with shiny anodizing?
Endura-Tech starts building their coilovers using on the best materials they can obtain for the application. Using 6061-T6 aluminum, hardened steel and SUS304 stainless steel in the construction will ensure high performance and durability. Built in Japan, these coilovers meet higher manufacturing standards, with the parent company possessing ISO9001 and QS9000 certifications required to be in the automotive parts business.
Beyond the construction, the design of these coilovers will allow owners of many vehicles to take control of their handling. Endura-Tech's philosophy has been to focus their efforts on perfecting a modest number of sport compact vehicle applications rather than a huge applications list with minimal R&D. They offer 10 different coilover systems for five manufacturers including: Mazda, Mitsubishi, Nissan and Subaru. A more detailed look reveals that applications for the Mitsubishi are only for different Evos and nothing else.
The preferred monotube design of Endura-Tech allows for superior heat dissipation and prevents any aeration inside the chamber. With 15-levels of dampening control, users are able to take control of the amount of stiffness in the damper. Adjusting both compression and rebound, the adjustments are made by simply turning the knob located at the top of the assembly. The coilovers are supplied with pillow-ball mounts and front camber plates to dial-in some aggressive tilt. The collars offer lower bracket height adjustability to raise of lower the vehicle to find optimal center of gravity and travel in the damper. The system can be lowered to 2.5-inches on all four corners. A process that Endura-Tech points out may cause issues with rubbing that can be corrected with proper offset and tire sizing, camber and fender rolling. The spring rate leans more toward track use and aggressive street with a 10kg front and 10kg rear combo, which are pre-installed.
In a crowded marketplace, there are only a handful of manufacturers that truly have been innovative and perform well lap after lap, Endura-Tech included. They don't just claim it either but prove it in Redline Time Attack competition event after event.

Source:
Endura-Tech
Evo X Coilovers
www.endura-tech.com