Written by Dave Pankew Photos By: www.myMizu.com | 24 February 2010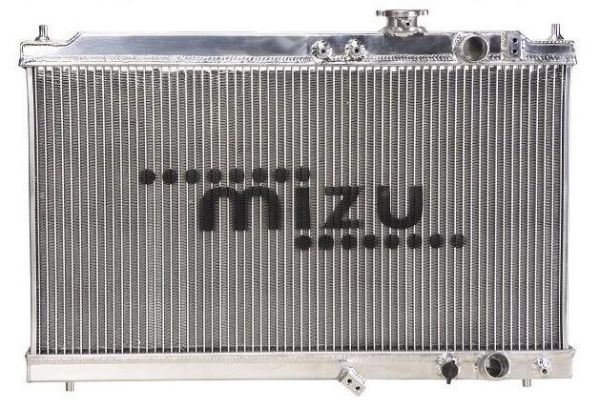 When boosting the performance of your car, one of the more overlooked sub-systems is cooling. Effective cooling is going to keep your intake temps down, lubrication more effective and make the engine run more efficiently. Upgrading the rad is only one dimension to solving the issue of effective cooling and enhancing reliability. Adding a few key upgrades is highly recommended and all from one company is even bette
"We noted there was a real lack of effective cooling products in the sport compact market." Says Pro Motion Marketing Director, Mike Morita. "We decided to add Mizu to the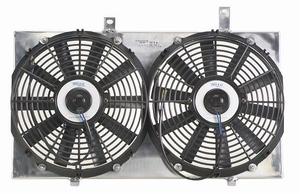 already great line of products we distribute. Mizu understands that you can have high quality without the high price. Competitors were either too expensive or sub-standard quality but Mizu offers the best of both along with an unparalleled lifetime warranty."
Mizu set out to create a new standard in manufacturer and performance with their wide range aluminum radiators. Designed as a direct fit to your stock radiator, Mizu products have OEM fitment and use all of the stock mounting points. Constructed from the highest grade of aluminum, all Mizu aluminum radiators are hand-crafted to ensure each product meets their exacting standards. Each weld is done by a qualified technician and all parts fabricated by hand to ensure it drops right in and no modification needed to install it.
At the core of the radiator is where the Mizu products excel. With a 3-row design as opposed to one, the Mizu features the thickest possible core to maximize cooling effectiveness. The design also features the highest possible cooling fin density to ensure that the coolant exchanges the heat by through maximum surface area. Aluminum itself has superior heat exchanging capabilities as it cools very quickly. Each rad is then pressure tested to extremes to ensure that when it leaves the factory, it is ready for some serious abuse. To cap it off, Mizu also supplies a high-pressure 1.3Bar radiator cap to guarantee that even under pressure, your coolant system is intact.
Mizu radiators work seamlessly with stock coolant hoses but when doing the upgrade, it is best to replace them with some high pressure silicone. Stock hoses are weakened and get soft over time, so it is suggested to do it while it is all apart. Mizu silicone hose kits are made from 3-layers of high of high grade silicone to resist tearing. Mizu Silicone hoses are engineered to provide maximum heat reduction and can withstand extreme pressures. Formed to the exact shape of your car, Mizu Silicone hoses are a direct replacement to the OEM hoses and carry a lifetime warranty against failure.
While the cooling system is all apart, if you are running a weak fan or an ancient mechanical unit, it should be replaced. Mizu has developed several aluminum fan shrouds to interface with their numerous radiator applications. A true bolt-on affair, the Mizu fan kits are easy to install and to wire up. Flowing over 1250cfm, the twin 12-inch pullers in the dual design are more than enough for the street and exceed the demands of competition.
With powerhouse distributor, Pro Motion picking up the Mizu line, they are sure to be on many top builds out there in no time. They have applications for all of the popular tuner platforms in stock and ready to order. Considering the Mizu rads are a superior design, prices start at $250 and the warranty is lifetime - this will be one popular brand.
Source:
Promotion Distributing
Mizu Cooling Products
www.myMizu.com