Written by Dave Pankew | 24 February 2010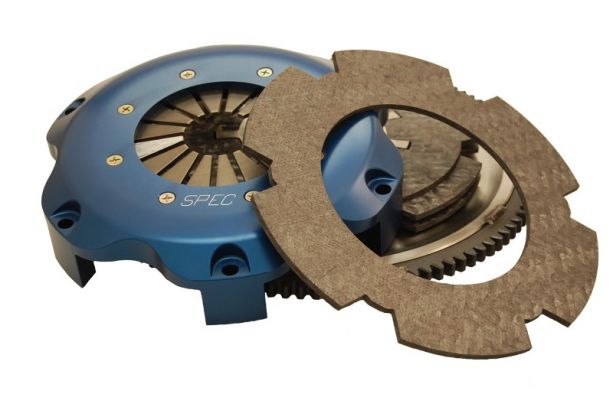 It is a common misconception that when searching for a multi-plate carbon fiber clutch, you must find out what the Japanese manufacturers have them. While they may offer wide applications lists and are well-positioned as carbon racing clutch suppliers, they are far from being the only game in town. SPEC Clutch is an US-based designer and manufacturer of some of the most capable clutches on the market today. SPEC Clutch doesn't just make lofty claims though, they are more than willing to prove their product through testing on the bench or on the race track.
Drivers looking for a multi-plate know what they are after; a no-nonsense clutch that is challenging to engage and can hold crazy amounts of power. There really is no other reason to run a multi-plate unless you are engaged in competition or have a high horsepower street car that sees a lot of track time, which we do. Since we were in the market for a new multi-plate for our Project R32, we took a closer look at what SPEC has been up to lately in their state of the art facility.
"We developed a line of twin and triple plate carbon fiber clutches that debuted at SEMA '09" says Marketing Manager, Shelly Norton. "The need was there in the market because there are so many high horsepower cars needing low inertia and manageability."
There was nothing to choose from considering US manufacturers and the JDM brands were often out of stock because of their low volumes and high costs. SPEC on the other hand is a domestic manufacturer that will have them widely available and, typically, in stock.
The design started from scratch to build a smooth-engaging but high clamping force line of multi-plates. Carbon plates are superior to traditional materials for a number of reasons. The first being as soon as you install the clutch, it requires no break-in period. Perfect for competition, the lack of break-in (typically 500 miles of careful driving) means your car can get out there and shred up the track. Carbon plates also don't develop hot-spots because of their superior heat dissipation. Their resistance to heat means that they will clamp the same in competition and will not slip even under the most extreme conditions in high-horsepower cars. The carbon plates mesh with carbon floaters and surfaces to sandwich together and provide extreme grip. As with all SPEC multi-plates, a high carbon steel or aircraft grade alloy flywheel is integrated into the design to provide a positive connection to the driveline and proper inertia characteristics for the specific environment of the application.
The clamping load is capable of handling serious power between 700lb-ft. to 1500lb-ft. Used in all forms of motorsport, you will find SPEC multi-plate carbon clutches in street, drag, drift, road racing, time attack and rally racing.
The SPEC manufacturing process ensures that the multi-plate clutch lives up to expectations and advertised torque loads. A bonus with the SPEC multi-plate is that they are fully rebuild-able, so years down the road when it needs new plates, ship it back to the head office for a quick turn around. Or, if you are a do-it-yourselfer, SPEC sells the rebuild kits. With a superior support hotline, SPEC encourages potential buyers to call in advance, as they will guide you through the install and the life of the clutch completely free of charge. With the best guarantee and support in the industry to back it up, SPEC Clutch is an ideal source from OEM replacements all the way up to the exotic carbon fiber products.
SPEC Clutch
Carbon Fiber Multi-Plate Clutches
www.specclutch.com