Written by and photos by Dave Pankew | 26 August 2008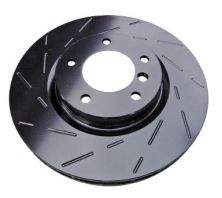 Well known for their stopping power, BMW braking systems are amongst the best in the business. Most of their vehicles are jammed full of technology and luxury appointments making them highly advanced, but also very heavy. The heavier the car, the more braking force required. Right out of the box, our donor BMW 740i Sport uses massive floating calipers with metallic pads to grip a vented rotor measuring 324x30mm. The rear is a non-vented 324x12mm disc clamped by a sizable. Coupled with a powerful master cylinder, the system as a whole is well above average for a car of its physical dimensions and weight (estimated to be 4,500lbs as it sits). We hooked up our V-Box Performance meter (www.vboxusa.com) to get a best baseline of 128ft 60-0mph stopping distance but we know there is more left in there with a few upgrades from EBC Brakes!  

One of the easiest upgrades out there for effective braking are upgraded brake pads. The various compounds can really reduce stopping distances even using OEM rotors! In our case we opted to go with EBC slotted rotors instead of OEM and eliminate the dusty BMW OEM pads as well. BMW pads work well and are virtually silent, but they generate a lot of brake dust. Not the case with EBC pads, they achieve low dust and low noise, yet maintain the friction required for improved braking.
We spoke with EBC Brakes President, Andy Freeman about what products we should consider for the test. "If you have a street car and drive it hard, you'll definitely want to go for the EBC Yellows!" Says Freeman "The Red compound provides lower dust and noise. The Greens are more for sport compacts, but if you really want to bring this car to a stop in a hurry use the EBC Yellows." Freeman mentioned the optimal heat range for the EBC Yellow is more suited to aggressive street driving and since we push our BMW sport sedan hard during spirited drives time to time, this is a great fit. The EBC Yellows are used in competition as their Aramid DM1793 compound offers improved braking when heated. The duality of this pad is that it can also be used as a street pad requiring no heat-up process ... the first of its kind in the world!
The EBC Yellows are well suited for the usage of this classic sport sedan. The dust levels are reduced over competing products by 60-80% and as Freeman points out, no pad is ever 'dust free.' However, the EBC compound contains no metal, so they are easy to clean and don't stain. The noise associated with some pad upgrades is often quite irritating too. Not the case with EBC, which generate the low audible levels one would expect on this luxury car.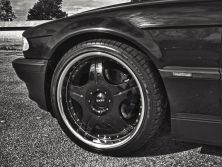 We selected the EBC Ultimax (USR) series of slotted rotors for our tests as well. These slotted rotors come with a special plating that quickly wears off the braking surface, but sticks to other areas to prevent unsightly corrosion. The slotting process provides an opportunity for hot gases to escape and cool the rotor to prevent warping. The debate between cross-drilled or slotted rotors (or both) continues, but EBC maintains that slotted rotors improve parallel pad contact creating even wear without the ridges that develop on cross-drilled units. The contact area turns silver after bedding-in.
We topped up the system with DOT 4 fluid and after installation (reluctantly spending $80 on BMW wear sensors!) we were ready to start the bed-in process. The USR rotors require no cleaning prior to install as the red "BRAKE-IN" coating on the pads is a mild abrasive. The coating removes the black PHP coating on the USR rotor, so the bedding-in process is quicker. EBC recommends that proper bedding-in for street use means you do not heavily apply or drag the brakes for the first 100 miles. The next hundred miles more pressure can be added during all braking situations, but do not drag the brakes! Of course this is inner-city use as highway braking isn't going to provide the proper conditions. After 200 miles is complete, it's time to head out in a safe area (not public roads) for some heavy stabs at the upgraded brakes. Take the car up to 60mph (100km/h) and jam the brakes all the way down to 10mph (15km/h). After five of these aggressive decelerations, drive freely to cool the brakes with no full stopping for 15 minutes to create a proper transfer film. Braking will be dramatically improved however optimal performance may not be seen for as much as 1,500miles (2,400km).
While testing, we shook up the previous record with the new EBC gear, which had not yet completed the 1,500 mile marker, but was capable none the less. We clicked off a best of 124ft 60-0mph which is 4-feet quicker than stock! It may not sound like much, but lets remember that could be the difference in avoiding an accident. The fade is also improved as well with the slotted rotors, and at no time did the braking appear to be dipping in performance.
EBC knows brakes, all they do is manufacture various friction products to stop: motorcycles, cars, trucks, planes and even bicycles! When you are looking for an end-to-end solution to work with your OEM system, EBC has the rest of it covered to change the way your car comes to a complete stop.