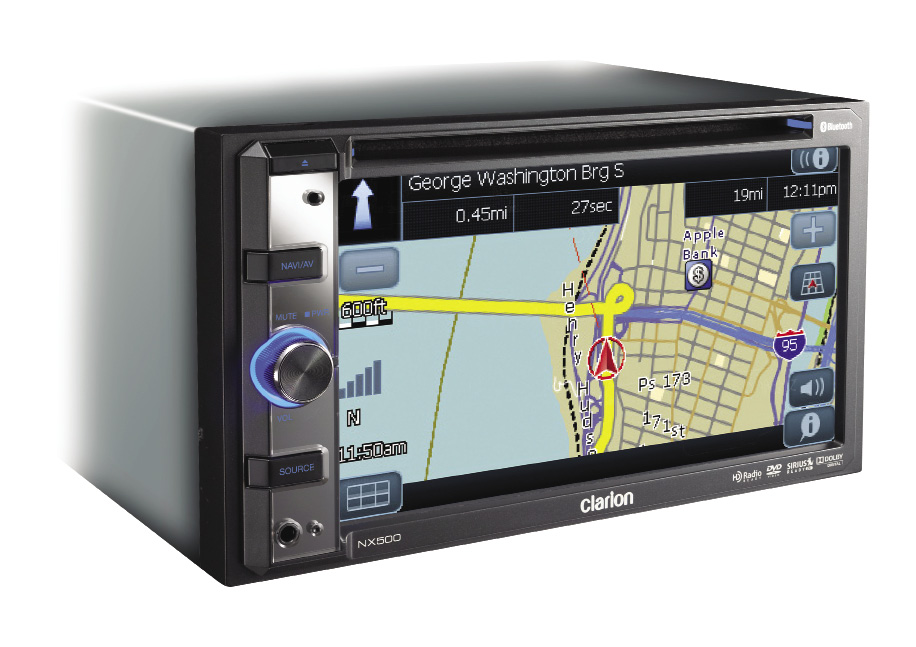 In the world of car audio, some of the best products have come as a result of manufacturers listening to their dealers and end users in order to develop new gear with the improvements in features and ergonomics people are looking for. One company that has obviously spent some time listening to customer feedback is Clarion. As a result, the entire Clarion headunit line for 2010 has been improved in terms of features, functionality, and cosmetic appearance.In this review, we're going to take a look at the new Clarion NX500 Multimedia Navigation receiver.

COOL FEATURES
The Clarion NX500 DVD/Navigation receiver is a double DIN chassis unit, incorporating the latest and greatest features that everyone wants in their ride. Incorporating a 6.5-inch QVGA color touch screen monitor, the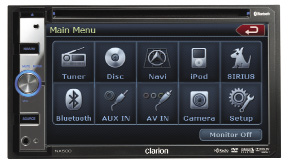 $999.00 NX500 is fully self contained, and does not require an outboard "black box".Fully compatible with CD/DVD/DVD+R/DVD+RW, and CD-DA/HDCD-R/RW, MP3/WMA formats, the NX500 (and its single DIN, fold-out screen brother the NZ500) are exceptional audio-video navigation units. The NX500 features built-in GPS navigation, built-in Bluetooth for hands-free telephone control, phone book access, and A2DP/AVRCP audio streaming and, of course, full USB iPod and iPhone compatibility. Video playback from an iPod is available using an optional cable (CCA723 or CCA748).
Because the iPod connection is USB based, you can also simply plug a USB thumb drive into the supplied USB extension cable, and bring your music with you that way too. The NX500 can also be paired with Sirius Satellite Radio and is also HD Radio ready (with the optional THD400 module). The popular new iTunes tagging functionality is also included.
Rear seat entertainment options are covered with the front and rear A/V inputs and a dedicated rear A/V output. An input for a rear-view camera is also provided, as well as reverse gear engagement wire.
The built-in GPS navigation uses 2009 map data from TeleAtlas which is stored on NAND flash memory for quick response and access to navigation maps. The unit comes pre-loaded with complete maps for the United States and Canada, and features more than 12 million POIs and full text to speech capability for spoken street names and directions.
The NX500 is also equipped with an input jack for interfacing with existing OEM steering wheel controls, and all of the connections on the rear of the chassis are made via pigtail plug-in connectors to assist in reducing unnecessary wiring clutter and improves mounting depth clearances in shallow installations.
On the audio end of things, the NX500 uses a 24-Bit D/A convertor, and a built-in four channel amplifier that provides 18 watts per channel and 3 pairs of RCA outputs rated at 2 Volts each provide signal to your external amplifiers. A wireless remote control is also included for those too lazy to reach the dashboard.
CONTROLS AND ERGONOMICS
The front panel of the NX500 is very intuitive and easy to use, even if you are one of the people who never open the owner's manual. It's quite apparent that a lot of thought went into the design and layout of the touch screen icons, controls and menus, because everything is easy to find, and quite simple to access. The icon-based GUI is easy to read and operate. Setup is fairly painless and quickly accomplished, which is more than can be said for some of Clarion's competition. The 6.5" TFT touch screen can be setup in either 4:3 or 16:9 aspect ratios, and is surface treated to resist dust and grime from constant use. One of my favorite features that Clarion got totally right, in my opinion, was the choice of a rotary volume control, which is one of only four "hard-key" controls, the others being the eject button, and buttons to switch from A/V to Navi, and a source select button. Another feature I particularly liked was the simple front-loading disc slot that does not require the front panel to have to motorize out of the way to insert or eject a disc.
To make changes and adjustments to the audio settings requires one touch of the screen, which brings up a single page menu where all audio settings (Balance, Fader, Tone, EQ presets) are done from a common menu, so it's easy to see at a glance just where everything is set. Also on this same page there is a separate volume control for the subwoofer level, so frequent level adjustments are quite simple. The NX500 has eleven preset EQ curves, and one that is user adjustable. Adjustments of the tone settings are made by what is basically a DSP powered 2 band parametric equalizer, which allows you to select one of four center frequencies for the bass control, (60, 80, 100 or 200Hz) and another four frequencies (10k, 12.5k, 15k, or 17.5kHz) for the treble control. Also included in the DSP processing is the ability to chose the Q-factor of the bass tone control and one of three subwoofer crossover frequencies. (80, 100 or 120Hz).
The navigation section also proved quite easy to use, and the mapping is clear and easy to read on-screen. A defeatable automatic Day/Night function will automatically change the navigation map display to the appropriate bright or dark background to coincide with sunrise and sunset. In addition to graphic directions, the NX500 provides voice guidance and turn-by-turn directions using the built in text-to-speech processing. You can select spoken directions in English, French or Spanish. If you prefer, the volume of the navigational voice can be set to increase and decrease with changes in speed. If you're the type that doesn't take direction well, the voice guidance can also simply be turned off.
Read on for Results