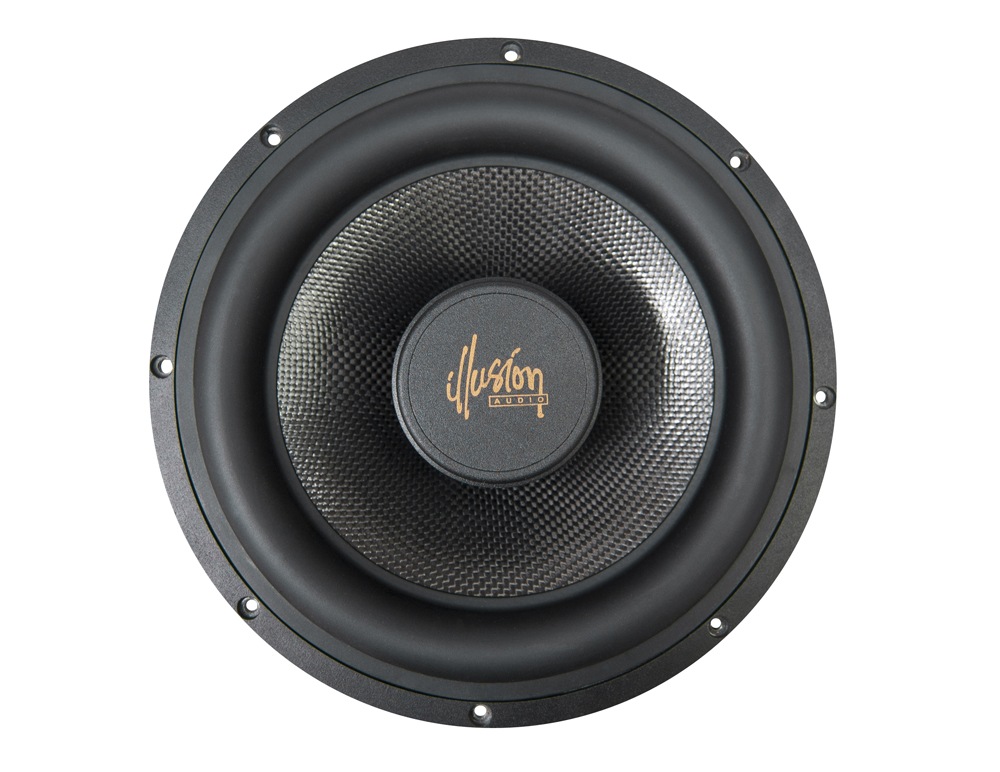 Not long ago I had the pleasure of reviewing a pair of unusual and innovative Illusion Audio C6 components. This time we are looking at a twelve-inch subwoofer from the same Illusion Audio Carbon Series of products, likewise with a front-mounted motor structure. According to Duane Pilgrim at Orca Design and Manufacturing (the North American distributor of the Illusion Audio products), the goal for this woofer was 'compact size without compromise.' By designing a woofer with a front-mounted motor assembly, the result could be a shallow-mount, lightweight subwoofer with all of the output of a conventional full size woofer.
Like the other Carbon Series products, these Carbon Series subwoofers are high-end products that are designed for discriminating buyers with deeper-than-average pockets. How deep exactly? The Carbon C12 woofer is rated for 400 watts of continuous power, and 800 watts 'peak' - it has a U.S. MSRP of $849 and is about fifty bucks more in Canada.
Features

For that price, you certainly get a very high quality woofer that uses 'no compromise' technology and materials. The cone material in the C12 is autoclave-formed woven carbon fiber for ultra low mass and high strength. Built around a shallow, cast-aluminum basket, the C12 is designed with twelve narrow basket spokes to eliminate acoustic reflections. And thanks to the front mounted motor, the C12 subwoofer can be mounted with just 4.875 inches of depth. Attaching the cone to the basket is a wide-roll rubber surround up top and a Conex progressive type spider on the bottom. This combination delivers a maximum suspension excursion of +/- 25 mm. Driving the moving mass is a high-power neodymium motor assembly, which is another great example of the materials and design used in the product. The result is a motor weighing roughly one-tenth of a traditional ferrite magnet, but with a higher magnetic energy. The housing of the neo motor employs built in heat sink fins for improved cooling and reliability at high power levels. Keeping the C12 cool is also easier than conventional woofers, since the motor assembly is out front of the cone in the airflow and not trapped inside an enclosure.
By implementing dual magnetic gaps and a short low inductance voice coil, the C12 can provide very long throw excursion and drastically reduce intermodulation distortion. Centered in the woofer's dual magnetic gaps is a three-inch (76 mm), four-layer copper voice coil, wound on an aluminum former for maximum heat transfer and dissipation. Wiring connections are made via gold-plated, spring-loaded binding posts, which are electrically connected to the voice coil with special copper alloy foil/aramid fiber tinsel leads covered with silicone rubber damping sleeves.
According to the manufacturer, the C12 works best in a sealed type enclosure, with about one cubic foot of internal volume.
Following my standard practice before doing any listening or measuring, the subwoofer was exercised for several hours to break-in the suspension. After letting it cool and normalize overnight, I mounted it in the suggested one cubic foot sealed enclosure and began my listening with Marc Cohen's Walking in Memphis. The subwoofer sounded very good, with a natural, musical sound and very good authority on the close-mic'd kick drum. The subwoofer also did an excellent job reproducing the plucked and slapped bass in Dire Straits Heavy Fuel and Ricki Lee Jones' Danny's All Star Joint. More bass heavy type tracks such as 50 Cent's Patiently Waiting and the Pussycat Dolls Don't Cha were reproduced with surprising authority, and even under high power transients the ultra long excursion of the C12 subwoofer didn't show any audible signs of mechanical stress or bottoming, even though my instrumentation showed it had received brief signals well in excess of the woofer's 400 watt rating. Make no mistake, this subwoofer is designed to sound great, but it is not going to win many SPL contests. Overall output is somewhat subdued compared to a conventional 12-inch woofer, but once you get your levels adjusted, the C12's musicality is sure to impress. It will handle power, so while it may give up a few dB to other subwoofers when compared at one watt of input (regardless of the levels I played it at), the Illusion Audio C12 handled the power with confidence and never once did I think about it being a shallow mount, non-traditional woofer. That fact alone means it's pretty special.
After my listening session, I let the woofer cool and normalize overnight, then fired up my trusty LMS analyzer to measure its frequency response and small signal parameters. As I expected from listening to it, the response curve was smooth and without any unwanted aberrations. The overall output level was also lower than most conventional subwoofers, but then again, those options won't mount in less than five inches of depth and handle 400 watts.
I'm happy to report that my Thiele-Small parameter measurements were almost identical to the C12's published specs, which is a testament to the consistency in the build quality.
Measured Thiele-Small Parameters
Illusion Audio C12
Method = Double Curve - Delta Mass
Revc= 3.670 ohms
Fo= 24.456 Hz
Sd= 0.0445 M²
Vas= 47.06 L
Cms= 0.1676 mm/N
Mmd= 247.258 g
Mms= 252.649 g
BL= 17.863 T•M
Qms= 2.155
Qes= 0.447
Qts= 0.370
Levc= 0.4637 mH
No= 0.149 %
SPLo= 83.752 dB
EBP= 54.7
Quick Tech Specs
Power Handling 400 watts RMS / 800W "Peak"
Frequency Range 30-500 Hz
Sensitivity 84 dB/SPL @ 1.0 W/1 M
Nominal Impedance 4 ohms
Conclusion
Whether you need a subwoofer to do your music justice or need to fit it in a small space, or both, the Illusion Audio C12 is one of the most musical shallow-mount subwoofers you can buy. While it's not going to knock cans off the shelf in your garage, it will handle a lot of power, provide you with accurate musical bass, and mount in spaces that ordinary subwoofers simply can't. Sure, this combination of mounting flexibility and power handling doesn't come cheap, but the cost of this subwoofer gets you a well-engineered, well-made product - as well as entry into an exclusive club of audio aficionados.