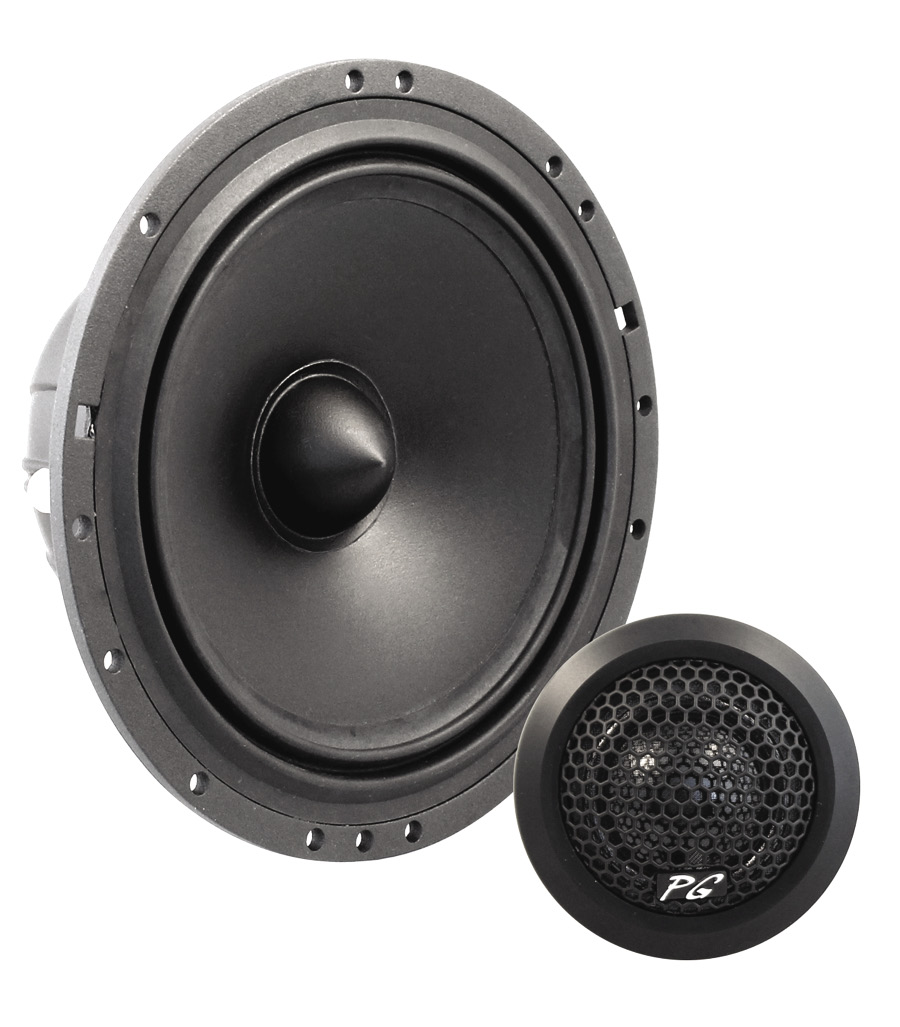 When the Phoenix Gold design team sat down to decide what their Elite series of component speakers were going to be, the decision was made to make them all about sound. That may sound overly obvious, but surprisingly logic is not always the driving force in these development meetings. Thankfully in this case common sense and the audio purists prevailed, and the result is the system we're looking at here, the Elite.65cs components. The plan was to develop a system with good accuracy and an exciting character. It was also agreed early on that the system would be sold on its sound quality, and not on marketing stories about exotic materials or unusual construction techniques. Anything that did not contribute to the sound in a positive way was discarded for something that did. The result is a decidedly high end sounding system at the mid level price of $429.99.
Features and Construction
Midrange:
The 165 mm (6.5 inch) midrange is built on a die cast aluminum basket, finished in black textured powdercoat. The basket has a multiple mounting hole arrangement for proper fit in a wide variety of vehicles, with a mounting depth of 65 mm (2.6 inches). Electrical connections are done via nickel plated, spring loaded push terminals. Powered by a ferrite magnet assembly, the midrange motor drives a 25.5 mm diameter dual layer copper voice coil, which is wound on a lightweight vented Kapton former. The coil assembly is centered in the magnetic gap by a linear design poly-cotton spider. This whole assembly drives a dampened polypropylene cone, which was chosen because of its sound quality. Other materials were tested, but the team kept coming back to the dampened poly cone. An interesting feature of the cone is the pointed dustcap which resembles a phase plug in an attempt to reduce lobing effects at high frequencies.
Connecting the outer diameter of the cone to the basket is a dual roll rubber surround, which provides good control and excursion while reducing unwanted resonances and other acoustical artifacts. The speakers come with sturdy metal mesh grilles with a clean understated look. And since most installations will use the factory grilles, the Phoenix Gold logo badges are packed separately so they can be displayed proudly on the cars stock grille.
Tweeter:
The tweeter used in the Elite.65cs system is a 25 mm pure silk dome chosen for its sonic performance and dynamic, crisp high frequency response without being brittle or hard sounding. The tweeter is housed in an impressive anodized machined aluminum housing, and uses Ferrofluid cooling to improve power handling. Mounting the tweeter is a simple task, you simply cut a 47 mm mounting hole, drop the tweeter in, and secure it with the included retaining nut that screws right on to the housing.
Crossover:
The crossover networks used in the Elite.65cs system are composed of high-pass and low-pass Linkwitz-Riley second order alignment designs. The high-pass network has a crossover frequency of 3.5 kHz, and the low pass side is set at 2.95 kHz. The crossover uses quality Mylar capacitors and correctly oriented inductors. A special two-stage circuit protects the tweeter from accidental excessive current. Switches are provided for adjustment of three different tweeter levels, and a mid-bass enhancement switch that reduces midrange output to enhance the perception of the mid-bass (see the frequency response graphs). Connections are made with robust terminals that accept up to 10-gauge wire, secured by Phillips head setscrews. The crossover housings are quite compact and easily mounted by removing the snap-off smoked clear cover.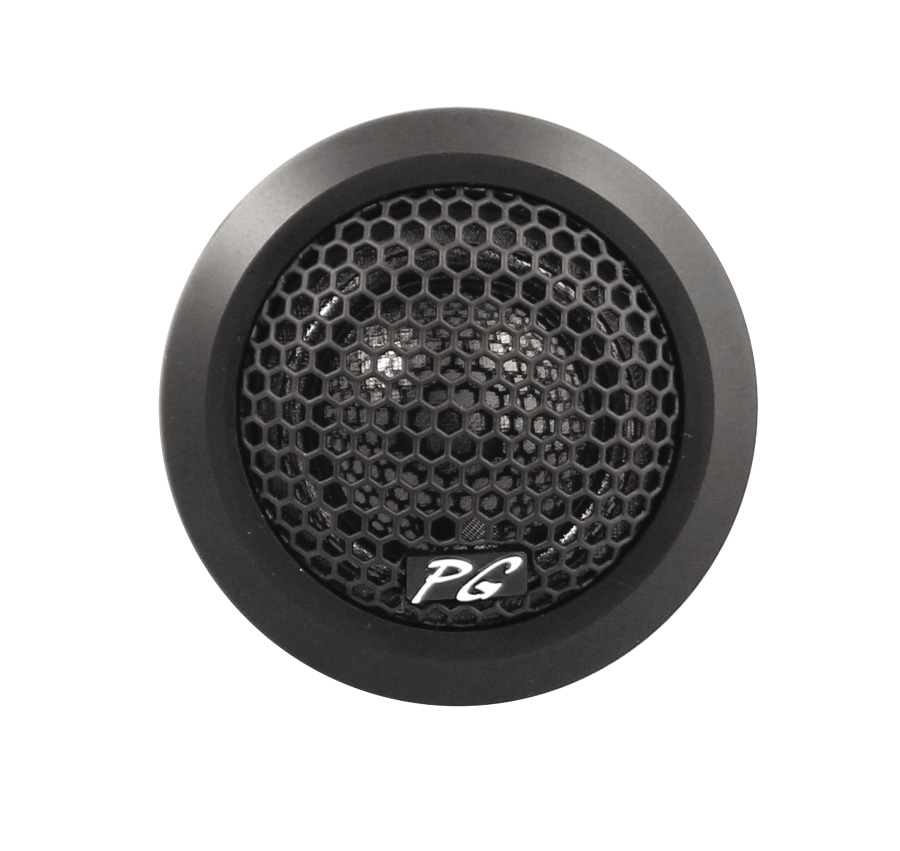 Listening:
I performed all my listening under quiet and controlled conditions. As is always the case with a 6.5" component system, when I do my listening I use a high-pass filter set right around or just above the resonant frequency of the midrange driver. A quick check in the owner's manual said the Fs should be 55Hz, so I set my systems high pass filter to 60Hz. During my session, I listened to a wide variety of my favorite music, as well as some difficult-to-reproduce tracks that I use to put really good systems to the test. I began my listening with the tweeter level at the +3dB position, and as I liked it there, that's where it remained. Overall I was quite impressed with the sonic performance of the Phoenix Gold system. The sound was accurate and smooth, with a warm midrange. Sometimes the most telling tracks can be simple acoustical, so I listened to some classical guitar from Ottmar Liebert and Stanley Myers. The detail and dynamics were excellent, and the guitars had a natural timbre. The system delivered a strong and tight bottom end, with good control even at high volumes. Clarity and distinct voicing in female and harmony vocals from The Manhattan Transfer and the Eagles was also excellent. One sure sign of a well engineered speaker system is that it sounds good regardless of the musical genre you play. I went from classical to country, rock to rap, and it was all good. After spending a few hours listening, it would seem the design goal of an accurate and exciting speaker system seems to have been met.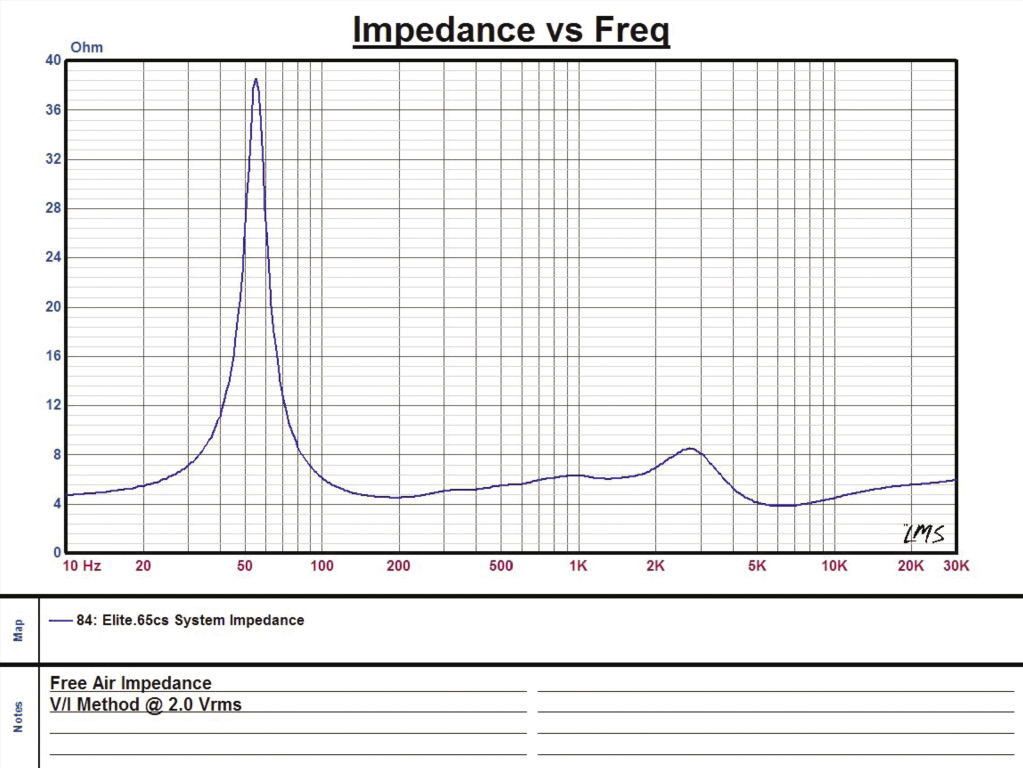 On The Bench:
The next morning I moved the system into the lab and made a few measurements, and checked the response curves. The system measured just as it sounded, which is relatively flat and accurate. The adjustments available on the crossover did exactly as described, and the published specs in the owner's manual were spot on.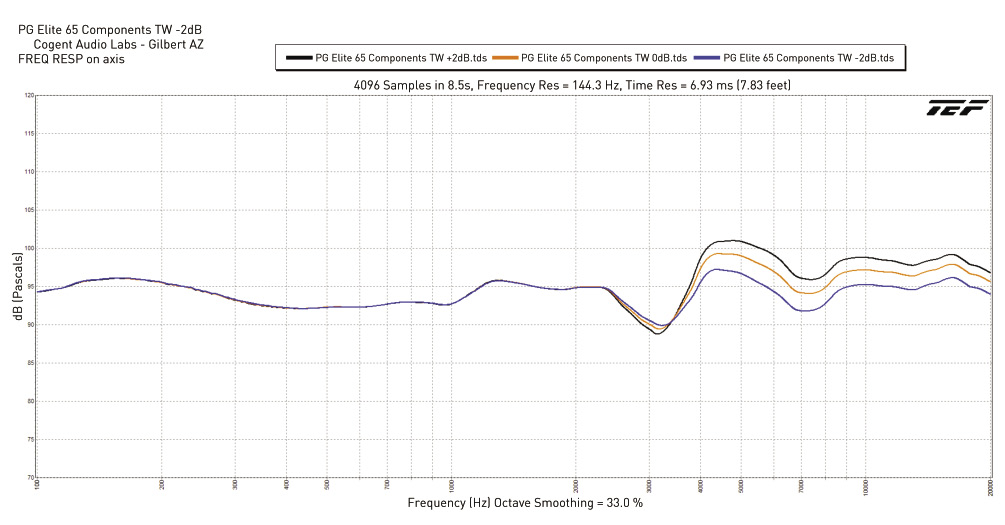 Quick Specs:
Recommended Power 150 Watts Continuous / 300 Watts Peak
Sensitivity (2V/1M) 90dB SPL
Frequency Response 55Hz -25kHz (-3dB)
Mounting Depth 2.55" (65mm)
Mounting Diameter 6.5" (165mm)
Midrange Resonance 55Hz
Conclusion
The Phoenix Gold Elite.65cs component speaker system delivers excellent performance, and is built to go the distance. At a mid-range price point, this system represents excellent value and performance for the dollars invested.
Whether you are looking for a great upgrade to your OEM speaker system, or you simply want to move up to a component system that sounds great with any kind of music at any volume, you should go visit your local Phoenix Gold dealer for an audition.