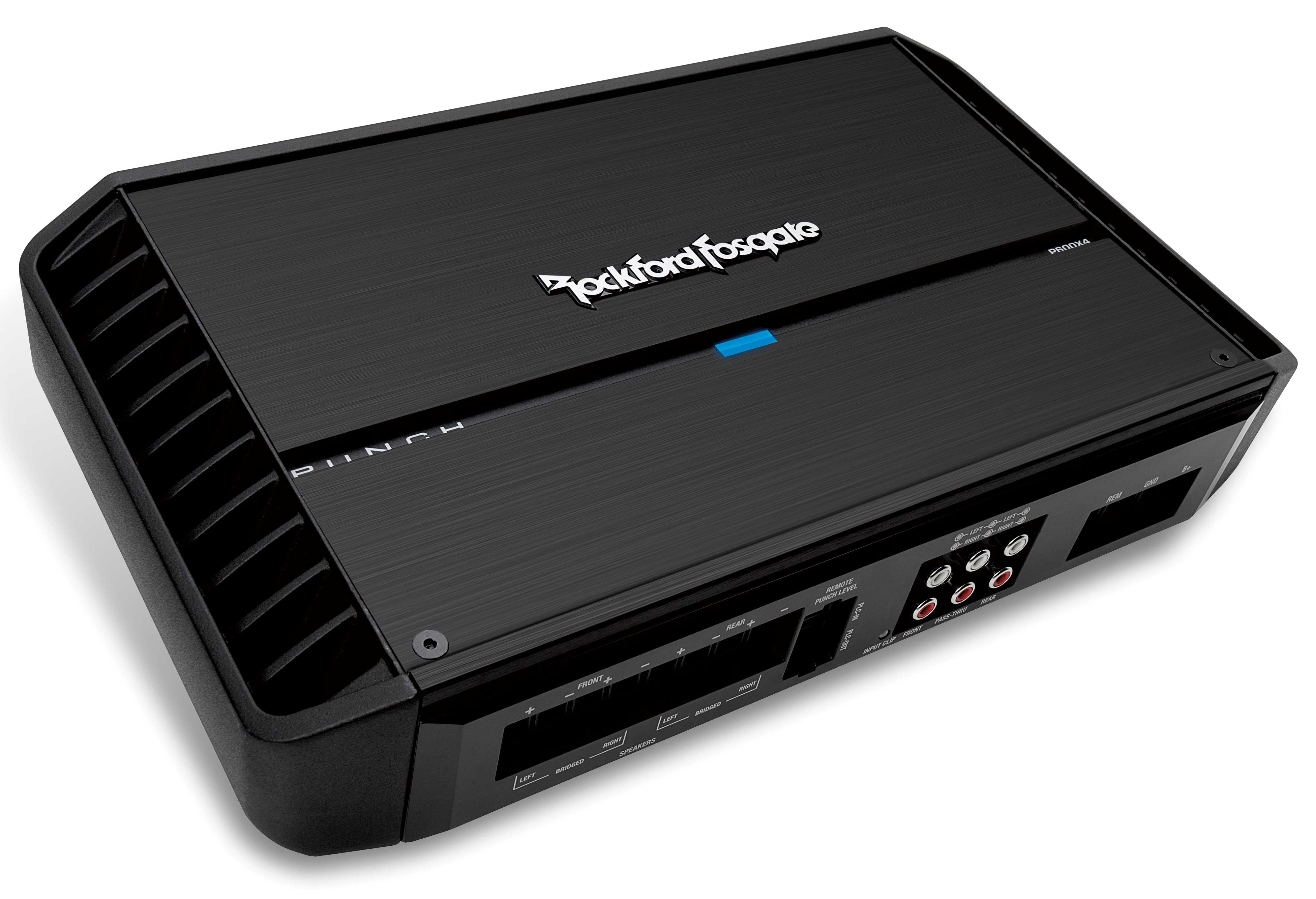 Rockford Fosgate has been a leader in car audio since its original amplifier was produced in 1973. For the last four decades the company has continued to refine and develop better technologies to keep them at the top of the car audio industry. This year at the 2013 WCES show in Las Vegas, Rockford demonstrated once again that they are not satisfied with sitting on their laurels. The top selling Punch lineup of amplifiers were introduced with some innovative and very useful features. To explain what they've done and how these features can benefit you, we are taking a close look at the new four-channel Punch P600X4, which sells for $449.49 in the U.S.
Features
Fundamentally, the P600X4 isn't much different from the Punch amplifiers from years past. The amp is a traditional Class-AB design, rated at 72 watts per channel at four ohms, and 150 watts per channel at two ohms. The amp can also be bridged to two channels, where the power is rated at 300 watts by two channels.
The amplifier is very thoughtfully designed and engineered in Tempe, Arizona. Manufacturing occurs in Thailand in a plant that builds nothing but Rockford amplifiers all day.
As they have for the better part of twenty years, the Punch amp utilizes a custom-tooled cast aluminum heat sink and smooth, black-anodized brushed aluminum top cover – the front part of which is removable to access the amps top mounted controls. The result is a look that is reminiscent of a home audio product.
The P600X4's heat sink is designed to allow the heat generating transistors to be mounted on three sides instead of the conventional two. This provides a couple of distinct advantages: first, because the transistors are on three sides, heat is dissipated more evenly over the surface of the heat sink. This provides better heat transfer and the amp stays cooler longer, which is important when enjoying the sonics of a good Class AB amp. The second benefit is a reduction of the overall footprint, allowing the amp to fit in smaller spaces.
With heat sinks on three sides, the amp connections sit on the remaining edge and the top-mounted controls (gain, crossover settings and Punch EQ, available for both front and rear channels).
But here's where the new Punch amps separate themselves from the rest of the pack.
One of the most important and misunderstood aspects of installing an amplifier is gain setting. Some companies advocate simple but very general settings, while others insist you need sophisticated equipment like signal generators and oscilloscopes to do it correctly. Rockford has developed a simple and very accurate way of accomplishing the optimum gain setting for your specific source unit and amp. Each Punch amplifier is now equipped with input and output clip indicators, for use in what Rockford calls a "C.L.E.A.N." setup (Calibrated Level Eliminates Audible Noise). Included in the box is a special set-up CD; you simply play the appropriate track in your head unit, and increase the volume setting until the 'Input Clip' lights up on the front of the P600X4 and go down one click. Then you simply adjust the gain controls on the amplifier until the multicolor output clip indicators turn blue. That's it, you're done. If you want to tweak it for some gain overlap and really get it perfect, there are additional tracks on the disc, or you can just adjust it to your favorite music.
Another feature added to the 2013 Punch amps is the ability to accept high-level OEM speaker input signals right on the RCA connections. You can even use the DC signal found on these outputs to turn the amplifier on when no remote-on-wire exists. A special output jack on the amp can be connected to additional Punch amps to turn them all on. This makes the Punch amp a good choice when building a system to integrate with an OEM head unit.
Of course, a wired Punch level control is available (PLC2, sold separately) to provide remote level control and input level clip indication.



Listening
I have listened to literally hundreds of Rockford Fosgate amplifiers. The Punch P600X4 is a shining example of why so many audiophiles and critical listeners choose these products. As I usually do, my listening session has the front channels driving a set of high-end bookshelf speakers, with the rear channels crossed over at 80 Hz driving a pair of 10-inch subwoofers. From a sonic perspective, the amp is very musical and virtually transparent. Stereo imaging is excellent; there is no audible noise of any kind. From one end of the spectrum to the other it simply makes things louder, which is exactly what a good amp should do. Of course the crossover and EQ functions work as expected, but for my listening I just set the front channels to a flat response and enjoy the music.
On the Bench
On the test bench, the P600X4 easily outperforms its advertised specifications. Power is abundant and the amp even exceeds its rated power numbers at a battery voltage of 12.6 volts. The frequency response is nice and flat, and remains that way over 100 kHz! When I measure the Punch EQ, I note that the control not only provides the usual bass boost at 45 Hz, but also includes a treble boost at about 14 kHz which is nice when listening at lower levels or overcoming vehicle road noise. Attention to detail is seen in areas like common mode ratio rejection from the balanced front end. Stereo separation is also better than most sources can muster, making the amplifier a treat to listen to.
Conclusion
As the years go by, Rockford Fosgate continues to show that they are real enthusiasts, developing products to meet their customer's needs and exceed their expectations. The new level setting process is one example of this innovation.
If you're looking for old school performance combined with a healthy dose of 2013 technology, the $449 Punch P600X4 should definitely be on your audition list.

Technical Data
The following power measurements were obtained using industry standard methods. (1 kHZ @ 1.0% THD+N - Battery voltages shown +/- 0.2 V)
Measured Performance Specifications
Manufacturers Rated Power Actual Measured Power
@ 1.0% THD+N @ 12.6 V Battery Actual Measured Power
@ 1.0% THD+N @ 14.4 V Battery
75 x 4 @ 4 Ohms 97 x 4 @ 4 Ohms 127 x 4 @ 4 Ohms
150 x 4 @ 2 Ohms 156 x 4 @ 2 Ohms 206 x 4 @ 2 Ohms
300 x 2 @ 4 Ohms 318 x 2 @ 4 Ohms 420 x 2 @ 4 Ohms

Signal to Noise Ratio referenced to 2 V output.
(CEA-2006A) (1 watt @ 4 ohms) -86.3 dBA
Signal to Noise Ratio referenced to full output. -107.3 dBA
THD+N at rated 4 ohms power 0.048 %
CEA-2006A rated 4 ohms Power (minimum power per channel developed over the entire intended audio bandwidth) 123 W
Maximum Efficiency at full 4 ohms power per ch. 70.0 %
Maximum Efficiency at full 2 ohms power per ch. 64.2 %
Efficiency at 10 watts per channel, 4 ohms 18.4 %
Idle Current 2.3 A
Input Sensitivity 180 mV- 13.9 V
Maximum Current @ full power, lowest rated impedance 89.1 A
Frequency Response (-3 dB) <10 Hz – 105 kHz
High Pass Crossover 55 Hz – 250 Hz
-12 dB/Oct
Low Pass Crossover 55 Hz – 250 Hz
-12 dB/Oct