Over the last few years, quite a few speaker manufacturers seem to have figured out there is a serious market for shallow mount subwoofers. Of course there has always been a need for these products, and now that some good designs have been accomplished, people have caught on to them as great solutions for everyday applications… like regular cap pickup trucks for example, where there simply isn't room for a traditionally sized enclosure.
This trend certainly didn't go unnoticed by the folks at Soundstream, who have been quietly working on a very unique shallow subwoofer of their own. They introduced their new single 4 ohm voice coil Stealth 13 shallow woofer at the CES show in January, at a very reasonable price when compared to some of the competition. ($229.00 USD) and I've been looking forward to getting my hands on one to see how it performs.
Cosmetics and Features
The Soundstream Stealth 13 woofer is a very unique product, being slightly larger in diameter than a conventional 12" woofer, but with a proprietary custom tooled basket that has an extremely shallow mounting depth of only 2 inches! This makes the Soundstream Stealth 13 the shallowest woofer I have tested to date, and also makes it an ideal candidate for standard cab trucks and other space limited applications. The mounting diameter is 11.375", which is only about 0.375" larger than a conventional 12" woofer, so pre-fab boxes should be able to be modified to accommodate the Stealth 13 quite easily.
From a cosmetic perspective, the woofer is good looking with a spun-brushed aluminum one piece cone. This cone style does not require a dustcap, and the Stealth 13 logo is laser etched onto the cone, and nicely done. After the etching is completed, it's anodized and clear coated for durability and good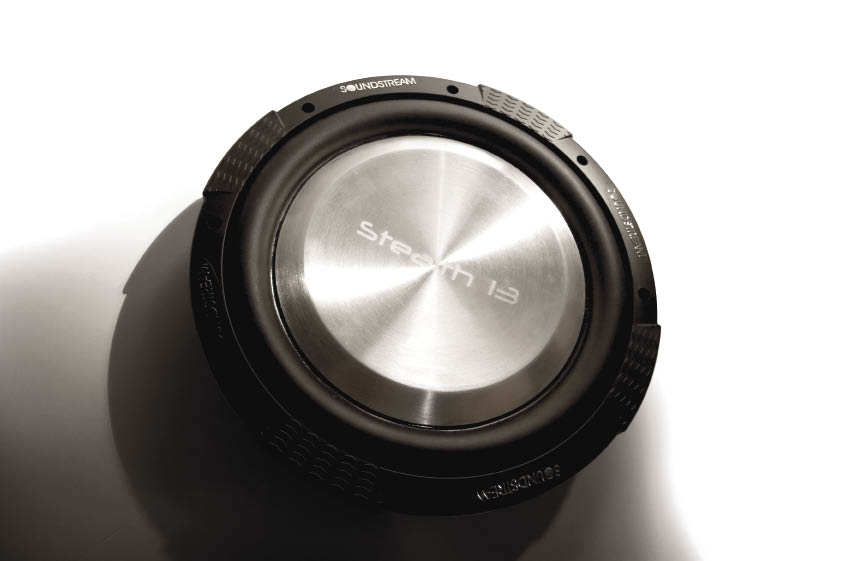 looks. The basket is finished in a gloss powdercoat paint, in a color Soundstream calls "Titanium Gray". Wire connections are accomplished via a molded terminal that uses Phillips head set screws to clamp the wire solidly in place. The terminals will easily accept 10 gauge wire.
To achieve this extremely shallow basket, the design team incorporated a single voice coil, measuring a full 5 inches in diameter. The magnetic motor uses a "bucket style" 955 gram (2.1 lb.) ceramic strontium ferrite magnet. The large coil is made of 2 layers of special high temperature resistant copper windings on an aluminum former, and has a nominal impedance of 4 ohms. Tinsel leads are stitched to the spider, to eliminate any possible lead-slap noise. The former is suspended by a 100% Dupont Nomex linear type spider, while the top of the former connects to an injection molded "sub-cone" assembly, to which the one piece stamped aluminum cone is attached. The outer edge of the cone assembly connects to a natural butyl rubber surround. The amazingly shallow cast aluminum basket is very well vented in the rear, allowing excellent air flow for cooling, and added reliability.