Not long ago, few would believe we'd all use a portable music device that fit in our pockets and contained thousands of songs. Likewise, personal or in-car GPS navigation was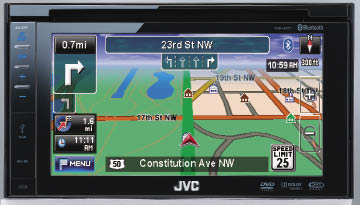 pretty much unheard of. A few early adopters had units mounted to the top of their dashboards, and delighted in showing their friends where the nearest gas station was. But as technology inevitably progressed, we became used to the convenience iPods and GPS navigation devices provide, and now a great many consumers simply consider them totally necessary for daily driving. Same thing with Bluetooth hands-free technology, it's also becoming a standard and expected feature, as more and more people experience the added safety and convenience it provides.
To meet our ever burgeoning demand for these technological necessities, the JVC Company has introduced a single product that provides pretty much all this and more… in one chassis.
The JVC KW-NT1 is a double DIN sized in-dash Tuner/CD/DVD/MP3/iPod/GPS Navigation/Bluetooth equipped system. Combining all of this functionality into one chassis controlled by a 6.1-inch LCD touch screen will spoil almost anyone into believing they can't live without it.
Controls and Features:

The JVC KW-NT1 uses Windows Automotive power for an advanced Intelligent Navigation system that includes text-to-speech and provides a user-friendly interface with magnified viewing, on-screen lane guidance, and even a speed limit display for major highways.
The 2009 JVC navigation lineup includes the KW-NT1 and KW-NX7000BT, the JVC KW-NT1 we reviewed also features built-in Bluetooth wireless technology that allows for stress-free safer driving and includes flexible setup options complete with a high-quality external microphone.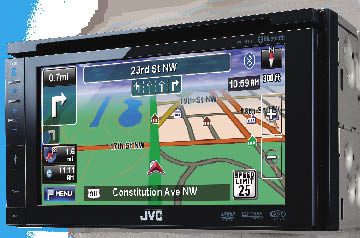 DVD playback is possible when the cars parking brake is engaged. iPod or iPhone connections are made via a full speed USB 2.0 connection hidden under a small cover on the front panel. While connected, the system provides two-way control for iPod/iPhone units. This means that the user can control music selections from either the receiver's touch panel, or the iPod/iPhone itself.
The KW-NT1 also includes an SD card slot built into the back of the removable faceplate for MP3 audio playback, an adaptive volume control that can increase or decrease the volume automatically as the vehicles speed changes. Internal speaker power comes from a built-in MOSFET amplifier with a 20W CEA 2006 rated power output. Additional cool features for you techno-heads include a rear view camera input, a J-BUS terminal for connecting XM or Sirius satellite radio tuners, front rear and subwoofer pre-outs.
The Navteq based software includes 6 million points of interest (searchable by name, vicinity, phone #, address, zip code, or Long/Lat coordinates), 3D map viewing, and comprehensive map coverage of the following areas: United States, Alaska, Hawaii, and Puerto Rico, plus Canada. The JVC KW-NT1 retails for $1,099.95 and comes with a 1 year limited warranty.
Feature List & Functionality
The KW-NT1 is quite easy to use with intuitive and simple to understand icons and tabs displayed on the 6.1-inch touch screen. There are only four actual control buttons on the front panel, all other controls are integrated into the Windows based software, and are accessed via the touch panel. These four "hard" buttons are actually a soft touch-pad design, and require only the lightest of touches to make them operate. They are used for changing the display from audio mode to navigation mode, and to adjust the volume. On screen menus are designed with logical sequences, and the things you use most often are easiest to access, which is as it should be.
While I had no problem at all using any of the controls on my test bench or listening room, in those situations I have the luxury of being able to look where I put my finger. Because they are generally harder to find and operate without looking at them, I have never been a fan of pushbutton volume controls; especially those that have no tactile feel whatsoever… as is the case here. Call me "old school," but I believe a detented rotary volume control is safer and more intuitive to use. However, these modern controls work very smoothly and without any "zipper noise."
The navigation section of the unit provides a very clear map and set of directions, including the street you are on, and the next street you will cross. Guidance is provided by both on screen directions as well as spoken instructions using street names. If you miss a turn the unit will re-calculate the route for you, but I thought this function took slightly longer than normal when compared to my personal Garmin unit. Of course all of the cool search and routing functionality is included, and the mapping software allows you to import POI's (Points Of Interest) via the SD card using Google Maps. Also, the internal firmware and mapping can be updated as new stuff comes along. Isn't technology grand! Text to speech is selectable to English, Spanish, and French voice commands.
DVD picture quality was also very impressive, the screen has excellent color, contrast and detail. Brightness is user adjustable to suit your preference. There is also a video output to connect a rear seat monitor. Separate rear panel connections provide audio and video inputs, so another source like a videogame can also be connected.
Interestingly, and to me almost inexplicably, the iPod connectivity is done only via the front panel USB port. If you would like to display video from the iPod you'll need the JVC KS-U29 adapter cable. While this system does provide a very convenient 2 way communication and allows the iPod or the touch screen to control things, I can't see myself driving around with wires hanging out of the front of my radio. How hard would it have been to add an additional set of connections on the rear panel so I can keep my iPod and associated wiring hidden, secure, and clean looking. Come on guys…
On the audio side of things, the KW-NT1 has a complete feature set as well. A built in 20 watt amp can provide 4 channels of power output, and the maximum output can be controlled via software, so if you have low power speakers, or you don't want junior to blow stuff up when he borrows the car, the JVC has you covered. The internal amp power can also be completely disabled if you are using the RCA outputs and all external amps.
On the pre-outs, the system comes with a defeatable high pass filter with 3 selectable frequencies, and the subwoofer output also has three selectable crossover frequencies. The output level of the subwoofer is adjustable independently from the main volume, but it's a couple of menus down, so it's more useful for basic system setup and level matching, and probably won't replace a remote level control for your sub amp.
Also included is a DSP based EQ system with 7 frequency bands, and the ability to adjust each band up or down by 10dB in 2 dB steps. I liked the three user definable presets, they allow you to adjust things yourself and save them to the systems memory. Then if you like to change EQ settings to suit your mood or music, it's a simple one touch selection.
Read on for Results