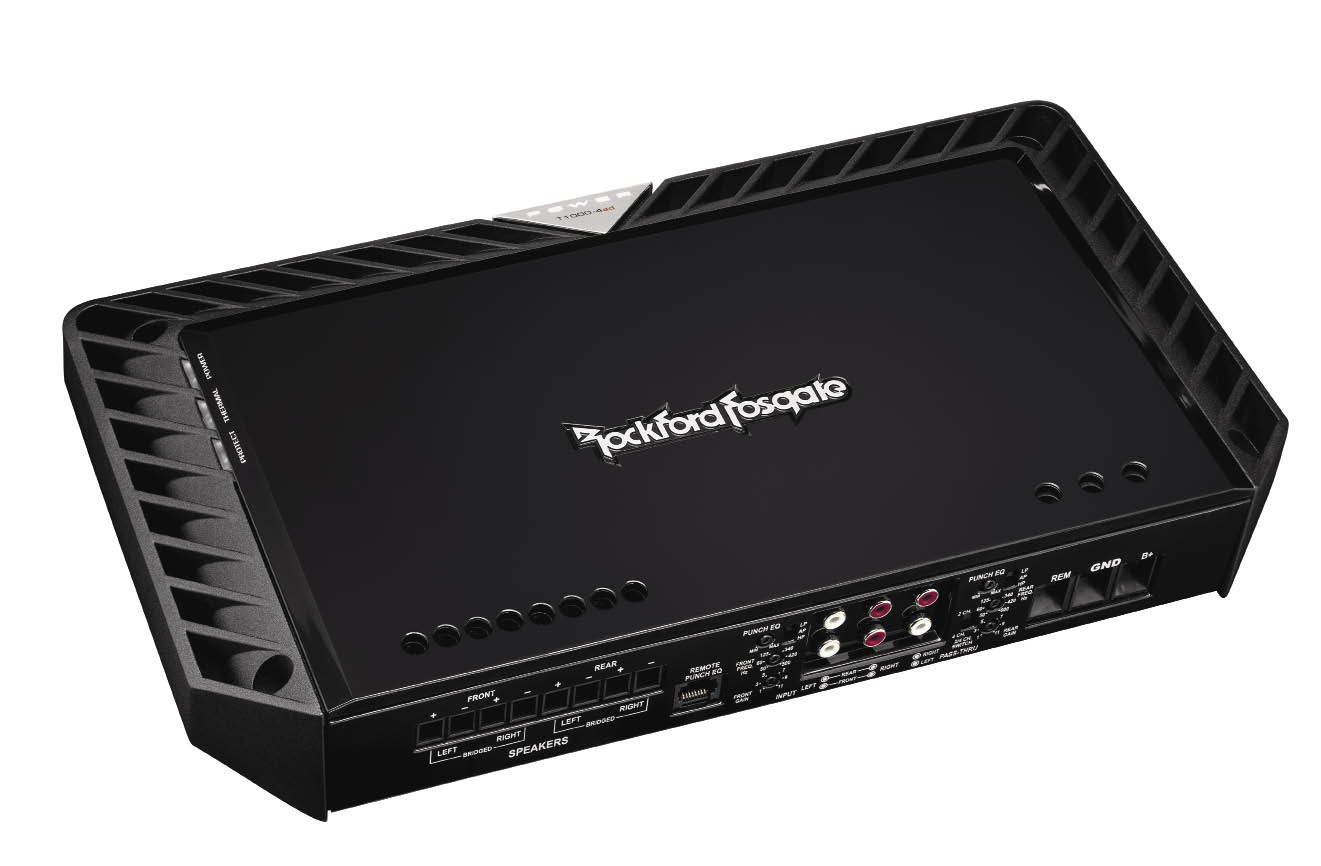 About a 20 minute drive from my lab, over on Rockford Drive in Tempe, Arizona, is the world headquarters of Rockford Fosgate. These folks live, breathe and sleep car audio. If you have ever read any of Rockford Fosgate's marketing materials, they talk a lot about passion for the car audio lifestyle, and it's true. Their engineers have systems in their daily drivers, and through daily use by these fanatics, new products are conceived, prototyped, developed, and as often as not, become production products that you and I can buy for our own rides. Just such a product is the Power series of amplifiers, and in this review we're going to take a look at the biggest dog on the block, the T1000-4ad.
Features
The Rockford Fosgate T1000-4ad is a four channel Class D full range amplifier that was developed by Rockford's in-house enthusiasts to be their concept of the best-performing full-range Class D amplifier possible. The patent pending "ad" topology uses something Rockford calls "Dynamic Frequency Switching" to provide the best possible performance. Additional feedback is used after the output inductors to further reduce unwanted switching noise, and provide a clean musical output signal. The amp is rated at 250 watts x 4 into 4 or 2 ohms, or 500 watts x 2 when bridged into 4 or 2 ohms. In addition, the T1000-4ad employs some old school circuitry too, the famed Punch EQ circuit is on board for all four channels, and brings the same sort of acoustic corrections to your car in 2011 that made them famous in 1985. For those who like to tweak as they drive, a remote mounted Punch EQ module is available separately. Front and rear high and low pass crossovers are adjustable from 50 to 500Hz, and the slopes are -24dB per octave.
This is the biggest four channel model in the Power series line, but it's still quite manageable from a size perspective at 14.9" x 8.1" x 2.4". All of the connections and controls are conveniently located on the long front side of the amp, to simplify installation and setup. It's a hefty piece too, weighing in at just over 12 pounds.
Inside the T1000-4ad, you'll find typical Rockford Fosgate build quality and high performance components. The amplifier uses 0% tolerance surface mount parts throughout, and clever construction details like vertically-placed daughter boards not only add circuit real estate space to the relatively compact amplifier, they also provide critical shielding to the sensitive audio input section. High current TO-220 MOSFET devices are used in both the power supply and the output stage. The inside of the amplifier is jammed with high tech, precision components, and a very intelligent layout, but I was somewhat appalled at the slipshod way great gobs of silicone was used to help secure the heavier components. The use of silicone adhesive is a great idea, but I'd think it could be applied in a much neater fashion. Maybe they can give this job to someone with the gift of sight. On the other hand, there is no negative effect other than the cosmetic appearance of the inside of the amp, and since most people will never look inside one of these amplifiers, it may not matter.
Listening
In my reference system I wired the T1000-4ad so it drove my components with the front channels and a pair of 4 ohm 12" woofers was bridged to the rear channels. After setting the crossovers and gain controls, I sat down to see if the Rockford engineering team still had their chops. Almost immediately I realized there was no question, the T1000-4ad sounded great on the first track. For this session I began with some classic rock from Aerosmith, Deep Purple and Rush, and when I realized the amplifier had way more power than my speakers (or ears) would safely handle, I changed things up to some classical tracks and concentrated on the "feel" of the music. The T1000-4ad is a very transparent sounding amp, adding almost no character of its own to the music. Quiet details like a singer's breathing, or the sense of motion on the soundstage were reproduced with surprising realism. Musical timbre, or how well the amp allows you to hear the difference between a Taylor and a Takamine was also surprisingly good. Bass was incredibly tight, articulate, and seemed effortless even at high volume. But let's face it – this amp is really about power, and lots of it. I ran the amp as hard as I dared and it never showed any sign of strain. My woofers would have tapped out before this amp ever got close.
Measurements
On the test bench, the amplifier easily exceeded all the specifications published in the owner's manual, the amp actually made 286 watts per channel into 4 ohms. I noticed that when the amplifier is switched into low pass mode, there is about 3.5dB of additional gain added, but as long as you set your gains after making the crossover adjustments, it shouldn't be an issue. That one minor glitch aside, the actual audio performance of the T1000-4ad was brilliant. It did get quite warm during testing, so if you are going to run one of these brutes hard, make sure it's installed in a way to optimize the cooling. The amp is very efficient however, so at least the majority of the power consumed isn't simply wasted as heat.
Conclusion
If you need a powerful four channel amplifier and nothing you've seen seems like it's quite enough, you need to check out a T1000-4ad. Designed by enthusiasts for enthusiasts, and built like the proverbial brick outhouse, once again the Rockford Fosgate team has developed an amplifier capable of satisfying even the most demanding user. The company tagline used to be: "For those who think too much is just right." Yes indeed.
Technical Data

The following power measurements were obtained using industry standard methods. (1kHZ @ 1.0% THD+N - Battery voltages shown +/- 0.2V)
Measured Performance Specifications
Manufacturers
Rated Power

Actual Measured Power

@ 1.0% THD+N

@ 12.6V Battery

Actual Measured Power

@ 1.0% THD+N

@ 14.4V Battery

250 x 4 @ 4 ?

232 x 4 @ 4 ?

286 x 4 @ 4 ?

250 x 4 @ 2 ?

308 x 4 @ 2 ?

328 x 4 @ 2 ?

250 x 4 @ 1 ?

316 x 4 @ 1 ?

343 x 4 @ 1 ?

500 x 2 @ 4 ?

624 x 2 @ 4 ?

642 x 2 @ 4 ?

500 x 2 @ 2 ?

635 x 2 @ 2 ?

657 x 2 @ 2 ?
Signal to Noise Ratio referenced to 2V output.

(CEA-2006A) (1 watt @ 4 ohms)

-70.4dBA

Signal to Noise Ratio referenced to full output.

-94.9dBA

THD+N at rated 4 ohm power

0.044%

CEA-2006A rated 4 ohm Power (minimum power per channel developed over the entire intended audio bandwidth)

250 Watts

Maximum Efficiency at full 4 ohm power per ch.

83.4%

Maximum Efficiency at full 2 ohm power per ch.

78.7%

Efficiency at 10 watts per channel, 4 ohms

37.5%

Idle Current

4.0A

Input Sensitivity

148mV- 4.8V

Maximum Current @ full power, lowest rated impedance

126.4A

Frequency Response (-3dB)

<10Hz – 34.4kHz

High Pass Crossover

50Hz – 500Hz

-24dB/Oct

Low Pass Crossover

50Hz – 500Hz

-24dB/Oct

Subsonic Filter

None

PUNCH EQ

0 – 18dB @ 45Hz

0 – 15dB @ 14kHz