Written by PAS Staff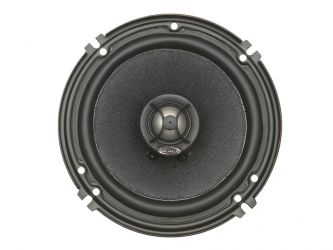 Realm
LS6c
The Realm LS6c is an audiophile grade 6.75-inch component set speaker. Designed for smooth, balanced output and capable of handling high-powered amplifiers, Realm components offer a new choice of high-end speakers for a new level of performance.  Offering the highest level of performance, Realm component loudspeakers are designed to reproduce the sound spectrum that fits an audiophile's listening needs. Realm reference grade asymmetrical crossover network delivers the accuracy and clarity expected from world-class audiophile systems. Known for high-strength and light weight, Realm loudspeakers utilize a Nomex composite cone.
www.realm-audio.com
---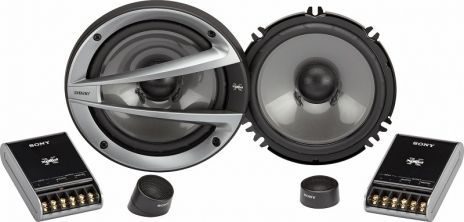 Sony Xplod
XS-GTX1621S


The Sony® XS-GTX1621S component speakers use premium components, offer great power handling and will produce clear, crisp, and memorable audio experiences.
USA - www.sony.com/xplod
CAN - www.sonystyle.ca/xplod
---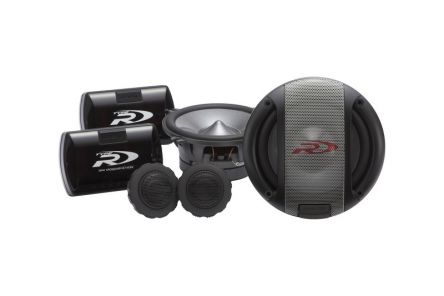 Alpine
SPR-13S Type-R Component 2-way Speaker
Alpine's 5.25-inch SPR-13S component speaker offers loud, high-performance Alpine sound with superior linearity, efficiency, clarity and bass response. Features include a reduced woofer magnet depth for easier installation, upgraded metal mesh grill design and swivel-mounted 25mm ring tweeter. It comes with an external crossover network design that has a six-level tweeter adjustment, which allows for precise tuning, while a hidden screw terminal gives a sleek appearance. CEA-2031 speaker ratings: 100W maximum RMS, 300W peak power handling, nominal impedance 3.6 ohm.
USA - www.alpine-usa.com
CAN -
www.alpine-canada.com
---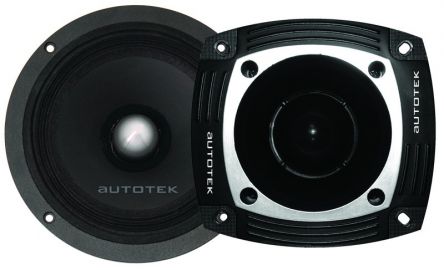 Autotek SIREN
Having trouble hearing the music over your bass? Then you need the new Autotek SIREN series full range speakers. Available in 2", 6.5", and 8" models, you are guaranteed to hear every lyric, bass drum and symbol loud and clear! The SIREN series features a 1.5" voice coil, rugged stamped steel basket, treated pressed paper cone, cloth "W" surround, polished aluminum phase plug and poly cotton spider. The AT46-8 (Tweeter) handles 100wrms with 108dB output 1W/1M. The ATS6.5-4 (6.5") handles 100wrms/200watts maxx and is capable of reproducing frequencies from 100Hz-13,000Hz. The ATS8 (8") handles 150wrms/300watts maxx and is capable of reproducing frequencies from 100Hz-10,000Hz.
Read on for More Products
---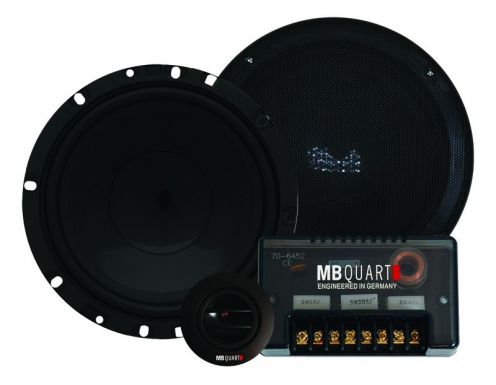 MB Quart
ONYX Series
The ONYX speaker series are elegantly designed for a simple, yet upper class feel. ONYX features a gloss piano black polypropylene cone, rubber surround and black semi-gloss ABS gasket, black semi-gloss trim ring, traditional black mesh grill, black high-gloss stamp steel basket, a vibrant red progressive cotton spider and a black rubber magnet wrap. The ONYX speaker series comes equipped with 30mm WideSphere tweeters, crossovers designed to filter out unwanted frequencies and selectable 0dB, -3dB and -6dB tweeter attenuation. They are available in 6.5" coaxial (ONX116), 6.5"component (ONX216), 5x7" (ONX157) and 6x9" 3-way (ONX169).
---
Crunch
Ground

Pounder GRP6.5C
The 6.5-inch Ground Pounder component speaker provides all the power and performance expected from Crunch. Between the anti-resonant stamped steel basket and the silver alpha-cellulose cone rests a rubber surround that provides a sonically superior termination point for the sound waves that are launched off the speaker cone. This moisture resistant surround better seals the out-of-phase back wave and greatly enhances bass reproduction. Additionally, the impact resistant tweeter elements provide for smooth sound quality and the external 12dB Passive in-line crossover allows for optimum adjustment of the tweeter level. For more visit
---
Hifonics
Zeus ZXi6.5C
The Zeus 6.5-inch speaker from Hifonics is a powerful mixture of first-class sound quality and ultimate flexibility with multi-mount component tweeters. Plus, the low-profile MaxxFit speaker design offers a cure to limited speaker depth that is commonly found in many OEM applications. The center of the ceramic titanium composite cone is enhanced by a lightweight, yet rigid bass driver to provide an extremely smooth response. Coupled with a 12mm neodymium silk dome tweeter is the 360° radial air-cooled motor structure and magnet assembly. Together these deliver an even response up to 25,000 Hz for the most extreme power with the most extreme sound. A rich blue glow of the logo illuminates from the dust cap.
www.maxxsonics.com
---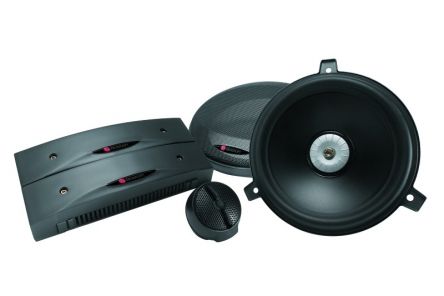 Boston Acoustics
SR60 Components
Boston Acoustics SR60 high performance component speaker features a 6.5-inch woofer with TwinStage heatsink and a Type-S1 1-inch Kortec tweeter. Leading the component drop-in category, Boston SR speakers utilize many key features from the acclaimed Boston Pro speakers to give them plenty of pure, natural performance all with minimal distortion and maximum bass. With features like VariMount Adapter Rings, quick-fit tweeter mounting cups and separable/dockable crossovers, SR speakers are designed specifically for easy installation into a variety of factory locations.

www.bostonacoustics.com
Read on for More Products
---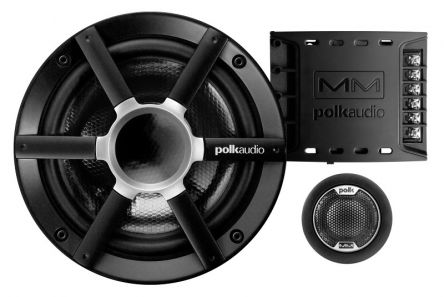 Polk Audio
MM6501

Coaxial
Whether you're into muscle cars or import tuning, whether you're a wakeboarder or skier, or just want the pride and enjoyment that comes with truly incredible sound, you'll find no better expression of action and performance than Polk Audio's db and MM 6-1/2-inch Component Systems. These systems give you the ability to create incredible sound despite the limits of a car's acoustic environment. And don't worry about space or fit. You can choose a 5-1/4 inch or 6-1/2 inch system, Either one will add the extra adrenaline and the great style you tuners crave, and all at a surprisingly affordable price.
---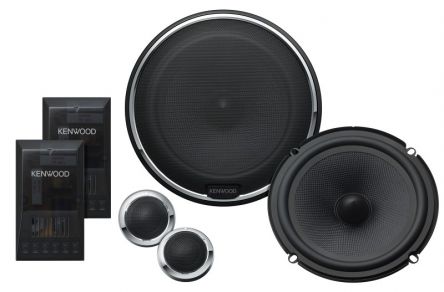 Kenwood
KFC-X1730P

Speakers
The KFC-X1730P 6-1/2" component speaker delivers rich high-, mid-, and low frequencies with minimal distortion.  To achieve such dynamic performance materials like glass fiber and heat resistant Nomex® was selected for the speaker cone.  The dome tweeter utilizes silk to product pure and wide dispersion of high frequencies.  A newly designed magnetic circuit using less steel, results in less distortion than conventional circuits.  Rounding out this fantastic sounding component speaker package is a slim-design high quality crossover network.
USA - www.kenwoodusa.com
CAN - www.kenwood.ca
Read on for More Products
---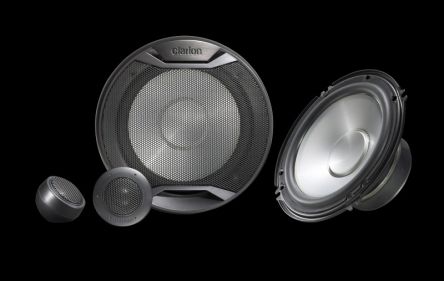 Clarion 


SRQ1621S

Speakers
Clarion's top-of-the line SRQ1621S handles 280Watts of max music power in a 6½" 2-way component package with two-way mounting tweeter (variable angle/surface mount).  The SRQ1621S features 6-1/2" titanium metallized MIPP woofer cone, rubber surrounds, strontium ferrite magnet and rear vented pole piece with a stamped steel frame.  The SRQ1621 is a perfect solution for your acoustic environment and offer the flexibility for a surface or flush mount application.  Clarion SRQ1621S is an affordable choice with no sacrifice on quality or sound.
---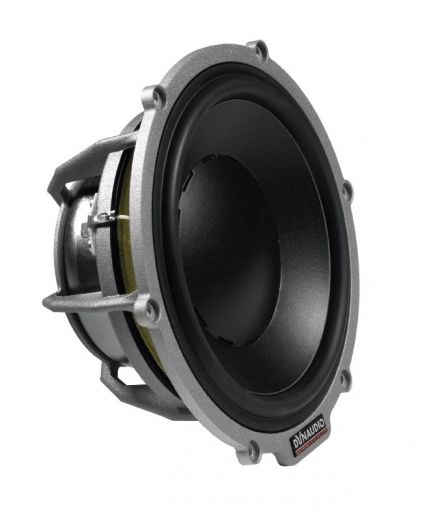 Dynaudio
Esotar² E430
The Dynaudio Esotar² automotive loudspeaker series represent the highest level of automotive music reproduction – not just for Danish high-end loudspeaker specialist Dynaudio but for the entire arena of mobile audio. The compact Dynaudio Esotar² 430 opens up the possibilities for system installations, and is a perfect complement to the performance benchmarks set by the Esotar² loudspeaker separates. The Dynaudio Esotar² 430 midrange features a geometrically optimized 3.5" diameter MSP (magnesium silicate polymer) cone, a proprietary material providing the ideal combination of stiffness, low weight and excellent inner damping.
Read on for More Products
---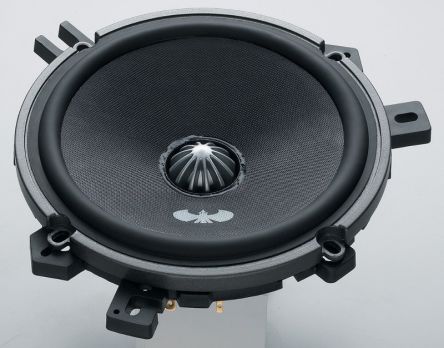 JVC
Arsenal Series CS-ARS650
The 6.5" 2-way CS-ARS650 component speaker features a slim design to allow installation in a wider range of vehicles. The glass fiber cone designed with hemp fiber, provides a smooth transition between frequencies and provides smooth, natural tonal quality. Included blue illuminated 2-way crossovers provide tweeter level adjustments 0 dB/-3dB/-6dB. The CS-ARS650 components come with a universal mounting plate and handle up to 240 Watts Max. Power (80 Watts RMS).
USA - www.mobile.jvc.com
CAN - www.jvc.ca
---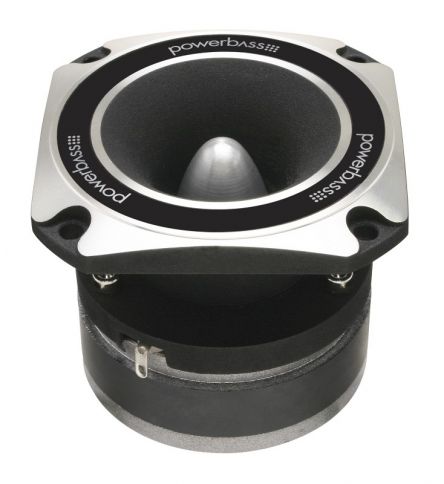 PowerBass
AutoSound L-3H Tweeter
For those who like it loud PowerBass has developed a compression horn tweeter that can belt out a whopping 105dB at 1-watt/1-meter!  Power handling is rated at 100 watts RMS into 4-ohms (200 watts peak) thanks to the liquid cooled voice coil.
www.powerbassusa.com
---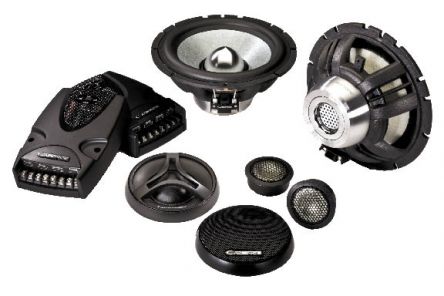 Cadence
CVL3-WK Series

Cadence CVL Series speakers were conceived as an alternative to overpriced and underperforming speaker systems. The CVL3-WK three-way component set delivers unparallel sound quality, performance and power handling in a package that rivals speakers costing up to three times more. The CVL speakers offer natural sound in reproducing instruments, vocals and sound effects for your movies. CVL components utilize state of the art cone material made of a structural foam core attached to a Carbon/Kevlar fiber composite glass layer to achieve the perfect combination of rigidity and incredible lightness.
---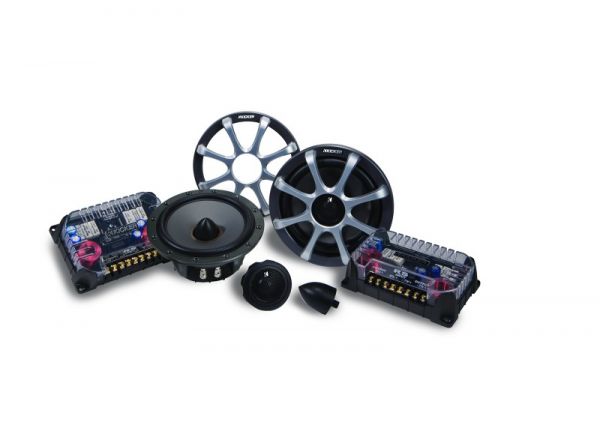 Kicker
RS-Series
The RS65.2 (featuring a 6.5-inch midrange woofer) and RS60.2 (a true 6-inch midrange that comes with an adapter to fit the 5.25-inch location in Ford or Chrysler vehicles) let their primary sound flow through speakers that use a polyimide former and copper-clad aluminum wire to lessen hot motor temperatures and increase power handling. Cast-aluminum baskets with nickel-plated, spring-loaded terminals are standards.Each system's one-inch tweeter pair with advanced DuPont Tetoron elliptical domes can be installed in a flush, angled, surface, or coaxial mount, the latter allowing the installer to remove aluminum phase plugs from the midrange speakers' centers and screw in special adapters and tweeters. RS-Series tweeters exude a wide dispersion pattern for great detail in high frequencies.
USA - www.kicker.com
CAN - www.gemsen.com
Read on for More Products
---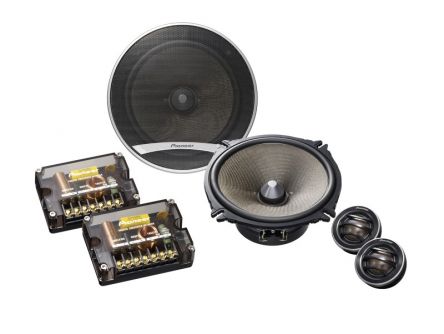 Pioneer
TS-D Component Package
Pioneer's new generation of TS-D series speakers boasts a newly developed speaker cone made with basalt, a type of volcanic rock, to increase its rigidity and strength. The component speakers, TS-D1320C 5 1/4-inch and TS-D1720C 6 3/4-inch, incorporate the newly developed Basalt Fiber IMX speaker cones that provide ideal performance to deliver accurately detailed sound reproduction.  Pioneer component packages are available for a suggested price of $200 and $220 respectively.
---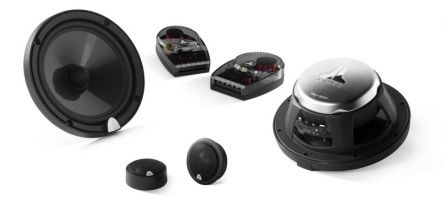 JL Audio
C3650
Converts from coaxial to component system in seconds. Oversized 1.2-inch woofer voice coils for superior power handling. Pure silk dome tweeter for smooth, accurate high frequency response. Programmable outboard crossover networks with tweeter and mid-range presence controls. DMA-Optimized motors for superior mid-bass and linearity.
USA -  www.jlaudio.com
CAN - www.gemsen.com
---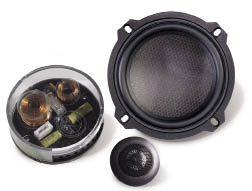 Memphis Car Audio


MClass
Memphis Car Audio MClass component speakers offer a host of advanced materials, features and mounting options. The smooth aluminum/magnesium tweeters come with a full complement of hardware for flush, surface or angle mounting. New aluminum/magnesium adds strength. Passive crossover allows you to customize sound, or to use 2 amps. And, of course, you'll avoid heat and reduce damage to the tweeter. This product features ferrofluid cooling, cast aluminum basket, high-end gold-plated push terminals, carbon honeycones, butyl rubber surround, kapton voice coils, two-way passive crossover, and bi-ampable inputs with tweeter protection.
---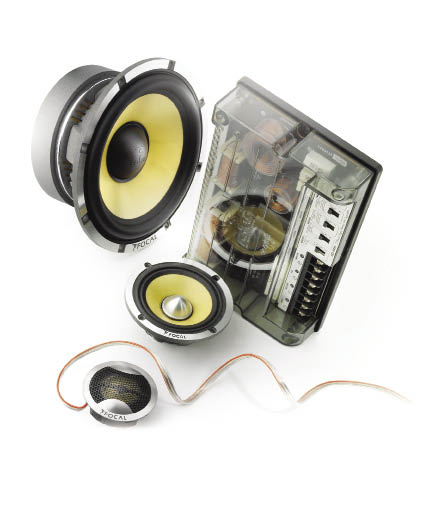 Focal
165KRX
Focal has developed the K2 Power series to reach the top levels of acoustic resolution and sound pressure. The Focal 165KRX 6.5-inch 3-way component speakers feature a thermoformed, structural foam central core cone woofer, coated with an Aramid fiber layer on the front side and a glass layer on the back side. The cone results in a woofer that is impressively rigid, lightweight, and distortion free, even at high output levels. The Tweeter is a TN53K inverted dome tweeter. Focal uses advanced materials and technology to make a speaker that is unmatched in quality and sound.
Read on for More Products
---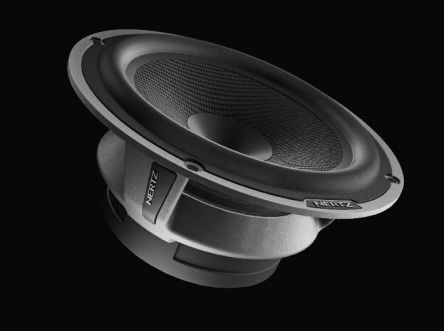 Hertz
HSK165XL4
Complete, innovative and versatile, the HSK 165 XL inherits the design and material selection, as well as the evolution in terms of performance proper of the MLK 165; all of this with a 2 dB increase in output throughout its entire frequency range. HSK 165 XL is a two-way system composed of the HT 28 tweeter and the HV 165 XL woofer. The dedicated  XL crossover is made with high-level components, and provides configuration flexibility: you can easily and intuitively adjust the filter according to the installation typology and personal taste. Complete with comprehensive tweeter mounting accessories as well as a grille for the woofer, it can be cosmetically integrated into any vehicle. The HSK 165 XL is a dedicated system for those who look for detailed sound, innovative technology and a refined, hi-tech look.

www.trendsinc.com
---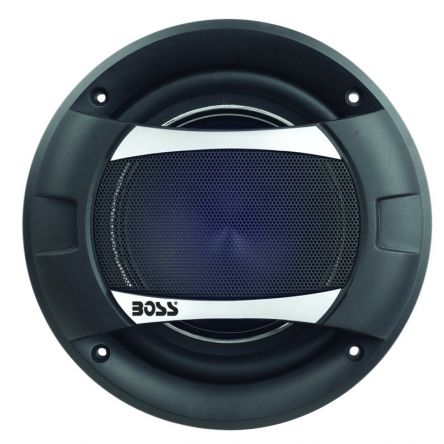 BOSS Audio
PC65.2C

The PC65.2 features a high quality Poly Injection Cone, with Butyl Rubber Surround housed in a custom tooled Diecast Aluminum Frame.  A High Temperature 1 ½" Aluminum 4 Ohm Voice Coil withstands an amazing 500 watts maximum and 250 watts RMS continuous.  The 1" Dome Tweeter gives you crisp clear highs.  Overall Frequency Response is 65Hz to 22kHz with a 94dB SPL at 1 Watt/1 Meter.  The separate crossovers give you the perfect frequency separation.
www.bossaudio.com
---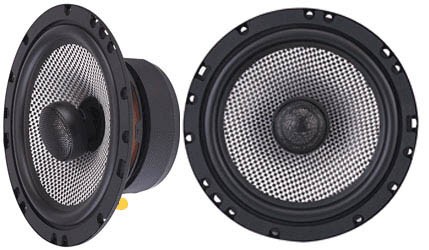 American Bass
Coaxial Speakers
With woven poly cones utilize fully-independent tweeters to give your music just what it deserves, which is unequaled clarity and depth.American Bass Full-Range speakers range from 3.5" up to 6.9" sizes. Midrange speakers that perform.

www.americanbassusa.com
---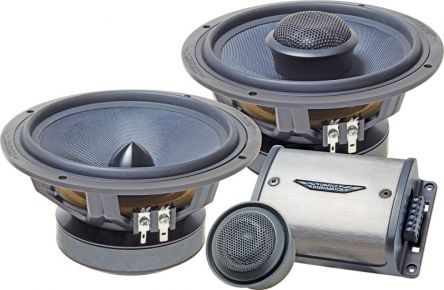 Image Dynamics
CXS64v.2
The V.2 Chameleon (CXS) 6.5" component separates are a truly innovative speaker system. The easy change tweeter mounting allows you to choose the best mounting method for your vehicle (either component or co-axial). Installation versatility was only one of our goals when engineering the CXS separates. We set out to attain a level of fidelity that is unrivaled at any price. The mid-bass driver features a high-roll parabolic butyl rubber surround and a woven fiberglass reinforced Rohacell cone that is both light weight and rigid for intense dynamic response with exceptional clarity. The XS28 silk soft dome tweeter reproduces even the most complex musical passages with stunning clarity, dynamics and detail without harshness or listening fatigue.
Read on for More Products
---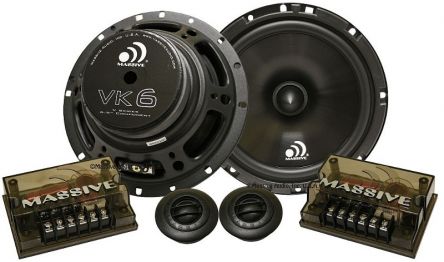 Massive Audio
VX & VK Speakers
Massive High Performance Audio is pleased to announce the shipping of the new value packed VX coaxial speakers and the high performance VK component system.  The VX series coaxial speakers are designed to be easily be installed in most modern vehicles starting with the VX 5", VX 6", VX 68 (5"x7") and the HOT 3 way VX 69. The PC65.2C features a high quality Poly Injection Cone, with Butyl Rubber Surround housed in a custom tooled Diecast Aluminum Frame. A High Temperature 1 ½" Aluminum 4 Ohm Voice Coil withstands an amazing 500 watts maximum and 250 watts RMS continuous. The 1" Dome Tweeter gives you crisp clear highs. Overall Frequency Response is 65Hz to 22kHz with a 94dB SPL at 1 Watt/1 Meter. The separate crossovers give you the perfect frequency separation.
www.bossaudio.com
---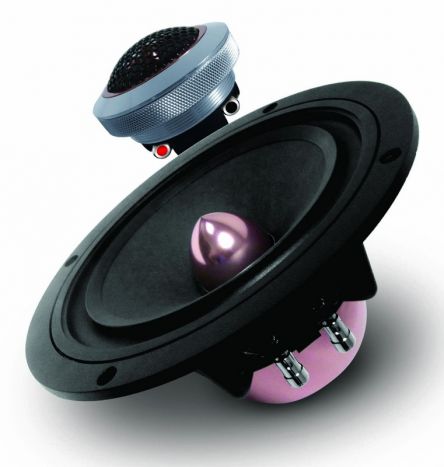 Hybrid Audio
Legatia L61-2 Special Edition
The Legatia L61-2 Special Edition component set is a new super high-end product from Hybrid Audio Technologies.  For those that want the very best, and will settle for nothing less than a product from the manufacturer that has won more IASCA North American Championships in the past four years than all other front-stage speaker manufacturers combined, the Special Edition Series answers the call.  The SE series includes a 3" midrange, a 4" midrange, a 7" midbass, and a 9" midbass, and can be combined with an assortment of tweeter options from the company, including the newly-released Legatia L1 Pro R2 (ring radiator) tweeter, the worlds finest ring radiator tweeter, as shown.
---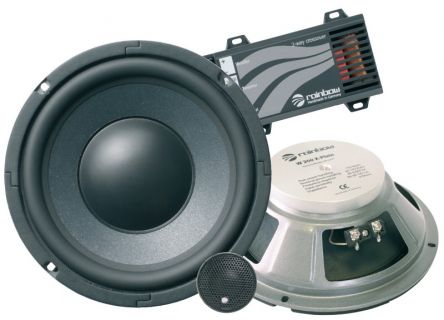 Rainbow Audio
SLX 220.20 X-PLAIN
Do you enjoy absolutely balanced music? The Rainbow SLX component systems are right for you. Our SLX component system produces an astoundingly powerful sound inside the car. The new silk tweeter connected via the external 2 x 12 dB crossover, provides highly defined resolution and a remarkable feeling of space and depth, while the 8in (Also available in 6.5")shallow mount woofers/midranges (Designed to fit in the original manufacturer's locations) produce a rich, full bass sound in the vehicle.
---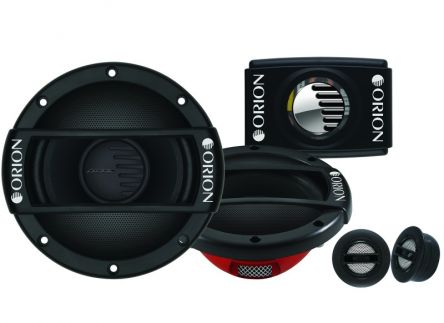 ORION
HCCA62 6.5-Inch 2-Way Component Speaker
Shallow Mounting Depth
Custom Crossover with 12dB High-Pass, 6dB Low-Pass
Tweeter Level Adjustments
Multi-Stage Tweeter Protection
Mid/Mid-Bass Zobel Circuit
Customer Tweeter Mounting Kits Including Swivel
Soft Dome Silk Tweeter
Installation templates, wire, & screw kits for installation are included
Read on for More Products
---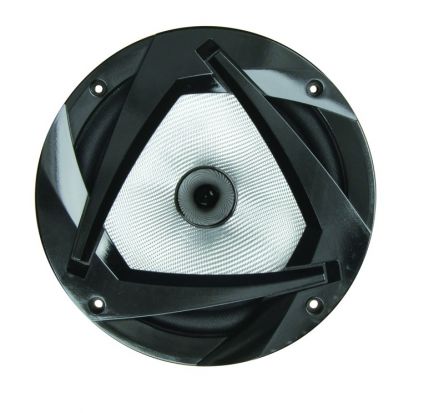 Planet Audio
BB625C 6.5-inch
The BB625C
(6.5" 2-way component speaker system) will awaken the true essence of your musical choice. Combining Planet Audio's patented CRS (Cloth Reinforced Santoprene) smooth-rolled surround with an ultra light-weight, rigid and durable glass-fiber cone for optimum mid-bass reproduction Planet believes this speaker will present to your chariot every note and nuance the recording artist meant to be heard.  The addition of 1 inch, silk soft dome tweeters and 18dB custom tooled passive crossover network completes a studio quality speaker system that is nothing short of incredible.
www.planetaudiousa.com
---

Rockford Fosgate
POWER Series T2 Component Speakers
POWER loudspeakers will transform you ride into a sonic experience so accurate and clear you might not want to get out of your car. From our billet machined aluminum phase plug, to our audiophile grade component crossover, POWER loudspeakers' superior performance compliments the audiophile in all of us. Factor in patented VAST technology that increases cone area and you've got the ability to out perform others with so called same size speakers. Whether you're looking for a coaxial solution or a true component system, POWER series has a speaker for you.
---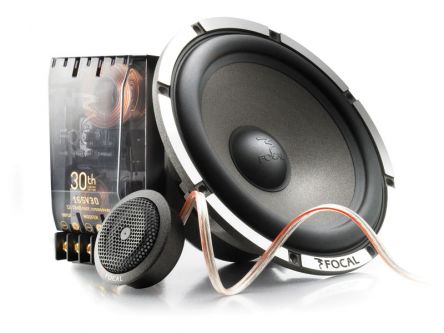 Focal
165 V30
To celebrate Focal's 30th anniversary, they have created a kit manufactured in Limited Edition in their workshops: the 165 V30. It consists of a 6.5-inch (165mm) Aluminum basket with an individual serial number engraved on the front side, a Polyglass cone, a 12/18 dB per octave crossover and a new Aluminum/Magnesium inverted dome tweeter with a phase plug. It is a system designed to be capable of reproducing all varieties of music with excellent subjective balance from the bass to the treble. With the 165V30, music effortlessly breathes and the reproduction seems "boosted" and alive.
www.focal-america.com
---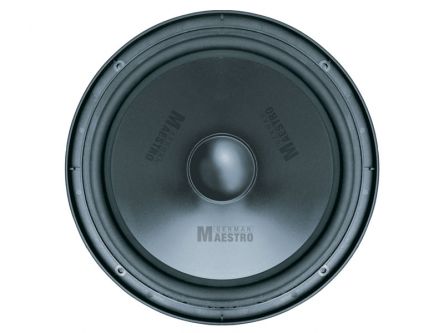 German Maestro
ES8009
German Maestro has introduced the ES8009 eight inch two way component system; a perfect "drop in" solution for the many cars equipped with an 8 inch driver in the front doors. German Maestro is the premium loudspeaker brand known for manufacturing best-in-class loudspeakers. The ES8009 component system delivers the traditional, authentic high-end performance and reliability this was created in Obrigheim, Germany. The 8-inch cone is precision made of mica infused polypropylene and is set in a rigid yet light weight cast carbon fiber reinforced basket. With an incredibly forgiving mounting depth of just 3.23 inches, the ES8009 installs in virtually every 8-inch OEM position with no extra effort required. German Maestro audio quality actually improves as more power is applied.

www.german-maestro.de
---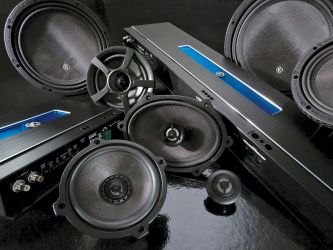 Memphis Car Audio
MClass
The Memphis Car Audio MClass includes a host of advanced materials, features and mounting options. The smooth aluminum/magnesium tweeters come with a full complement of hardware for flush, surface or angle mounting. New aluminum/magnesium adds strength. Passive crossover allows you to customize sound, or to use 2 amps. And, of course, you'll avoid heat and reduce damage to the tweeter. Synchronous components in a proprietary design that allows installation of the tweeter either nested on the same axis as the midrange speaker or detached and mounted separately. Either way, you'll eliminate time delay for optimum sound performance.

www.memphiscaraudio.com
Read on for More Products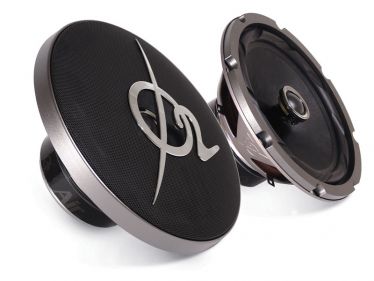 O2 ELECTRONICS
POWER SERIES OM-69200
O2 Electronics has done it again with their innovative technology. As the leader in car pro audio, O2 Electronics has developed the Power Series OM-69200, 6x9 midrange/midbass CPA (Car Pro Audio) loudspeaker. Like no other 6x9 in its class, the 4 ohm OM-69200 sits on a cast aluminum basket, with a specially hardened paper cone with a cloth surround. It can reach a frequency range of 120 - 12000hz, therefore playing as a midrange or a midbass, and can handle 280 watts of real power and reach about 98 db. The OM-69200 was developed specifically for all those car audio enthusiasts that do not want to cut holes in their rear deck. If you're looking for loud and clear car pro audio products, O2 Electronics is for you.

www.O2audio.com
---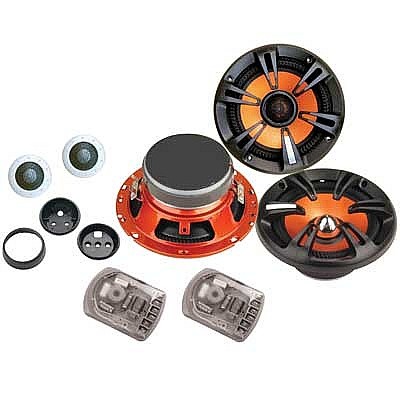 MD Sound
MD6.5COMP01
The MD Sound MD6.5COMP01 2-way component speaker system includes 6.5 inch woofer and 25mm NdFeB Al-dome tweeter. With its 6.5 inch woofer enveloped in a PP injection cone rubber surround, the MD6.5COMP01 is designed to hold longer lasting power and helps the voice coil 'centered in the air gap' which improves efficiency. The 18 oz. Ferrite magnet enhances SPL capability. It is rated at 400 Watts 100 Watts RMS power, total peak power per Dual Speakers. The 4 Ohm impedance makes for a more efficient sound pressure. For more visit
Scosche
EFX - C65
Packed with features and focusing on sound quality and durability, these speakers continue the tradition of EFX's award-winning line of high-end aftermarket accessories. The EFX C65 features 12dB, 2-way integrated crossovers, reducing bulk. The C65 convertible component set can be mounted in either a coaxial or component alignment with separate tweeter for ideal positioning. The C65 loudspeaker set also includes a patent-pending Universal Backmount Adapter for quick, secure and easy tweeter mounting behind factory panels or pillars.

www.scosche.com
---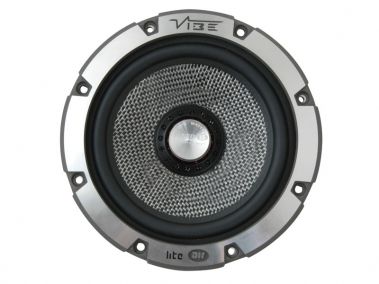 Vibe
LiteAir Speakers
Engineered to offer minimal weight without compromising on vehicle performance or sound quality, LiteAir speakers are specifically designed for use in modified and tuned vehicles where weight is imperative. Available in 5-inch and 6-inch models, the small but efficient neodymium magnet with inverted motor geometry and a shallow basket provide a mounting depth of just 1.8 inches, allowing fitment in even the tightest of spaces. The separate crossover and silk dome tweeter complete the package to give rich acoustics. For optimal performance pair with a LiteAir Class GH Amplifier which complements the range.
www.vibecaraudio.com