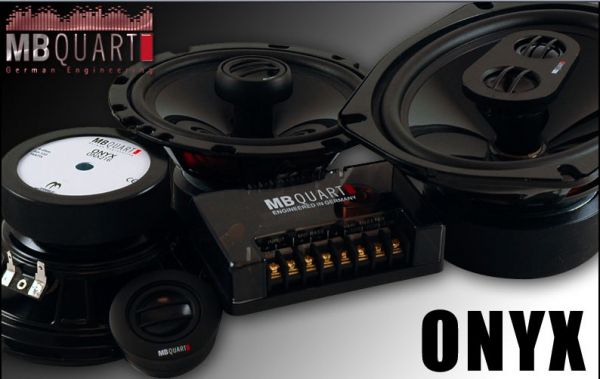 The new MB Quart Onyx series of speakers are available in 6.5-inch components, 6.5-inch coaxials, 6x9s, 5x7s and a stand-alone 30mm tweeter. They feature a 30mm WideSphere™ titanium dome tweeter finished in a gloss black cone, similar to that of the midrange. These tweeters provide the same technically superior technology included in our other step-up series such as Discus and Reference. The crossovers feature selectable 0db, -3dB and -6dB tweeter attenuation along with a black smoked case.
Onyx speakers feature a gloss piano black polypropylene cone, rubber surround and black semi-gloss ABS gasket. The Onyx series has been outfitted with a black semi gloss trim ring and traditional black mesh grill suited for any application. The rugged stamp steel basket has been dressed up with a black high-gloss paint, which is set off perfectly next to the vibrant red progressive cotton spider. The magnet structure is protected by a black rubber cover.
Onyx speakers offer awesome performance in sizes available to fit most of the common applications in the industry. They make a perfect drop-in upgrade to your weak factory speakers and bring your music to life.
For more information, please visit www.mbquart.com.