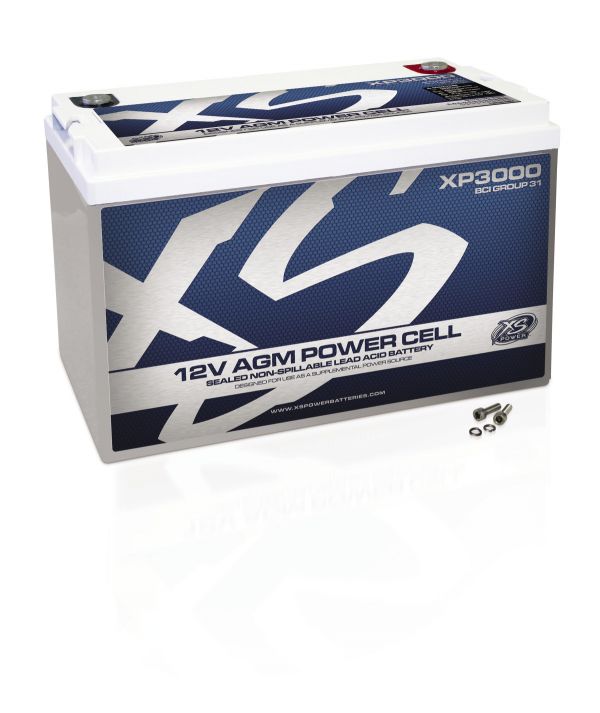 The XP series batteries from XS Power are designed to be used as supplemental power sources for your marine, audio, power sports or recreational vehicle application. Whether you need more juice to run amplifiers, lights, a winch, air compressor or even your trolling motor, the XP series batteries have exactly what you're looking for... excess power.
Available in five sizes from 750 to 3,000 "MAX Amps," the XP batteries use advanced absorbed glass mat (AGM) technology in conjunction with its own proprietary design and construction. The largest and most powerful battery in the series is the $489.99 XP3000, which measures 13x8.65x6.8 inches and weighs in at about 73 pounds.
The XP3000 has a 20-hour rating of 120 Ah and a reserve capacity of 240 minutes at 25A of draw. Connections are made via M6 inserts though screw-in regular top post adaptors are also available.
As with all AGM type batteries, proper charge voltage is important and ranges from about 15.2 V at 0°C to about 14.3 V at 40°C. The battery is designed to work in a wide range of temperatures, from -20°C to +60°C! Need a battery for occasional use like in a show or demo car? Once fully charged, the battery can be left for months at a time and maintain its ability to provide power on demand.
And, because the XP3000 boasts a leak proof, non-spillable design, it can be mounted in a wide variety of positions. It also means zero maintenance and no corroded connections! It's also an excellent choice for an uninterpretable power supply or for emergency lighting and alarm applications.
All XS Power batteries are engineered to provide 10 years of float service and more than 1,000 charge and discharge cycles. They are shock and vibration resistant too, so these batteries can take whatever beating your car, off-roader or boat dishes out.
For more details, check out the Web site at www.4xspower.com.