Written by Garry Springgay
Back in 1995, serious car audio enthusiasts were busy building cars that would hold their own against most home systems in terms of sound quality. Plus back in those days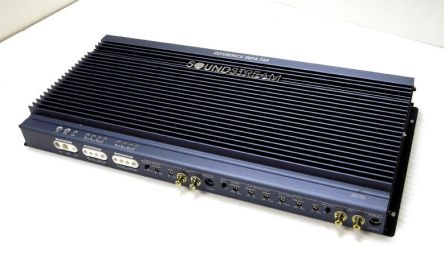 IASCA quickly became a hugely popular organization with thousands of registered competitors worldwide. And the enthusiasm for quality audio spread to salespeople and installers as well, and even those who were not serious audio competitors were concerned with the tonal accuracy and spectral balance of their car systems. People were very brand loyal, and each of the major brands had a very devout following of "believers." I recall a conversation I had with a very successful competitor during the IASCA finals in Oklahoma City. He told me that if he had to use anything but a Soundstream Reference amplifier in his system, he'd rather quit competing! And that's precisely the type of loyalty that has carried the Soundstream brand forward into the 21st century.

As a tribute to the very highly regarded Soundstream Reference Series amps of those car audio glory years, the folks at Soundstream have revived and updated the Reference Series in all it's previous splendor, right down to using the original heatsink tooling. To find out how the new Reference Series stacks up against today's competition, Grizz Archer; Product Marketing Manager at Soundstream sent me one of their Reference 4.760 four channel amplifiers for review.
FEATURES
If you have been around car audio since the mid 90's, you'll certainly find the look of the new Reference Series amps familiar. Using the same large heatsink footprint, the familiar blue Soundstream amps are back, although now the finish is anodized rather than powdercoated as in the past. Sporting gold plated panel mount RCA's, a dual color power/protection LED, and even retaining the fully insulated heavy duty wire connections of the old amps, you'd be hard pressed to tell it from its predecessors.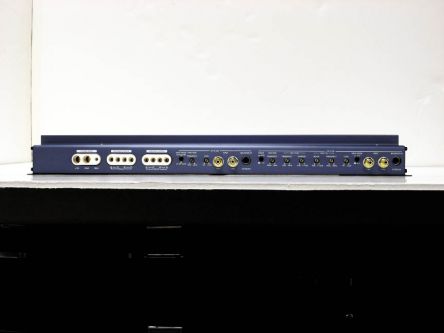 Also retained is the terrific input and control section that's loved by experienced tweakers, and sends newbie installers directly to the owner's manual for some direction. Even if you've been around this stuff as long as I have... read the manual anyways. It's refreshing to read a manual that not only provides the info you need, but a chuckle or two along the way. Actually, the front end of the amp is not really complicated; it's simply laid out in a bit of an unusual manner, but with good reason. Signal steering switches allow the installer to use a full fading configuration, or a single pair of RCA's can drive the whole shebang. The amount of input signal required can be from 200millivolts all the way up to over 8 volts. There are also fully balanced mini DIN input connections if you opt to send signal through Soundstream's optional balanced line driver. The Soundstream Ref 4.760 incorporates not only the usual high and low pass filter configurations, but it also provides the ability to bandpass the output. The amp is also supremely adjustable, with a frequency range from 15Hz all the way up to 4 kHz. Another old school but handy feature is the "Hawkins Circuit," which allows the tuner to apply boost at a specific frequency, and at the same time, create a filter to remove frequencies below the frequency being boosted. This works very well for tweaking the output of vented enclosures, or for dialing up the midbass without fear of mechanical excursion damage. In addition to the Hawkins Circuit there is also a traditional Bass EQ section, with 0-12dB of variable boost as well as adjustable frequency from 30-80Hz. I've played with Soundstream amplifiers many times before, and their preamp sections have always been excellent in terms of both functionality and performance. I was looking forward to seeing if the new amps would continue that tradition.
The Reference 4.760 is rated at 115 watts x 4 at 4 ohms, and 155 watts x 4 at 2 ohms. Oddly, it's rated at 380 watts bridged into 4 ohms, but that doesn't coincide with the 2 ohm stereo rating, so I considered it a misprint. There are no chassis mounted fuses, but Soundstream recommends an 80A fuse mounted externally.
I removed the bottom cover and had a peek at the guts of the big four channel. The power supply uses a pair of toroids, which are fed by 2 pairs of high current MOSFET power supply devices. Power supply capacitance is handled by six high speed, high temp 2200µF caps. The amplifier also has a reverse polarity protection circuit that keeps things from instantly vaporizing if you're being a bonehead and get the B+ and ground cable backwards.
As in years past, some of the power transistors are sandwiched between the PCB and the heatsink. This is where the power supply devices live in the Ref 4.760. The advantage to this design is that the heat from these devices is spread over a different part of the heatsink than the output section, which in theory at least, should provide better thermal performance. Speaking of output devices, each channel utilizes a complimentary pair of classic TO-3 large case Toshiba bipolar transistors. These are high voltage transistors, ideally suited to amplifier output applications. Secondary capacitance for the output section comes from a total of eight, 50 volt, 2200µF capacitors.
One of the reasons the front ends of these amplifiers are well known for clean quiet performance has to do with the use of higher performance polystyrene caps, as well as 0% tolerance surface mount resistors. Quality parts like this cost more, but the gains in performance are well worth it to critical listening enthusiasts and guys like me.
Read on for Results
LISTENING
Grizz Archer at Soundstream had mentioned he felt the sonics of this amplifier were very good, and that he'd personally heard some details and nuances in music that had
previously been missed thanks to the clarity and performance of the Ref 4.760. As always, I listened to his observations and then made up my own mind based on what I hear inside the listening room.
What I heard, was in fact very good! The Ref 4.760 is a very natural and uncolored amplifier. The music it reproduces sounds real and all the detail and subtleties of the recording are there, as they should be. As usual my listening evaluation comprised all kinds of music, with the only commonality being excellence in recordings. From James Newton Howard's "Amuseum" to "Limehouse Blues" from Jazz at the Pawnshop, to more contemporary tunes like Dire Straits "So Far Away" or Bruce Hornsby's classic "Mandolin Rain," the Soundstream amplifier sounded terrific! With ample power to drive my system well into the loud category, I noted no sign of straining, even on difficult tracks like Neil Peart's "The Rhythm Method" drum solo.
I played with the Hawkins control, and I can certainly understand its purpose and value when tuning a high performance system. This is one of those "why didn't I think of that" kind of features.
When I have the pleasure of auditioning a truly good sounding product, I usually spend more time than normal with it, and I'll confess to stretching my listening to the Ref 4.760 well into most of the evening. After about 4 hours of pretty intense listening, I did note that the amp was very warm, but I had been driving it fairly vigorously for a long time, I suppose it's to be expected. In a car, you'll simply want to pay attention to good installation practices, and make sure the amp has adequate ventilation to minimize any possible thermal issues.
PERFORMANCE/BENCH MEASUREMENTS
On the bench, it was more of the same. My technical evaluation of the performance parameters of the amp pretty much supported what I had heard earlier. Overall, the Soundstream Ref 4.760 is a good design, and very well built. Stereo power measurements were almost exactly as specified, and the amp also exceeded the published signal to noise spec. Distortion measured well across the frequency range, with stereo separation, and overall power efficiency faring good as well, and a bit better than I see on many four channel designs. The turn-on delay measured a bit long at a full 4 seconds, but that will pretty much guarantee that any device upstream will have normalized before the amp begins to pass signal. This results in quiet turn on, without pop noise.
I dead shorted the outputs to check the protection, and it snapped on instantly, and required the amp to be turned off and back on to establish a re-set. Some folks believe this is an inconvenience, but it can actually make you realize there is a problem and hopefully do something about it, before something lets all the magic smoke out.
One of my favorite things about having the HD tuner included, is you also get iTunes tagging, so when you hear a song you like, a simple press of a button will save that songs "tag" to memory, or if your iPod is connected, it will send the tag directly to the iPod. The next time you sync your iPod with iTunes, the tagged songs are displayed in iTunes for preview or purchase.

CONCLUSION
Although this isn't a very cheap piece of gear, this is one of those times when you certainly get what you pay for! Performance costs money, and $559.00 is a very reasonable price to pay for a well made, thoughtfully designed and powerful amplifier. If you have an appreciation for sound quality, high performance design, and like to tweak your system until it's spot on, you're going to love this amp. And if you are a fan of the classic old school look and enjoy the nostalgia of the glory days of car audio, so much the better!