Written by and Measurements by Garry Springgay // Photos by Manufacturer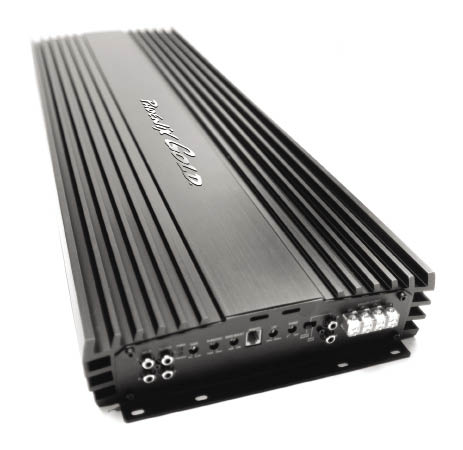 In late September of 2009, the Phoenix Gold car audio brand was acquired by AAMP of America. Phoenix Gold was founded in 1988 as a designer and manufacturer of audio cables and accessories for home and car use. As the market for quality mobile amplifiers expanded in 1990, Phoenix Gold developed some now legendary amplifiers, and rose to unprecedented levels of success. By the end of that decade, the company enjoyed an excellent reputation based on the quality and performance of its products. They were known for their "special edition" amplifiers, which were only available in limited quantities. Time passed, and the focus of the parent company turned to home audio and custom home installation products, and the car audio products languished.
With the acquisition of the brand by AAMP of America, there are solid plans in place to restore the brand to its previous high end status and stature. To accomplish this, a dedicated team of highly experienced people are focused on the Phoenix Gold car audio line, and one of the results of that focus is sitting here in front of me right now. On my bench is an all new, flagship power amplifier known simply as "The One". The Class D monoblock monster amp I received is still in final development, but if this fully functioning prototype is any indication, people are going to be talking about Phoenix Gold a lot!
Measuring 36" long, 11" wide, and 3" tall, and weighing in at almost 50 pounds, the amp reminds me of some of the other limited edition trunk busting Phoenix Gold amps of 20 years ago. Except that there was never one with this kind of jaw dropping power! Final power ratings are still being worked out, but I can tell you that this is easily one of the most powerful amplifiers I have measured in a long time.
FEATURES:
"The One" is designed to be a high-end, limited edition, competition oriented amplifier, and also the most powerful Phoenix Gold amplifier ever built. And, it achieves all of those goals! If you compete in the SPL wars, this amp was designed with you in mind. Using a power supply designed to operate at higher than normal supply voltages, (16 volts) "The One" is built with one purpose in mind, delivering mind-numbing amounts of power to a bunch of soon to be very warm voice coils!
The chassis of the amplifier is extruded aluminum, and the prototype I received was finished in a nice black anodized brushed aluminum. I can't speak to other cosmetics, because my sample was too early in development to have any badging or logos. My sample also did not include final packaging or a manual, so I can't comment on those either.
One end of the amplifier is completely dedicated to the care and feeding of the massive power supply section. There are no less than six 1/0 terminals, three for positive and three for ground. And believe me, you need them all to handle the current demands of this beast. A remote-on lead is the only other connection on this end of the amp.
The opposite end of the amplifier is for signal input and control. There you'll find the usual selection of controls and adjustments, with gain, variable bass boost, a variable frequency -24dB subsonic filter, adjustable low pass crossover (also with -24dB slopes) and a variable phase control. On the underside of the amplifier, a 60mm box fan is used to flow air over the output sections' filtering. And like you'd need it, there is also a Master/Slave switch to allow the connection of two of these monsters together! You have the usual RCA inputs and a pair of paralleled outputs, and an additional set of RCA outputs specifically for the slave amplifier. Dual speaker connections are also found on this end of the amp, and will accept 10 gauge wire. LED's for power and protection, and a remote level control connection round out the features on the control end of the amp.
TECHNICAL:
I took the bottom cover off "The One", and even though the amp I was looking at was a prototype, it looked finished inside, without any of the usual kluges and jumpers often part of the prototype process. There are two main PCB's basically divided into the power supply and output sections, and the boards use thick 3 ounce copper for the traces. Daughter boards use surface mounted parts, while the main PCB's carry low tolerance through-hole components. The power supply uses a total of thirty-six IRF 1405 power MOSFETs, each capable of switching over 70 amps of current. Output devices are excellent Fairchild FDA24N40F's, and there are no less than thirty-two of them! No wonder this amp is 3 feet long!
The power supply toroids (plural, because there are 6 of them!) draw energy from seventeen 3300µF 20V capacitors, and supply the output sections' twenty-four 18800µF 200V caps to create a secondary energy reserve of 43,200uF. The layout seems fairly well sorted, although the heavy-duty 8 gauge cables that provide the output signal are routed directly over the output devices. Normally, this will degrade the signal to noise performance, but with this much power on tap, that's not going to be a problem. The fan cooling could be a bit better sorted, and it probably will be in production models. My sample has to try to suck air in the underside of the amp, with only about 1/8" of clearance to the floor, and if it's mounted on carpet, it's not going to draw much air. I suppose mounting the amp on ½" spacers would be an easy fix however.
Read on for Results
LISTENING
Okay, let's get real here… the main purpose of this amplifier is not really to listen to music at the normal 90-110db listening volumes us reviewer types use. This amp is designed to play extremely loud, and it makes no excuses for that. But sonically, it's still a very listenable amplifier, providing you have enough woofers to dissipate the huge amounts of power that can be generated by simply turning up the volume. Or, you can just be very, very careful, which was my approach. In terms of living with this amplifier as a daily driver, while it's certainly possible, you are going to need a beefed up electrical system to handle the current demands that this type of amp simply must have. I'd suggest a high output alternator, and a matched pair of high current batteries at minimum. While normal musical signals certainly do not draw the huge current test tones do, it is still possible for this amp to look for 500-600 amp bursts of current if you're working it at all.
PERFORMANCE/BENCH MEASUREMENTS
Without final specs available, I simply connected the amp to my test bench and ran the numbers. To be fair to the design, in addition to the usual 12.6V and 14.4V tests, I also measured power at 16.0V since that is a big part of the design. And man, this thing has power to spare, at any impedance! It makes more power into a 4 ohm load than most amplifiers do at 1 ohm, and it's because of amplifiers like this that I had to spend 20 grand on an 900 ampere power supply and 16 kilowatt load bank. Maximum power at 1 ohm at 16 volts was a ridiculous 9419 watts! If you do the math, that means the amps output to the speaker load was over 90 amperes, and over 90 volts. Be careful kids, this thing can hurt you if you're not careful! And, if you haven't figured it out yet, wiring your woofers with 16 gauge cable isn't gonna cut it this time!
All of the controls and functions performed as intended, and the crossovers and subsonic filters worked as advertised. The bass boost is a little unusual, with a low "Q" curve that allows a significant amount of boost across a fairly wide band of frequencies. As I expected, signal to noise wasn't exactly spectacular, but really, with an amp like this, who cares?

CONCLUSION
"The One" is made for those of us who simply want enormous amounts of power, whether you are a serious SPL competitor or you simply want to be the loudest guy in your town. This level of performance doesn't come cheap however, as this amp will set you back a cool $5999.99, and that's before you buy the charging system upgrades and heavy duty cables. But, if this prototype is any indication of where the new Phoenix Gold is heading, car audio enthusiasts could be in for some very interesting times. With promises of several "surprise products" coming from Phoenix Gold in early 2010, I'm definitely going to be keeping my eye on what's going on over there!