Written by and Photos by Garry Springgay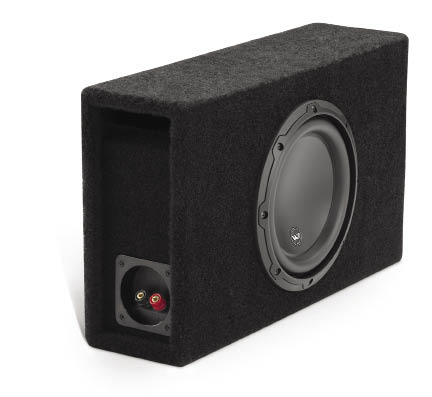 Everybody knows if you want decent bass in your car, you need a big enclosure and a ton of power, right? Well, the people at JL Audio may disagree. You see, they have decades of experience in putting high performance woofer systems in all kinds of cars and trucks, including those with really tight spaces. To that end, they have developed a series of products called "Ported PowerWedges." This series of products combine specifically designed vented enclosures with the most appropriate woofer, and produce higher than average performance from very small spaces. These systems are much more than just a small box with a woofer screwed into it. The system we're looking into this time around is the JL Audio CP108LG-W3v3 which uses a single 8W3v3 woofer, and retail price around $240 (USD).
The JL Audio CP108LG-W3v3 subwoofer system is very compact, measuring only 18-5/8 inches wide, 11-3/16 inches high and 5-1/8 inches deep. Some amplifiers are bigger! In that tiny package however, is a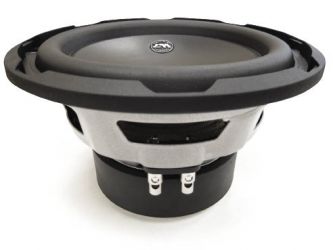 clever design packed with quality workmanship. Every PowerWedge enclosure is finished and inspected by hand at JL Audio's Florida-based facility, so you can be sure things are right when it gets put in the carton.
The exterior of the enclosure is covered very nicely in black automotive carpet, and thoughtful touches like heavy duty terminals with 5 way binding posts add to the sense of quality. The woofer is securely mounted on the front panel with 8 screws, and comes complete with a removable steel mesh grille. The slot-vent for the system is on the upper edge of the end panel of the enclosure and features a flared end at the output to reduce air turbulence and port noise.
By using the high performance JL Audio W3v3 woofer, the system's power handling is rated at 250 watts. Of course, I had to remove the woofer from the enclosure and check out the construction, and was impressed with what I found. To minimize the mounting depth, the enclosure is constructed of 3/8-inch MDF, but lest you think that's not thick enough for a good enclosure, I should explain that great care was taken to design and build the enclosure with special internal braces that stiffen and add tremendous strength to the design (see photos). The interior of the enclosure is also lined with polyfill to improve performance and "trick" the woofer into thinking it's in a larger air volume than it actually is. Polyfill stuffing also helps to reduce sonic colorations and can in some cases improve overall efficiency slightly.
The 8W3v3-4 subwoofer utilizes a special mineral-filled polypropylene cone and comes complete with a distinctive JL Audio medallion. A patented design improves the surround to basket junction, and reduces the stress loading of the rubber surround during cone movement, for increased reliability and more consistent output. The 8W3v3-4 woofer also uses JL Audio's exclusive voice coil cooling feature, which dissipates heat away from the sub's internal motor structure, thereby improving long term durability.
Read on for Results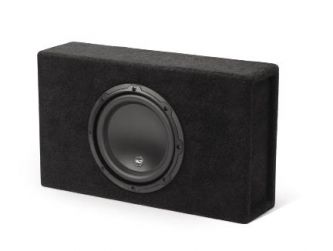 Listening
Okay, moving on to my listening session, I connected the CP108LG-W3v3 subwoofer system into my reference system and after adjusting the subwoofer level accordingly, I sat down to do some listening. Beginning with Robbie Robertson's "Somewhere Down the Crazy River" I was immediately impressed with the JL system's output level as well as the tonal character of the bass. The system sounded clean and well-controlled, without any ringing or boominess sometimes associated with small woofer systems. Switching to Thomas Dolby's fantastic "The Key to Her Ferrari", I was again pleased with how well the JL Audio system handled the fast dry bass notes, and articulated the bass runs. Just for giggles, I connected a very good 10-inch 4 ohm woofer in a sealed enclosure and switched between them. The 8-inch PowerWedge system from JL actually had more output than the larger woofer in a much larger enclosure! Focusing once again on listening to the JL system, I played all kinds of music from heavy rap to full orchestral passages, and the little CP108LG-W3v3 subwoofer system never missed a beat. I got on it a few times, just to find the power handling limits, and I have to say that by the time I'd reached them the system was at very high levels. You don't need a ton of amplifier power for this system- most enthusiasts would do fine with a 150-200 watt amp. In fact, I enjoyed the sound of the woofer so much that I let it play all day as went to other work in the lab.
Tech Specs
After I was done listening, which also served to exercise the woofer before I measured the parameters, I let the woofer cool overnight, and then moved it into the lab for measuring.
Since the woofer is already in an enclosure, there was no need to measure driver Thiele-Small parameters, and besides, every time I measure a JL woofer, my results are always very close to their already published specifications.
Instead, I was curious to learn more about the enclosure, so I measured the interior dimensions, and after subtracting volume for the bracing and the woofer itself, I arrived at a net volume of about 0.35 cubic feet. With such a small air volume to work with, I was curious to see the response of the system at 1 watt of power, and check out an impedance plot of the system so I could find out at what frequency the vent was
at resonance.
As it turned out, the response plot showed a smooth curve, which is just the way the system sounded, and the impedance curve indicated a vent tuning frequency of around 33Hz.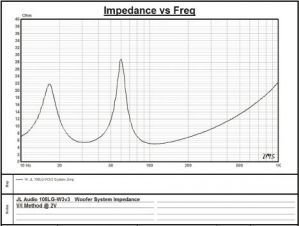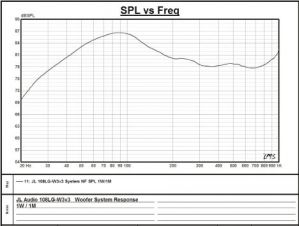 Conclusion
If you have a limited amount of space for a woofer system in your car, but want deep bass with excellent sound quality and great overall efficiency, you need look no further than this series of woofer systems from JL Audio. They continue to prove they have the experience and products to get the job done, even when you have only a little jingle and even less space.