Written by and Measurements by Garry Springgay // Photos by Manufacturer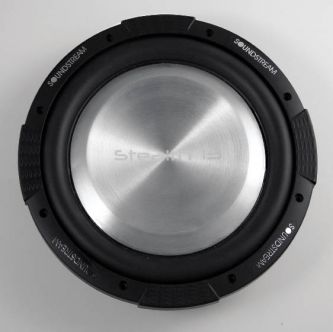 Over the last few years, quite a few speaker manufacturers seem to have figured out there is a serious market for shallow mount subwoofers. Of course there has always been a need for these products, and now that some good designs have been accomplished, people have caught on to them as great solutions for everyday applications… like regular cap pickup trucks for example, where there simply isn't room for a traditionally sized enclosure.
This trend certainly didn't go unnoticed by the folks at Soundstream, who have been quietly working on a very unique shallow subwoofer of their own. They introduced their new single 4 ohm voice coil Stealth 13 shallow woofer at the CES show in January, at a very reasonable price when compared to some of the competition. ($229.00 USD) and I've been looking forward to getting my hands on one to see how it performs.
Cosmetics and Features
The Soundstream Stealth 13 woofer is a very unique product, being slightly larger in diameter than a conventional 12" woofer, but with a proprietary custom tooled basket that has an extremely shallow mounting depth of only 2 inches! This makes the Soundstream Stealth 13 the shallowest woofer I have tested to date, and also makes it an ideal candidate for standard cab trucks and other space limited applications. The mounting diameter is 11.375", which is only about 0.375" larger than a conventional 12" woofer, so pre-fab boxes should be able to be modified to accommodate the Stealth 13 quite easily.
From a cosmetic perspective, the woofer is good looking with a spun-brushed aluminum one piece cone. This cone style does not require a dustcap, and the Stealth 13 logo is laser etched onto the cone, and nicely done. After the etching is completed, it's anodized and clear coated for durability and good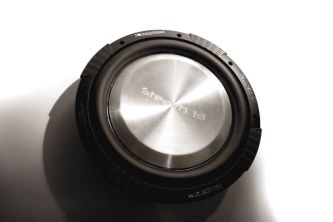 looks. The basket is finished in a gloss powdercoat paint, in a color Soundstream calls "Titanium Gray". Wire connections are accomplished via a molded terminal that uses Phillips head set screws to clamp the wire solidly in place. The terminals will easily accept 10 gauge wire.
To achieve this extremely shallow basket, the design team incorporated a single voice coil, measuring a full 5 inches in diameter. The magnetic motor uses a "bucket style" 955 gram (2.1 lb.) ceramic strontium ferrite magnet. The large coil is made of 2 layers of special high temperature resistant copper windings on an aluminum former, and has a nominal impedance of 4 ohms. Tinsel leads are stitched to the spider, to eliminate any possible lead-slap noise. The former is suspended by a 100% Dupont Nomex linear type spider, while the top of the former connects to an injection molded "sub-cone" assembly, to which the one piece stamped aluminum cone is attached. The outer edge of the cone assembly connects to a natural butyl rubber surround. The amazingly shallow cast aluminum basket is very well vented in the rear, allowing excellent air flow for cooling, and added reliability.
Performance Evaluations
Before I begin testing any woofer, I put it through a break-in or exercise period. I usually apply a 20Hz sine wave signal to the woofer at a level of about 25% of rated power, for a period of about 4 hours, with the woofer in a free air state. This process allows the mechanical elements of the drivers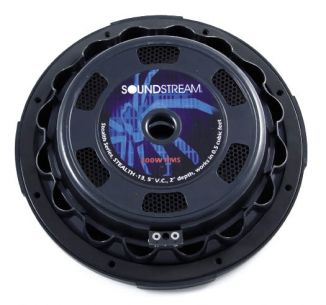 suspension to loosen up and normalize. After break-in, the woofer is allowed to cool for at least 4 hours before doing any further testing. In the case of the Stealth 13, I let it sit overnight, and then made all of the small signal parameter measurements first thing the following morning. As the owners manual made very clear, the specifications make the woofer ideally suited to sealed enclosures only… don't even bother trying to come up with a vented design. Yes, port heads… I'm talking to you! Don't do it!
Once those were completed, I mounted it in the optimum recommended enclosure, a 0.75 cubic foot sealed box, and took it into my listening room. With the woofer connected to my reference system, and the low pass crossover adjusted to about 80Hz, I began to evaluate the sound and power handling of the Stealth 13. Because I have tested quite a few of these shallow designs, and because of the very reasonable price of the Soundstream woofer, I had relatively low expectations. I have become used to accepting some performance tradeoffs for the convenience of a shallow woofer, but the Stealth 13 has raised the bar for what I expect from a moderately priced shallow woofer. As usual, I ran the gamut of musical genres during the evaluation, and the Stealth 13 couldn't have cared less whether I played Bach or ZZ Top. The sound from the woofer was much better than I was expecting, with pretty decent low extension and nice warm "round" sounding bass. Definition and clarity were good as well, plucked strings and acoustic bass were well reproduced and sounded quite natural, with only a tiny bit of ringing or boominess, which many people seem to prefer anyway. As is always the case, lower F3 and improved damping can be had with a larger enclosure, but you trade off output and power handling, which is never a good thing in a car. I'd trust the Soundstream recommendations on this one, unless you are very experienced with custom enclosure design. To test the woofers ability to handle power mechanically, I deliberately picked a couple of fairly abusive "Bass Mekanik" tracks, and applied well over the rated 200 watts of power. Not until I got to over 400 watts did the woofer even show any sign of stress, so if you use it as rated, it should be as reliable as a stone.
One of the best ways of summing up the performance of this woofer was a comment from a friend who happened to drop in during my listening. He said, "Wow, that's pretty impressive bass from a single woofer in such a small box." Even more impressive… at the time, he had no idea the woofer was only 2" deep, and thought it was a conventional design.
On the bench the Soundstream Stealth 13 measured about the way it sounded… which was quite good! The graphs of the performance measurements and electro mechanical parameters are listed below. My measurements were quite close to the published specs, which is another good indication of a properly developed product.
Conclusion
If you have an application for a very shallow woofer and a relatively small enclosure limitation, you'd be seriously amiss not to have a close look at this woofer. Yes, there are better performing woofers, for either more money, or for larger boxes, but there aren't very many that will outperform the Stealth 13 for the same money in a small sealed box. I'd love to hear a pair of these in a standard cab pickup… Boom Yeah!
Electro Mechanical Parameters
LMS – Loudspeaker Measurement System
Method= Double Curve - Delta Mass
Revc = 3.600 Ohm
Fo = 32.043 Hz
Sd = 80.470 In²
Vas = 1.446 Ft³
Cms = 106.974u M/N
Mmd = 223.814 g
Mms = 230.616m Kg
BL = 10.552 T·M
Qms = 3.030
Qes = 1.501
Qts = 1.004
Levc = 539.078u H
No = 0.087 %
SPLo = 81.402 dB
EPB = 21.34
www.soundstream.com