25 June 2013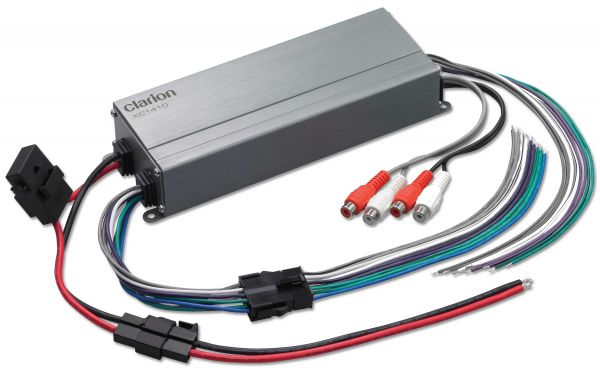 When shopping for a new amplifier, the options can be seriously overwhelming, especially when all you really need is a little more volume. Maybe it makes sense to retain the OEM radio, or maybe you've upgraded the radio to an aftermarket unit, but either way, the radio simply lacks authority when it comes time to crank things up. Rather than drive to your local car audio emporium and be totally befuddled with the myriad of choices – or worse yet – try to find something online, look no further than your Clarion dealer. Designed to be a simple, economical, 'mount anywhere' amplifier, Clarion has developed the new XC1410 micro-size, four-channel amp.
Features
Rated at 50 watts per channel into four ohms, or 75 watts per channel into two ohms (per CEA-2006 guidelines), but measuring only about 7 x 1.3 x 2.75 inches, the tiny little Clarion packs a real wallop. Thanks to advanced Class-D topology, the XC1410 makes three to four times the power of your radio, generates very little heat and draws minimal current. The amp can be run in full range mode, or if you have concerns about this much power on your mids, has a switchable high pass crossover, with selections for either 60 or 90 Hz. Another switch provides selection between the four RCA inputs or the high level speaker inputs. This switch also automatically adjusts the input sensitivity for the appropriate inputs being used. The result is an easy to install, easy to set amp that is small enough to be mounted right under the dash.
Inside the amplifier you'll find a MOSFET powered PWM switching power supply and four channels of full-range Class D amplification. The Class D output topology uses the popular International Rectifier solution, and the output devices are Direct FETS that are basically surface-mounted MOSFETS soldered directly to the PCB. Each channel output is filtered using a combination of air core chokes, shielded inductors and high-speed capacitors. Surface mount parts are used extensively throughout the amplifier, and a daughter board mounted above the main amplifier PCB contains the sensitive low level audio signal input and crossover circuitry.
The result is a very low distortion, low-noise amplifier with excellent power delivery and speaker control. To prevent unwanted pops and snaps when the amp powers on and off, Clarion even included its Soft Turn-On and Turn-Off circuitry.
Listening
Just because the XC1410 is a smaller amplifier, that doesn't mean I won't put it through its paces in my listening room. To test this amp, I use two matching pairs of high-quality components, including six-inch woofers and one-inch, soft dome tweeters.
The first track I play is an amazing solo by bassist Tal Wilkenfeld. Her mastery of the five-string electric bass is jaw dropping. I specifically choose this track because of the dynamics and well-recorded bottom end. I want to see if the Clarion amp can hang when the bass gets interesting, and it certainly does. This little Clarion amplifier reminds me just how good the latest full-range, Class D amps can be. They have excellent tonality and definition. The bass is tight and clean, but what I appreciate most is the way Tal's intricate musicality is reproduced. Changing gears to some well-recorded female vocal performances from Colbie Caillat, Natalie Cole and Jennifer Warnes, the Clarion amp performs perfectly, with great presence and excellent stereo imaging. Finishing my listening session, I'm suitably impressed.
On the Bench
On the test bench, I'm interested to see how well the amp will measure, since it sounds quite a bit better than I previously expected. As I run my usual series of tests, the Clarion amp proves its mettle again, with respectable audio specifications. The output power I measure is slightly higher than advertised, and frequency response is flat. It performs well beyond the human hearing spectrum on both ends. Stereo gain matching is within a couple of tenths of a decibel and stereo separation is excellent at almost 50 dB.
Conclusion
If you are simply looking to add real power to your system and don't need or want to pay for a bunch of extra features that you won't use anyway, the Clarion XC1410 is an excellent solution. It's small enough to fit virtually anywhere, it can be used with virtually any head unit and, maybe best of all, it can be had for under 200 bucks. Run down to your local Clarion dealer and check it out for yourself.
The following power measurements were obtained using industry standard methods. (1kHZ @ 1.0% THD+N - Battery voltages shown +/- 0.2V)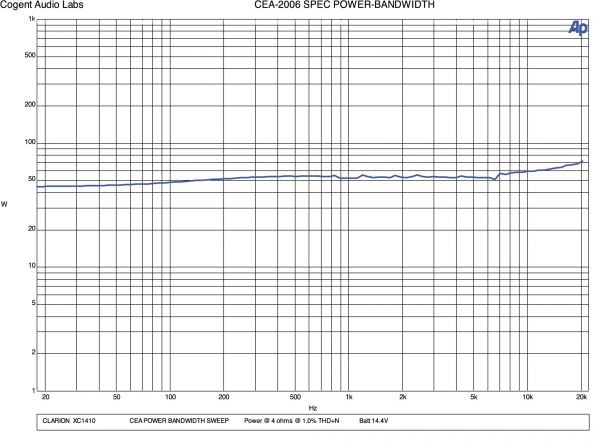 Measured Performance Specifications
Manufacturers Rated Power Actual Measured Power
@ 1.0 % THD+N @ 14. 4V Battery Actual Measured Power
@ 1.0 % THD+N @ 12.6 V Battery
50 x 4 @ 4 Ohms 36 x 4 @ 4 Ohms 51 x 4 @ 4 Ohms
75 x 4 @ 2 Ohms 60 x 4 @ 2 Ohms 83 x 4 @ 2 Ohms

Signal to Noise Ratio referenced to 2 V output.
(CEA-2006A) (1 watt @ 4 ohms) -73.0 dBA
Signal to Noise Ratio referenced to full 4 ohms output. -90.0 dBA
Distortion at rated 2 ohms power 0.15 %
CEA-2006A rated 4 ohms Power (minimum power per channel developed over the entire audio bandwidth) 46 watts/ch
Maximum Efficiency at full 2 ohms power per ch. 82.0 %
Idle Current (warm) 0.6 A
Maximum Current @ full power 2 ohms per ch. 29.6 A
Frequency Response (-3 dB) 10 Hz – 46 kHz
Stereo Separation (Crosstalk) -49.5 dB @ 5 kHz