Written by Garry Springgay | 12 January 2016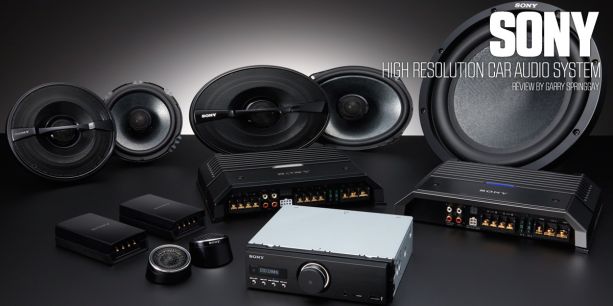 The rebirth of high quality audio is a system that fits in your car.
Until a few years ago, many of my audiophile friends were lamenting the death of high quality audio. When the MP3 craze began, virtually everyone bought into the "convenience over quality" concept and as a result, our enjoyment of music to be heard as the artist intended has suffered. Recently, however, there has been a resurgence of high quality formats, and if you care about the quality of your music, you are probably already aware of the high definition recordings available from a variety of sources. You may even be aware that these high definition recordings are available for download from websites such as HDTracks, iTrax and AcousticSounds.
To understand the difference in these high resolution tracks, we need to understand a bit about digital audio formats. For the non-geeks reading this, sampling frequency of a digital audio track means the number of times samples are taken per second when the analog sound waves are converted to digital data. The more bits available, the more accurate the digital conversion will be. A CD uses 16-bit/44.1-kHz sampling and has a resultant transfer rate of 1411 kbps, but high resolution audio formats use 24-bit/96- or 192-kHz sampling rates, which have the ability to outperform the original CD. Obviously, there is a very significant difference in audio quality between these sampling rates. If you compare the new high-res format to MP3, the difference becomes even greater. The best bitrate possible with MP3 is only 320 kbps, but a 24-bit/192- kHz file is transferred at a rate of 9216 kbps - roughly 29 times better resolution! Tell me you can't hear that difference!
If you have been blissfully unaware of the trend to higher quality digital music reproduction and you have a set of ears, you need to pay attention here Comparing the quality and enjoyment of true High Resolution Audio (HRA) to a typical MP3 is like comparing watching a movie on a 20-inch black and white TV from 1965, to watching the same movie on a modern 60-inch 1080p HDTV. High-res audio is gaining support from many companies, as well as a multitude of major labels and musicians. If you have a system that can take advantage of the high-res music, the difference can be spectacular.
Over the last few years, companies like Sony have been hard at work developing hardware that can take advantage of this additional fidelity and resolution. This past year, High Resolution Audio became mainstream thanks to the release of more hardware that supports the format. To that point, Sony has now introduced a High Resolution Audio mobile system with specific pieces of gear that provide higher than normal performance parameters.
RSX-GS9 DIGITAL MEDIA PLAYER
The Sony high resolution system starts with an all-new digital media player called the RSX-GS9. The RSX-GS9 is the world's first native Direct Stream Digital (DSD) player that provides maximum quality audio from virtually any type of music file.
When connected to the Sony player, devices such as iOS and Android smartphones, as well as PCs that support high-res audio, allow streaming input to be sent directly to the RSX-GS9's high performance onboard D/A convertor. Even if you are not playing back high-res files, Sony's Digital Sound Enhancement Engine HX (DSEE HX) upscales typical compressed music files to maximize the quality of the sound.
Drawing from the vast technical resources at their disposal, Sony has selected the ES 9018S D/A convertor for use in the RSX-GS9. This D/A (also known as SABRE32) is usually found in very high-end home audio components. It delivers exceptional dynamic range and incredibly quiet signal to noise performance. In addition, a dedicated 80-MHz high-precision jitter cancelling clock is included to increase accuracy, with a dedicated power circuit placed in close proximity.
The Sony RSX-GS9 looks different from a typical source unit. While it's a single DIN chassis size, it has a small OLED display that indicates the type of file being played, and a large center-mounted volume knob. The knob is very nicely damped and the front faceplate is made of 14-mm solid machined aluminum. The unit has a very high end look and feel, and even the small buttons on the left side of the faceplate are made from aluminum. The circuitry of the RSX-GS9 is built in a two-layer arrangement, with the analog circuitry on the lower main board and all the digital circuitry located to the upper PCB. To reduce resonance, the metal structure is designed for higher than normal rigidity by using 0.8-mm thick steel, twice as thick as a typical source unit. The bottom of the chassis is also built with a double floor for a total steel thickness of 1.6 mm. The result is a chassis that is approximately 300 percent more rigid, which shifts the unit's natural resonance out of the vehicle's normal vibration band. In addition, special attention is paid to reduce electromagnetic interference.
Other features on the faceplate of the player include a 3.5-mm stereo mini plug for aux, a micro-B USB input and a standard USB input. In addition to the front mounted USB inputs, the back panel of the RSX-GS9 provides an additional USB input, front, rear and sub outputs, an optical output for connection to amplifiers or processors with optical inputs, high-level inputs and the usual connector for hands-free Bluetooth operation. While the unit itself does not have any built-in tone controls or crossovers, you can use Sony's SongPal app for iOS or Android to provide control for various settings, such as EQ settings or browsing of various streaming services.
The RSX-GS9 provides four volts of signal on each set of RCA outputs, as well as extremely low distortion.
With the RSX-GS9 providing the high resolution signal, now we need amplifiers and tweeters that can take advantage of the extended frequency response and dynamic range provided. To fill those requirements, Sony has built the XM-GS4 ultra wide-band amplifier.
XM-GS4 WIDEBAND AMPLIFIER
The XM-GS4 is a four-channel Class-AB amplifier, rated at 70 watts per channel into four ohms or 80 watts per channel into two ohms. The amplifier is also bridgeable for use as a two-channel at 160 watts into four ohms. To ensure a fl at response well above the normal limits of human hearing, Sony's engineers filled the XM-GS4 with high quality components and attention to detail in the assembly. The power supply is comprised of high current MOSFET devices, which switch current through a low flux toroidal transformer, while energy is stored by high performance electrolytic capacitors. When it comes to controlling and shaping the signal, there are low noise potentiometers and twisted pair conductors to connect the various PCBs together. The rectification diodes are Schottky-barrier diodes, used for their inherently lower ripple and undershoot.
Housing the amplifier's circuitry is a thick and rugged cast-aluminum heatsink, and a cooling fan is also employed to ensure good thermal performance under tough conditions. The amplifier's feature list includes high- and low-pass crossovers with an adjustment range from 50 to 300 Hz, subsonic filters adjustable from six to 70 Hz and dual bass boost controls for front and rear channels. All of the controls are top mounted and accessed by removing two screws in a cap that, when installed, also covers the wiring terminals.
XM-GS100 SUBWOOFER AMPLIFIER
For the bass in this system, Sony recommends their XM-GS100 Class-D subwoofer amplifier. The XM-GS100 matches the cosmetics of the XM-GS4 and brings up to 600 watts of power at two ohms to the party. Tuning capabilities include a 50- to 300-Hz crossover, a six- to 70-Hz subsonic filter and a bass boost control with a center frequency of 40 Hz.
This brings us to the speakers recommended by Sony for their complete high-res audio system. For this review, Sony provided the following speakers:
XS-GS121D
A 12-inch dual voice coil subwoofer that's rated at 400 watts continuous and features Sony's MRC honeycomb cone.
XS-GS6921
Two-way coaxial 6x9 speakers. They're rated at 100 watts and include mica reinforced cones (MRC) and a 1.18-inch soft dome wide dispersion tweeter.
XS-GS1621
Two-way coaxial 6.3 inch speakers, again using the MRC cone treatment and 0.98-inch soft dome tweeters.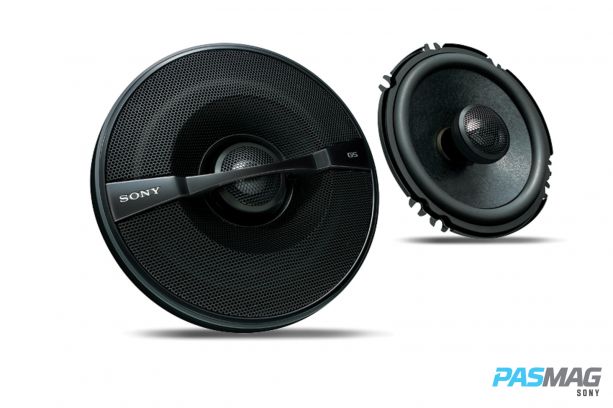 XS-GS1 Super Tweeters
These are one-inch component super-tweeters. According to Sony, a requirement for high resolution sound is a tweeter's ability to "sprinkle" ultra-high-frequency sound into the listening area. For those of you who recall high school physics, the larger a sound source is, compared to the wavelength of the sound generated, the more directional it will be. Now, consider that a 30 kHz wavelength is 0.452 inches in length and the tweeter is basically an inch in diameter, you can understand why Sony states that the XS-GS1 tweeters are designed specifically to fire forwards and reflect the high frequency sound off of the vehicle's dashboard. To improve the ultrahigh-frequency dispersion, these tweeters fire the sound towards the glass so that it is dispersed in a radial fashion throughout the vehicle's cabin.
The XS-GS1 tweeters have extended high frequency response and are designed to complement the tweeters on the coaxial systems by adding output above 20 kHz, and extending up to over 50 kHz. The super tweeters are designed to maximize dispersion and have a wide mesh grille that is acoustically transparent. The XS-GM1 super tweeters come with either flat or angled mounting cups, or could be custom flush-mounted as well. For the tweeters' crossover network, Sony has chosen a simple, but effective third order filter with an Fc of 20 kHz. The network uses an air core inductor and metalized polyester film capacitors.
LISTENING
I have been buying high resolution audio music since the very beginnings of the HDTracks website, so I already have some experience with the differences typically heard when these tracks are played through home audio gear designed for high-res audio. I'm eager to see how the Sony gear performs with some of my favorite high resolution tracks. Because I do all my listening in a carefully controlled acoustically treated room instead of a car, I set up the entire Sony system as provided. The only difference in my setup from what Sony recommends is that I fired the XS-GM1 super tweeters directly at my listening position instead of reflecting them since my room lacked a good reflective surface.
After a couple of hours of listening, I came away suitably impressed with this first effort from Sony. For my listening, I fed the signal into the RSX-GS9 via USB from my computer. Dynamic range is excellent, and the music has a much more lifelike texture than a typical MP3 track. The system also has very low noise between tracks and is inaudible on even very quiet passages. The fidelity and resolution of my high-res music is definitely an audible improvement over typical high bitrate MP3 tracks, and the system sounds quite good in general, considering the coaxial speakers are quite a bit less expensive than the $7,000 home speakers I'm used to for my high-res listening. I'm not sure on the necessity of the super tweeters, as I only could perceive a very slight improvement with them added in. Perhaps in a car with them reflected off the glass the difference would become more obvious.
CONCLUSION
When first introduced, high resolution audio was a hotly debated topic. As time went by and more and more music, as well as players became available, audiophiles began to spread the word. I'm sure there are some people who don't understand it or have yet to experience it, particularly on a system good enough to take advantage of the superior fidelity and sound quality. All it takes is a few minutes of listening to a well-recorded piece of high resolution music on a good system to convince even the most skeptical of audio enthusiasts.
Kudos to the folks at Sony for bringing the ability to enjoy high resolution audio to our cars. If you are curious about just what you're missing, drop into a Sony dealer near you and ask for a demo. Just be prepared to want to replace most of your existing music collection.
For more test reports, download the PASMAG+ tablet app for free from the App Store.
LINKS:
sony.com @sony @sony Sony sony.ca @sony_canada SonyCanada