Written by Garry Springgay | 24 August 2016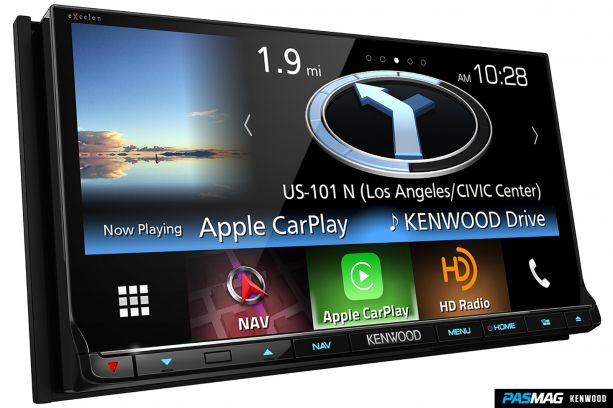 If there is a new sat-nav receiver on your shopping list, do yourself a favor and check out the new Kenwood DNX893S Navigation Receiver. This new model raises the bar for ease of use and intuitive control. When a source unit has this many features, functions, capabilities and adjustments, keeping this simple for the user is something that everyone can truly appreciate!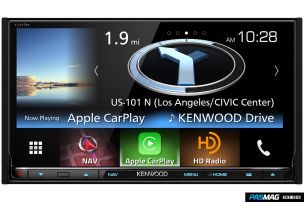 FEATURES AND FUNCTIONS
The Kenwood DNX893S has pretty much every feature you could ever want or hope for in a sat-nav receiver. Thanks to a much faster processor, the boot time and functionality is greatly improved over earlier models. Thanks to a new seven-inch glass capacitive touchscreen display (like a smartphone) and a new user friendly GUI and menu, all of your entertainment and information needs are readily available and easily accessed. Three programmable buttons offer a quick way to select your favorite sources. You get Garmin-based GPS navigation, compatibility with Apple CarPlay and Android Auto, not to mention compatibility with iDatalink Maestro RR and all the advanced features that option brings. In addition, the DNX893S is equipped with built-in Bluetooth hands-free calling and audio streaming, Pandoraand Spotify app control, and an HD Radio tuner. There are inputs for two cameras, and built-in parking guidelines for the optional rearview camera. A rear-view camera can also be used facing forward, as the unit has the ability to reverse the image for proper viewing.
AVAILABLE FORMATS
The Kenwood unit includes all the usual AM/FM/CD/DVD/MP3 sources, the aforementioned HD Radio tuner, SiriusXM readiness, FLAC compatibility, and DTS and Dolby Digital decoding. There is full iPod/iPad/iPhone compatibility, and connections can be made via dual USB ports, or an SD/SDHC card. High resolution playback is supported via FLAC or WAV music files up to 24 bit/192 kHz, via USB. The unit's firmware can also be updated via USB. An MHL2 certified HDMI port is also built into the connections on the rear panel.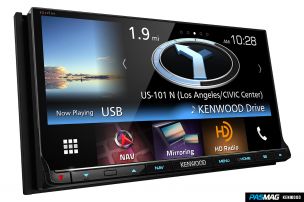 ANDROID AUTO: The Kenwood navigation receiver supports the Android Auto app for Android smartphones running OS Lollipop (5.0 or newer). The compatible Android smartphone must be connected to the Kenwood receiver's USB port via the microUSB-to-USB cable that came with your smartphone, plus be paired via Bluetooth. Android Auto extends the Android platform into your car in a way that's purpose-built for driving and automatically brings you useful information and organizes it into simple on-screen "card-style" pop-ups that appear just when they're needed. With Android Auto you get access to Google Speech, Google Maps, and text-to-speech for SMS messages. You can also get Android Mirroring via HDMI/MHL with the addition of a Kenwood KCA-MH100 cable. Mirroring brings any stored movies or apps to your Kenwood's screen, using the phone's screen for control.
APPLE CARPLAY COMPATIBLE: Apple CarPlay is the smarter, safer in-vehicle interface to operate your iPhone (iOS 7.1+) with Lightning connector. Your iPhone must be connected to the Kenwood receiver via the Lightning cable that came with your Apple device. CarPlay features Siri voice control and is specially designed for driving scenarios. It also works with the Kenwood receiver's touchscreen controls. Use CarPlay to get directions, make phone calls, listen to voicemail, send/receive messages or select music in a way that allows you to stay focused on the road ahead.
SAT-NAV
Navigation comes from Garmin and includes their excellent 3D mapping and Birds Eye junction view features. Millions of POIs are in the included database, and the power of the Garmin GPS is augmented with INRIX connectivity, one of the best real time traffic networks in the world. With this unit, you'll not only get spoken directions to where you want to go, you'll also get there more quickly and efficiently.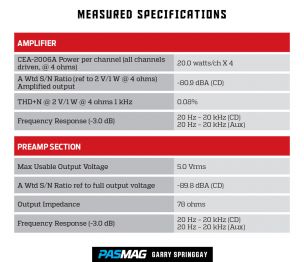 OEM CONNECTION
Maybe you have a newer vehicle with Ford SYNC or OnStar functions. The DNX893S can be interfaced with those services via an iDatalink Maestro module, which is sold separately. When connected to the OnStar system all of the vehicles functions like steering wheel controls, chimes, and the OnStar service, if subscribed, are unaffected. Ford's SYNC users will retain all of the above plus additional features like tire pressure monitor data, climate controls, and all the voice controlled features as well.
[*Available features may vary depending on the vehicle. The iDatalink Maestro RR is sold separately by Automotive Data Solutions.]
AUDIO
All of the connectivity and functionality in the world doesn't do anyone any good without high performance audio performance, and that area certainly did not get neglected. A built-in four-channel MOSFET amplifier rated at 22 watts per channel is ready to drive your existing speakers, or you can take full advantage of the front, rear and sub RCA outputs with five volts of output. To keep things cool and ensure long-term durability, a cooling fan is built into the chassis. A powerful DSP processor provides controls for various soundstage setups, a 13-band equalizer, as well as internal crossovers for high-pass on the front and rear outputs and low-pass on the subwoofer output. Thirteen separate frequencies are available, and you can also select from four different slopes. Delay of channels can also be adjusted for difference is distance of up to 20 feet in increments of less than an inch!
CONTROLS AND FUNCTIONALITY
I immediately noticed the much faster boot up time when turning the unit on, and that alone is worth the price of admission. Thanks to an improved graphical user interface, the DNX893S is quite simple to use. Commonly used functions are readily available, and the new capacitive touchscreen is very responsive. Compared to other competitive units, I found myself cruising through the various screens and menus without much need for a manual. In terms of customization, there isn't much to want for. As you'd expect, the screen colors and button illuminations are all customizable, and this unit can also display up to 26 different languages.
LISTENING
As usual, the first thing I do with any product I get for review is listen to it, so I unpacked the unit and began the process of hooking it up in my reference system. After familiarizing myself with the various menus and controls, I set the unit for flat response and turned the DSP off to begin my listening. In short order, I knew the audio section was good, and I spent some time fooling around with all the features and functions that having a powerful onboard DSP can provide. I also streamed music from my Pandora stations, and checked out the thumbs up and down controls. All the audio and video sources I used worked flawlessly, and the sonic performance was everything I'd expected.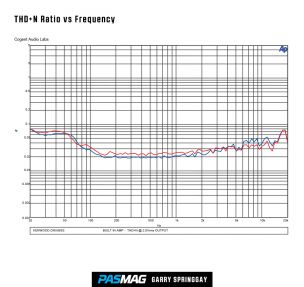 ON THE BENCH
On the test bench, the Kenwood unit met or exceeded all of its measured specifications, exhibiting a nice, flat response curve, very good signal-to-noise performance, and respectably low output impedance.
CONCLUSION
The Kenwood DNX893S is one of the most fully-featured and easy to use sat-nav receivers I've seen this year. With Apple CarPlay and Android Auto, plus the amazing functionality capabilities of the optional iDatalink Maestro module, I can't really expect anything more. The audio section is truly high performance, and there's enough on-board tuning and adjustability to satisfy all but the most ardent tweakophiles. However, maybe the best part, is that all this goodness comes at a very affordable $1,399 in Canada, and slightly less in the U.S. #pasmag
For more information on the Kenwood DNX893S navigation receiver, go to www.kenwood.com, Twitter, Facebook, YouTube.