19 April 2012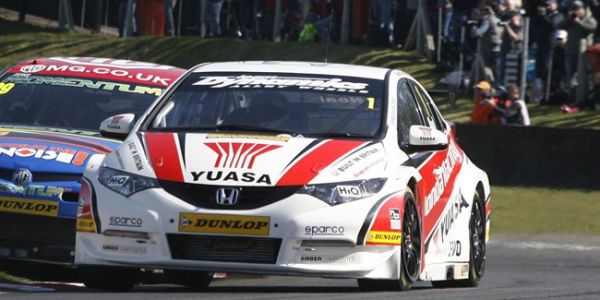 The fight for the 2012 Dunlop MSA British Touring Car Championship heads to Donington Park this weekend and Honda Yuasa Racing Team drivers Matt Neal and Gordon Shedden are aiming to be in the thick of the action.
Reigning BTCC champion Neal gave the new NGTC Honda Civic a win on its debut at Brands Hatch earlier this month and currently lies second in the drivers' standings. That means he will have to carry 36kg of success ballast in the first Donington race, but the three-time title winner believes he will still be in the fight.
"We're expecting more of the same – our strengths are braking and high-speed corner stability," said Neal, who feels a bigger issue could be the low boost level all the Civics have to run compared to its rivals.
"There's a lot of braking and high-speed corners at Donington, but also quite a few straights and we're quite restricted on the boost. The car looks in pretty good shape, so we'll just have to go and see what we've got."
Neal took a race win and a third at the Leicestershire venue last year, and he thinks the racing will be even more competitive this weekend. "I think there'll be more people in the hunt this year and I really don't know how we're going to go," he said.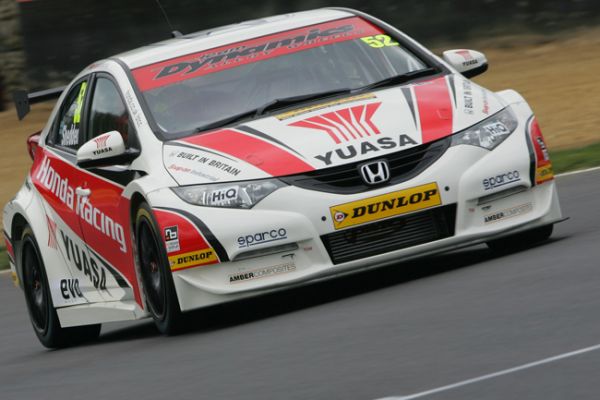 There is also a chance of rain at Donington. Neal feels the new car could be good in wet conditions, but hasn't had a chance to test. "In the wet, bring it on," he added. "I haven't driven the car in the wet or on the new 18-inch Dunlop wet tyres, but we should be fine."
Neal's team-mate, 2011 runner-up Gordon Shedden, also believes the boost restriction could hurt Honda at Donington, despite the high abilities of the chassis. "Handling wise it was very good at Brands, I think the issue at Donington will be straightline speed," he said.
"If we're slowest through the speed traps at Brands, where we got good pace off the corners, we could be struggling at Donington. There's only so much you can do in the corners and the drag out of the Old Hairpin is about straightline speed."
Nevertheless, Shedden is hoping to bounce back from a difficult Brands Hatch weekend. Despite good pace, the 33-year-old was limited to one fifth place thanks to electrical gremlins, but he now believes the car should run smoothly.
"I really hope so – we ran at [test circuit] MIRA last week and everything went OK," he added. "We've got to go to Donington and kickstart my championship. I think it will be close and we need to make the most of what we've got, stay out of trouble, and score some good points."
As well as watching ITV4's live BTCC TV coverage or heading to Donington Park, fans can also follow Honda Yuasa Racing's exploits on Facebook and Twitter for news and race results as the action happens – www.facebook.com/HondaRacingBTCC and www.twitter.com/hondaracingbtcc