14 May 2012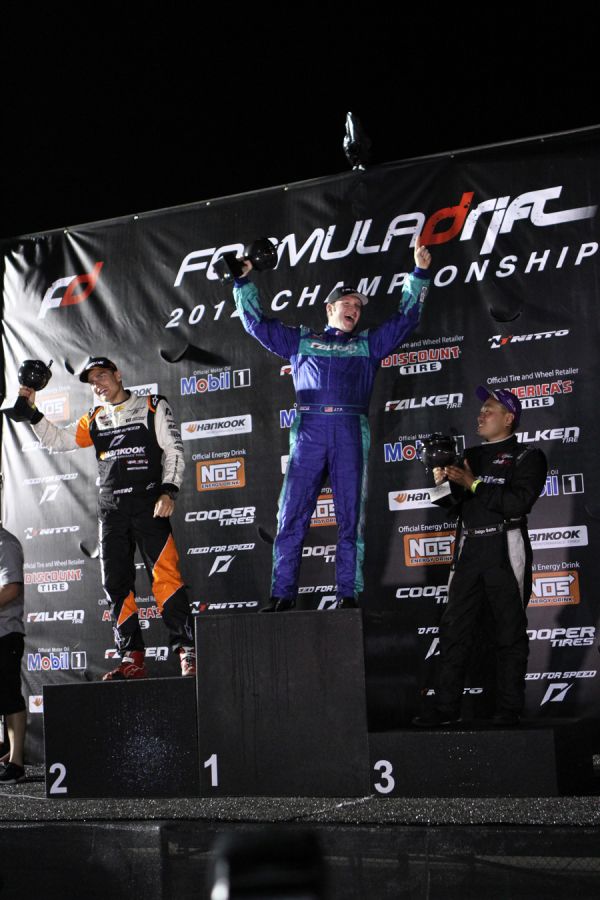 Formula D returned to the birthplace of the series for the second stop in their ninth season with a bit of a twist for the drivers. The paved horseshoe of the turn 10 complex at Road Atlanta was originally built specifically to accommodate the series, and the FD Judges designed to change the course slightly to facilitate a more technical configuration which encouraged closer tandem. Drivers would still initiate at the end of the back straight at nearly 100 miles an hour, but instead of taking a short trip up the turn 10a hill and transitioning to travel up the horseshoe before doubling back down the hill, drivers would now continue to the top of the turn 10a hill and travel downhill thru the horseshoe, requiring a careful balance of braking to maintain speed without washing off the line.
Qualifying shook up the driving order for the first time in awhile, with Mike Essa piloting his GSR Autosport BMW Z4R to his first career pole qualifying effort. Essa was followed closely by Vaughn Gittin Jr, Freddy Aasbo, Chris Forsberg, Conrad Grunewald, and Ryan Kado. Narrowly making the cut were Robbie Nishida in 30th position, Darren McNamara in 31st position, and Corey Hosford in 32nd position. While drivers normally wouldn't be happy with such a low qualification, all had reasons to celebrate. Nishida debuted his Achilles Tire Lexus SC300 in Atlanta, Dmac was driving in a LHD car for the first time in his career due to his Saturn Sky being totaled, and rookie Corey Hosford was happy to make the grid after mechanical troubles plagued him in Long Beach.
After the sun set behind the hills of Georgia, tandem battles heated up. Due to a tricky ladder, top drivers including Ken Gushi, Dai Yoshihara, Chris Forsberg, and Tyler McQuarrie all would be eliminated in the top 32 round, leaving the door wide open for the rest of the field to capture some valuable points. Avenging his failure to qualify in Long Beach, sophomore Walker Wilkerson piloted his Fatlace / Garage Autohero S13.4 to a 4th place finish, a career best for him. He was only kept off the podium due to rookie Daigo Saito's 1200 horsepower monster-of-a-car, who capturing his second consecutive podium with a third place finish. The smoke Saito's car billows off of his Achilles tires is something we have never seen the likes of previously. The final came down to a tight battle between Justin Pawlak's Falken Tires Ford Mustang and Freddy Aasbo's Need for Speed Scion tC. For the second consecutive event, Pawlak would best his opponent, taking a massive 52.5 point lead into Palm Beach, an event he won last season.
Current standings after 2 of 7 rounds:
| | | | |
| --- | --- | --- | --- |
| 1 | Justin Pawlak | Falken Tire Ford Mustang | 209 Points |
| 2 | Daigo Saito | Achilles Tire Lexus SC430 | 157.50 Points |
| 3 | Fredric Aasbo | Need for Speed / Papadakis Racing Scion TC | 152 Points |
| 4 | Rhys Millen | RMR Hyundai Genesis Coupe | 127 Points |
| 5 | Matt Powers | Need for Speed / Nitto Nissan S14 | 126.50 Points |
| 6 | Ryan Tuerck | Retaks Nissan 240SX | 120.50 Points |
| 7 | Dai Yoshihara | America's Tire / Falken Tire Nissan S13 | 118 Points |
| 8 | Aurimas "Odi" Bakchis | M7 Japan / Feal Suspension Nissan 240SX | 117.25 Points |
| 9 | Ryan Kado | Ryan Kado Racing Nissan 350Z | 114 Points |
| 10 | Kyle Mohan | Nexen Tire / Mazdatrix Mazda RX-8 | 109.50 Points |
| 11 | Toshiki Yoshioka | RS*R Nissan Silvia S15 | 108.50 Points |
| 12 | Mike Essa | GSR Autosport / Nitto BMW ZR4 | 97.50 Points |
| 13 | Vaughn Gittin Jr | Monster Energy / Falken Ford Mustang | 96 Points |
| 14 | Chris Forsberg | NOS Energy Drink / Hankook Nissan 370Z | 93 Points |
| 15 | Tyler McQuarrie | Mobil 1 GoPro Camaro | 88.50 Points |
| 16 | Kenny Moeh | Lutz Performance Nissan 350Z | 87.50 Points |