Written by PAS Staff | 07 March 2013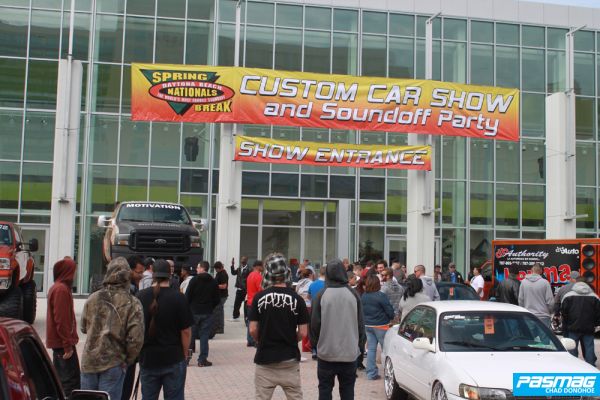 Written by SBN | Photography by Chad Donohoe
Despite being held weeks before the customary date, the Spring Break Nationals rocked the house with yet another strong showing of support from dealers, distributors, competitors and spectators.
SBN's Gigawatt sponsor Scosche Industries were joined by industry-leading brands that have been longtime part of SBN's festivities. There were also several new exhibitors, including aftermarket wheel companies Lenso and RNR (Rent 'n Roll) Skar Audio, Mobileye, Xtreme Camera Company (Fujita Japan) and Bluetooth Keyless. LOUDFORCE also launched their new products at SBN and were even delayed when their heavy-duty gear was rigorously inspected by customs at the US/Mexico boarder.
Attendees and dealers were pleased to see the resurgence of ORION, a brand long that has been a longtime participant of Soundoff. The company's new owners pledged to get back to its glory days of show-dominating performance, which was helped by the revitalization of DJ Billy E's Astro Van that had been MIA for over a decade. In the days of Nightmare on Bass Street, Billy's van was the Orion icon. We can't wait to see what they have for us in the future.
Big Deuce Marcelli kept things hot for SBN Entertainment for VIBE Car Audio and Florida NerdCore Band, HD Ninja, played some bumping sets both days. DJ Billy-E, EXO and Bryan (CEO of Modified - YouTube fame) brought the crowd together for a huge SBN Harlem Shake video, which you can find at http://www.youtube.com/watch?v=kPOPlUvoTLM.
The action was hot thanks to the Orion SBN Bikini contest, where Jessica Barton took home top honors as a crowd favorite. Internet sensation Jenny Scordamaglia of Miami TV also stole the spotlight with her unique live interviews that drew more attention than the 513,000 watt Beyma Ambulance! SBN Emcee Lars of Mars kept the crowd pumped with thousands of dollars in free car audio gear, while the Papa John's Pizza eating contest gave people some hilarious moments.
Florida Distributors Dow Electronics and LESCO were set up in grand fashion treating their dealers with munchies and SBN incentive deals. Product trainings were the order of the day as Dow conducted seminars for SONY and Kenwood and Steve Brown spoke about Alpine's new car audio technologies. The Soundstream (Epsilon) booth had some cool vehicles and several interactive displays for dealers and consumers to play with.
Florida based Car Audio Dealers were on display in their own booths as well; Soundcrafters, Ocala Car Audio, All Pro Audio, Hi Joe's, Pure Audio, Mars Audio all had great vehicles to show off their detailed work, inside and out.
JL Audio's Steve Turrisi was welcomed to a standing-room-only crowd in the JL Audio seminar rooms, likely due to the massive 80 percent off deal for retailers who attended the sessions. "A brilliant idea, if you ask me," says Papadeas. "Ideas like that are vital to stimulate dealers and provide for our collective growth."
At the awards ceremony, Soundstream took the Bruce Terrell award for best customer, dealer, distributor and Soundoff support for the fifth straight year. Alpine took the Best Booth for bringing the "Sinister 6" to the East Coast, a remarkable build in a BMW 6 series that stole the show.
Despite being a week earlier than usual, the show was filled with impressive products, fantastic talent and great music. It was a blast and we can't wait til next year!