Written by PAS Staff | 05 March 2015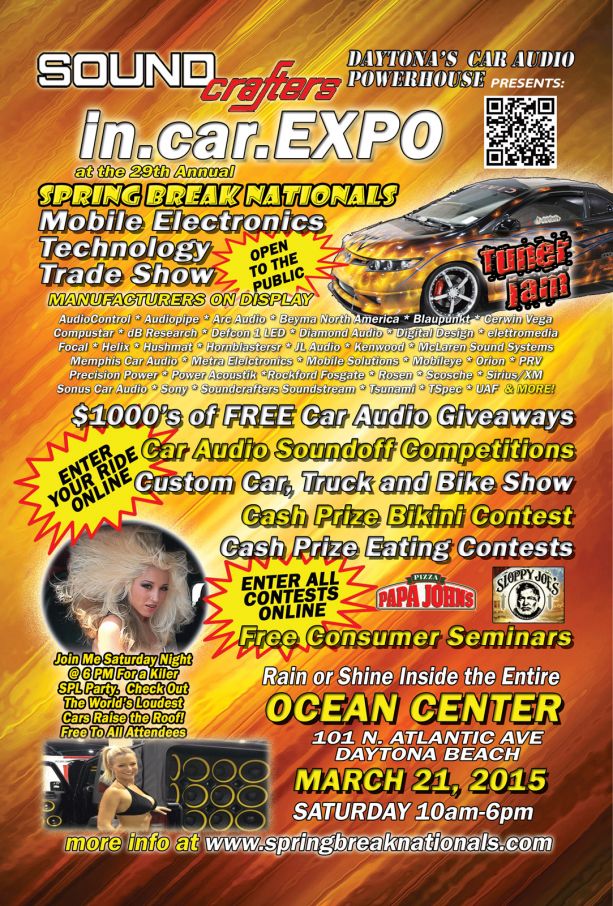 At the upcoming 29th annual Spring Break Nationals on March 21-22, 2015, over 40 of the Mobile Electronics industry's leading manufacturers, Distributors and Reps come together for an event that will set the pace for the future of Car Audio in the Spring. The in.car.EXPO, the successor of the Spring Break Nationals is produced by Dealers for the advancement of Dealers in the Eastern Region. A record breaking number of Manufacturers and Distributors will be hosting seminars alongside the in.car.EXPO sponsored sessions. Every Seminar and admission to the event is free of charge to car audio Dealers and their employees who pre-register on www.incarEXPO.com.
"It's our goal to stimulate industry to support Dealers with more than new technologies and discounts on products" said event founder and Auto Sound Retailer Paul Papadeas. "Factory supported education is what's on the agenda for Dealers and Installers with seminars designed to proliferate their businesses". Three in-depth seminars featuring the tools, tactics and methodology will be presented. First, strategies for growing your business by understanding business, presented by Mike Belus, IRS Enrolled Agent, Car Audiophile and President of Business Control Services. These sessions focus on the "bottom line" and reveals methods for increasing that number. Secondly, Marcel Newell and Ben Vollmer of Businessworx lay the foundations of business tactics and measurement tools. Last, but not least, Mike Watson (a PASMAG contributor) and Don Lester of internetfellas.com present: "Quit talking about the Internet and Master Digital Marketing". In addition to these business training sessions, Bryan Schmitt of Mobile Solutions will be hosting fabrication seminars also without fee.
"Shops still have the opportunity to enter the INSTALLER 5K" Sponsored by XS Power Batteries and ARC Audio" says Papadeas. This is an opportunity for a top installer to win $5000.00. Each contestant in the INSTALLER 5K will be entered into a pool to be chosen to represent IASCA Worldwide in an expenses paid 72 Hour Installation Challenge in Shanghai, China in September 2015. Registration for the contest can be made on www.incarEXPO.com. Dealers can also register for their all access "Pit Passes" thanks to Digital Designs simply by visiting the site and clicking the link. Onsite registration will be available but Dealers must present proof of dealership with a copy of their occupational license or other business related documents along with their ID. For more information contact the IASCA office at 386 322 1551 or This e-mail address is being protected from spambots. You need JavaScript enabled to view it .