Written by PAS Staff | 13 October 2011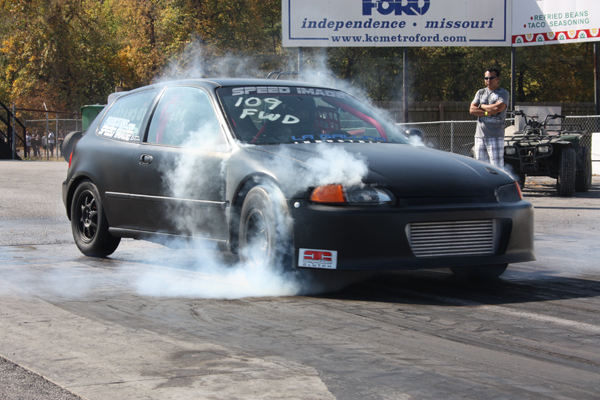 Photos by Cliff Wallace - www.importfaceoff.net
Even after a long night of partying, getting kicked out of their hotel by the cops, then sleeping in their truck and race car, the PFC (Pink F'ing Cage) crew with driver Max "Payne" Besserer (Golden, Colorado) still managed to pull off the FWD class win running a 9.4 second and 161 mph best. "Now we might have to sleep in the race car the night before every race", says superstitious PFC crew member, Morgan Orchard.
Roger Martinez (Shawnee, KS) in his black Mazda RX7 won the Forced Induction Pro class running a blistering 8.518 seconds at 164.56 mph against Boston Hutchen (Columbia, MO) who ran an 11.220 @ 122.01 mph in his DSM. Roger's team mate, Javier Fernandez, also piloting an RX7, won the Forced Induction Sport (Street) class running a 10.319 @ 146.81 mph.
For the second race in a row, Alex Pagin (Tulsa, OK) in his K-series Honda Civic hatch, won the Competition Clutch All Motor Pro class. He ran a personal best of 10.528 seconds @ 129.55 mph against Bao Le (Wichita, KS) also in a Honda Civic who ran a 11.195 @ 124.06 mph. Alex is looking to win the points championship for 2011, but will have trouble doing so since Jason Lumpkin is in the lead with more than twice the amount of points.
Best Club Representation was won by MR Motorsports. Best of Show for a 3rd time this year was won by John and Sharon Jenkins (Red Honda Civic). They are now in the lead for the 2011 B.O.S points championship.