01 August 2012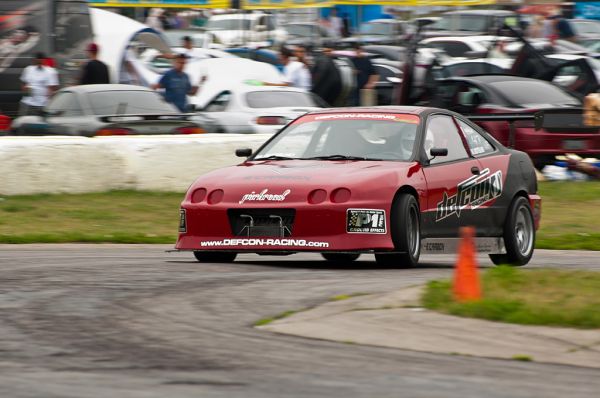 The highly anticipated Round 3 of Canadian Sport Compact Series took competitors to Canadian Tire Motorsports Park for the second time in the ten year history of CSCS. The counter-clockwise and one kink track setup had Time Attack and Drifters excited to see how hard they could push their cars in this slightly elevated fast track setup. Despite some light rain, competitors were out in high numbers with many of them arriving the night before. Presenting sponsor "SPECLUBE / MOTUL" drew a large crowd by bringing out Crazy Leo's Subaru rally car which came freshly crashed from a competition in the U.S. the evening before.
The Time Attack competition at Round 3 was as close as they come, with the six fastest cars being within only one second of each other! Morning practice saw an unfortunate rollover for Joe Liu in the well-built Maruyichi Civic; luckily aside from a few bumps and bruises Joe managed to walk away unharmed and was back on the track later in the day. Passing thunderstorms put a damper on the event but after a 20 minute rain delay the time attack competition was started, leaving a very wet and slippery track for the first runs groups. Fastest time of the day was set by DovAronoff in his Subaru with a time of 58.68 winning the Unlimited AWD class. Other fast times included Kimi Qin's 59.18 in his prepped Ferrari F430 to win the Unlimited RWD class, and Marco Botelho's Defcon-Racing Integra set an astonishingly quick 58.72 to win Unlimited FWD.
The 2012 CSCS drifting competition has been close all year with fresh faces and new tracks really mixing it up. The layout for Mosport DDT seemed to only push the drifters to new limits as only 12 out of 20 drivers made qualifying passes for competition. When all the tire smoke cleared, it was the consistent and clean runs of Dylan Sharpe that took first place, his first ever CSCS win. Riley Sexsmith's standout pickup truck took home second and Brent Stratton placed third, which leaves the drift points at a four way tie for third place going into "Xtreme Tuner Challenge" at TMP on August 19th.
The Show & Shine judges had their work cut out for them due to the impressive amount of competition that came out to this event. Coming out on top with Best of Show was a longtime supporter – debuting his third Show car over the past 8 years competing at CSCS – Rich Polsini's widebody purpose built G35 coupe. Largest team was a close one to call, but Toronto Tuner Syndicate edged out Street Impressions by two cars and taking home the bragging rights for Round 3. CSCS would like to congratulate all the winners and applaud the competitors and spectators who came out despite the gloomy weather.
CSCS would like to thank all of their sponsors, volunteers, competitors and fans who make the event possible. Be sure to prove it at the track at CSCS Xtreme Tuner Challenge, Sunday August 19th at TMP, Cayuga.