Written by C17Media I Photos by Randi Bentia, Josh Smith & Giancarlo Pawelec (AutoMotoFoto.net) | 21 August 2012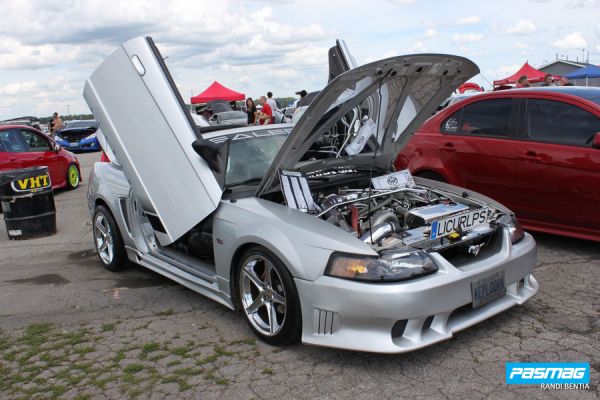 Round 4 of Canadian Sport Compact Series saw Toronto Motorsports Park, Cayuga packed with tuners, showcars and racers soaking in the sunshine and excellent track conditions. Presenting sponsor Scion Canada was there in full-force with a booth at the Show & Shine field and by the Time Attack circuit, giving fans the full on-track experience with ride-alongs in the all new rear-wheel drive FR-S.
The tension at the track could be felt in the air, this being the second last event of the season with the finale in September and a completely sold out competitor field in Time Attack and Drift, the return to TMP would prove disastrous for some and glorious for a select few.
The Time Attack at this round did push some drivers to new limits especially in the Street RWD class where Vince Strati's 240sx ran a 1.24.381 to finally push past Mike Gardner's 350z that ran a close time of 1.24.585, only milliseconds between them. This wasn't the case in Super Street AWD with Cosimo Spatola debuting his newly built STI that ran a 1.19.981, almost two seconds faster than Michael Harvey. Fastest time of the day was set by Kimi Qin in his race-prepped Ferrari F430 with a time of 1.15.575 which beat out Unlimited RWD veteran James Kutschke who managed to set his personal best time of 1.16.261 in the JRP RX-7.
The grandstands were full of fans as Drag Racers lined up at the strip to smoke tires and set times. The races ran all day with over 100 cars registered for Test and Tune and presenting sponsor Scion Canada letting enthusiasts test-drive the all new FR-S down the strip to see who could set the fastest time. In competition Super Street saw veteran Mark Gentile beat out Adrien Rachpaul, Street Warz saw Jeff Misra take 1st place and both Pure Street and Bracket classes were dominated by Clint McAdams.
CSCS Drift will see a new champion for 2012 as defending champion Anthony NuVisionz missed Round #4 due to mechanical failure taking him out of the running. Young gun Marin Guilbualt's Nissan 240sx edged out Massimo Narini's v8 Volvo to take his third podium of the season. This puts him as the points leader going into the finals but former champion Ryan Stock isn't far behind; watch for the Season Finale to be a heated battle for first, and the 2012 CSCS Championship.
As always the Show & Shine competition drew a large crowd of spectators and competitors showcasing everything from imports, domestics, trucks and even bikes. Teams came early to set up and show off how low, loud, and bright their cars could be. The prestigious Best of Show was awarded to Rich Polsini in his widebody G35 which stood out against the competition including a JVC sponsored G35. With over 30 cars best team was awarded to Street Impressions and the crew even took home the Judges Favourite award with a modified Aston Martin Vantage.
CSCS would like to thank all of their sponsors, volunteers, competitors and fans who make the event possible. For more highlights visit www.CSCS.ca or facebook.com/CSCSRacing and be sure to prove it at the track at the CSCS Season Finale Sunday September 23rd @ TMP, Cayuga.