Written by Dave Pankew Photos By: John Jackson | 15 June 2010
Page 2 of 2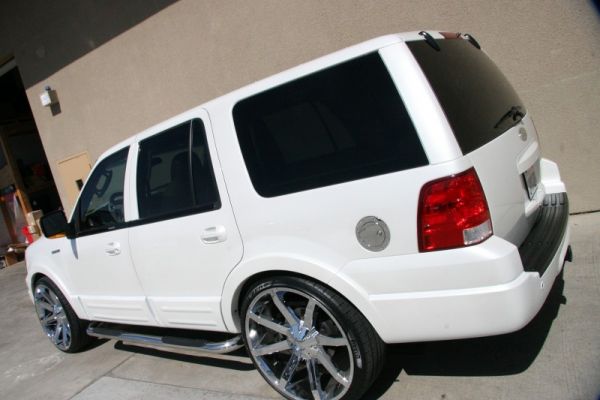 THE ESSENTIALS
Owner: Dave "Fishman" Riveria
Location: Fresno, CA
Vehicle: 2003 Ford Expedition

WHEELS & TIRES
KMC 26-inch wheels
Pirelli PZERO 295/25R26 tires
EXTERIOR
Multi-stage pearl paint
Fish emblems

INTERIOR
Classic Interiors of Fresno, CA leather
Fishman custom aluminum trim
Fishman Plexiglas bar
Fishman Fishdrive actuators
Fishman logos
AUDIO / MULTIMEDIA
Apple iPad in dash
Arc Audio XEQ equalizer
Arc Audio Signature Edition SE4200 amps x2
Arc Audio 6000 6.5-inch components x4
Arc Audio Signature Edition SE2300 amps x2
Arc Audio 10D4 10-inch subs
Kenwood KOS monitor
Apple LCD display
Apple Wireless keyboard
Tsunami batteries x2
Tsunami wiring
Tsunami interconnects
SHOUTOUTS

ARC Audio, Kenwood USA, Metra Electronics, David @ Sound Speed in Clovis California, Me the Fishman (for never Giving up), To all of my old students at Fishcamp who at one point or another had their hands in this, I wouldn't be here without you guys…and to my ex wife who always said it couldn't be done!
The computer and networking setup was done by Jason Boyd and Albert Riveria. Wired by Sound Speed In Clovis, CA handled the vehicle electrics which included a pair of Tsunami batteries, one under the hood and the other near the amps in the cargo area to provide plenty of reserve power for the system. A Tsunami high-output alternator was added to provide ample charging and the power, ground and interconnects were all Tsunami wire as well.
At a cost of almost $250,000 and plenty after hours labor, Fishman has truly outdone himself here. But he has paid his dues and this is the reward. We can only imagine how many copycat projects rocking iPads we'll see at the next CES Show.